The Krazy Coupon Lady's favorite supercenter is definitely Target! There are great deals to be had by pairing Target sales and promos with store and manufacturer coupons!
Target Store Coupons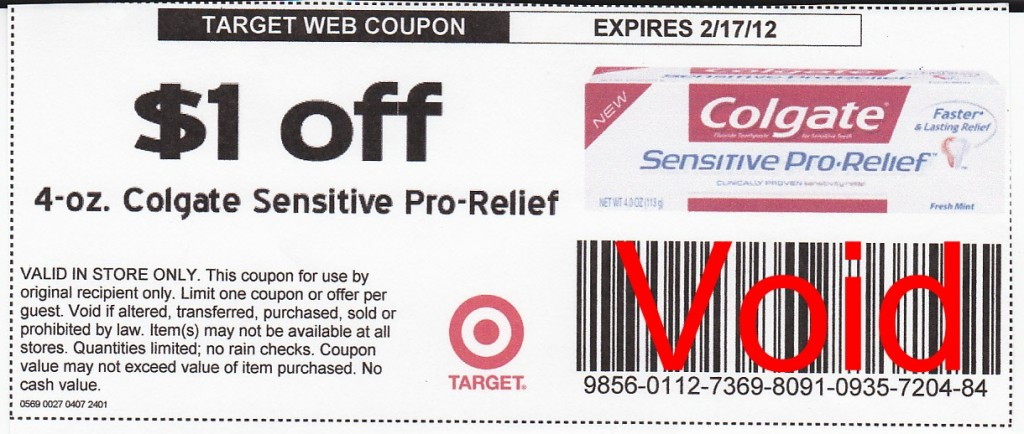 Target store coupons can be found in Sunday coupon inserts, postal mailers, and coupons printed from Target.com. Store coupons usually include  the limitation of "one coupon or offer per guest", meaning you can only use one identical Target store coupon per person per shopping trip. Target allows stacking a store with a manufacturer coupon.
Target accepts one Manufacturer Coupon and one Target Coupon for the same item (unless prohibited by either coupon).
Mobile Coupons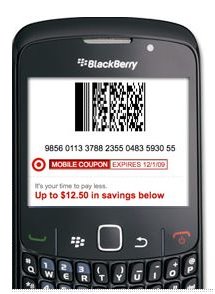 Target sends out Mobile Coupons directly to your Smart Phone about twice per month.  If you want to sign up to receive monthly mobile coupons from Target, you can do so here. Target will send you the coupons, which are redeemed as store coupons by scanning the barcode image on your phone.  Mobile coupons may be stacked with a manufacturer coupon but cannot be stacked with Target store coupons.
Gift Card Promotions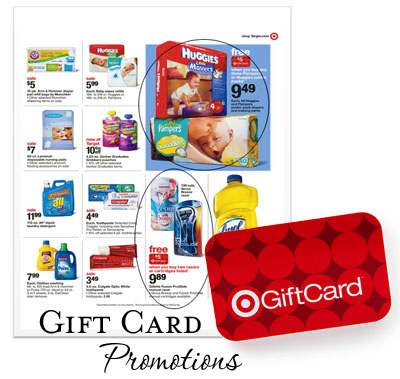 Target often runs "Gift Card Promos" in their weekly ad and other unadvertised promos throughout the month. When purchasing items that are part of a Gift Card Promotion, you can stack a manufacturer and a store coupon on the item and still receive your gift card!  Also, these Gift Card Promos can be rolled.  This means you can buy the participating items, turn around and buy the same items in your second transaction, use the gift card as part of your payment, and receive a new Target gift card!
Buy 1 Scrubbing Bubbles One-Step Toilet Bowl Cleaner $9.99
Buy 1 Scrubbing Bubbles One-Step Refill $3.99
Use $4.00/1 – Scrubbing Bubbles One Step Toilet Bowl Cleaner Starter Kit – (coupons.com)
And Use $1.00/1 – Scrubbing Bubbles One Step Toilet Bowl Cleaner Refill – (coupons.com)
Pay $8.98, Receive $5.00 Target Gift Card
Final Price: $1.99 each
Price Cuts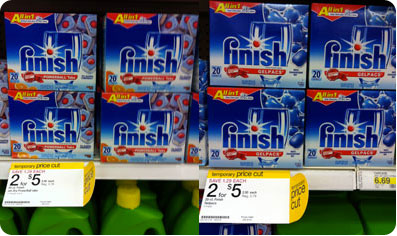 Look for yellow "price cut" signs or flags throughout Target. These temporary price cuts can run anywhere from 3 weeks to 6 weeks long before going back up to full price. Match these discounts up with coupons, and you could score some great deals!
Clorox 2 Laundry Stain Remover, 22 oz $1.75, Price Cut through 10/15
Use $1.50/1 – Clorox 2 Laundry Stain Remover – (clorox.com)
Final Price: $0.25
Trial and Travel Size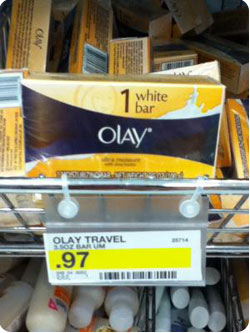 Target has an extensive trial size section comprised of items priced around $1.00. When coupons do not exclude trial/travel size items, you can score some free products! If your coupon value exceeds the price of the item, the cashier will need to adjust the price of the coupon down to meet the product's cost.
"Coupon amount may be reduced if it exceeds the value of the item after other discounts or coupons are applied."
Clearance Markdowns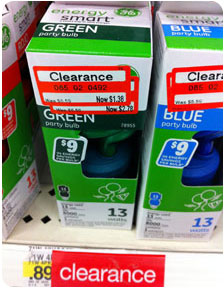 Target is famous for their orange clearance stickers. But did you know you can use coupons on clearance merchandise?!  Find items on end caps at the backs of aisles and pair those prices with your coupons. Target often discounts clearance items on a gradual basis, starting with 15%, then 30%, 50%, and then finally 75% if they last that long!  Krazy Coupon Ladies look forward to Target's Toy and Back-to-School Clearance all year long! Look for their toys to be clearanced in July and January (right after Christmas) and the School Supplies to be marked down (up to 90% off) once school has started!
Price Matching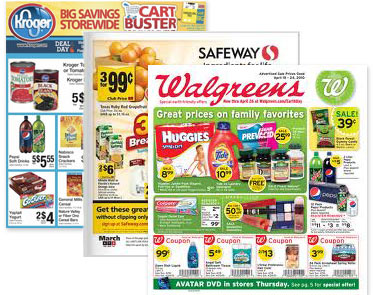 To Price Match at Target, simply bring in your competitor store ad and check out at customer service. While some stores are capable of checking you out at the regular registers, it's going to be easier to check out from customer service, especially if it's your first time price matching.
The competitor's ad must be local and current, and the product must be the identical item, brand name, quantity and model number. . . Photos, photocopies, or mobile phone versions of the ad cannot be accepted as verification of competitive pricing.
The best part about price matching at Target is that you can use manufacturer coupons in addition to the price match! Here's an example:
Price Match 4 boxes of Kellogg's Cereal $1.50 each
Use four $1.00/1 Manufacturer Coupons
Final Price: $0.50 each