CVS offers great Extrabucks deals, an amazing rain check policy, and even a magic coupon machine. How could you not want to shop here all the time? Read on to learn how to coupon at CVS!
CVS Extracare Card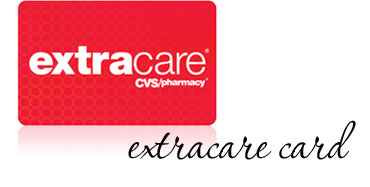 First, you'll need to sign up for an Extracare card.  It's easy to sign up for a CVS Extracare card either at the store or at CVS.com. You may even be eligible for a $4 off $20 purchase coupon just for signing up online! The card is completely free. With every purchase you make at CVS, your cashier will scan your Extracare card, which will qualify you for all the discounted pricing and, most importantly, the Extrabucks offers! You'll also earn 2% back on all your CVS and CVS.com. You'll want to hold on to this card; if you lose it, you won't be able to get some of the CVS coupons I'll explain below.
Extrabucks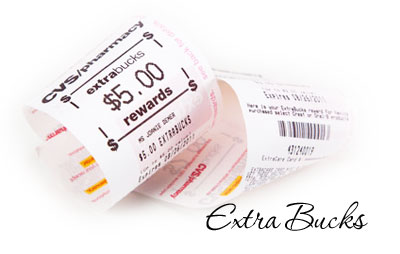 Extrabucks are checkout coupons which print on the bottom of your receipt when you make a qualifying purchase. Extrabucks promotions are advertised in the CVS weekly ad and, of course, in the deals posted at TheKrazyCouponLady.com.  Here's an example of how we'll write up an Extrabucks deal:
Buy 1 Vicks NyQuil, 12 oz $6.00
Buy 1, Receive $3.00 Extrabucks, Limit 2
Use one $1.00/1 Vicks Product from PG 10/2
Pay $5.00, Receive $3.00 ExtraBucks
Final Price: $2.00
This particular Extrabucks deal required that we purchase NyQuil in order to earn a $3.00 Extrabucks coupon at the bottom of our receipt. To make the deal even better, we use a manufacturer coupon on our purchase. After we pay for the Nyquil, we can look at our receipt and see the $3.00 Extrabucks, which we may use on a future purchase.
Limits: Extrabucks deals have limits, which are associated with your Extracare card. In the above Nyquil example, the limit is two. This means that we can only do two Nyquil Extrabucks promotions during the entire week's sale. Even if you shop at multiple stores, you will not be allowed more than two $3.00 Extrabucks from Nyquil.
CVS often runs Extrabucks promos such as "Spend $15 on participating candy, Receive $5 Extrabucks." It's important to note that the $15 minimum purchase requirement is the subtotal reached before customer uses any coupons. If you purchase 5 bags of candy at $3.00 each, you may use manufacturer coupons (and even previously received Extrabucks) to reduce the amount you must pay, and you will still receive your $5.00 Extrabucks. One cool thing about the Extrabucks program being tied to your Extracare card is that if you purchase $7 of candy on Monday and then $8 of candy on Thursday, you will receive the Extrabucks at the bottom of Thursday's receipt. Your card tracks and totals your purchases for you.
Rolling Extrabucks. You may use Extrabucks to pay for other items also participating in Extrabucks promos, and your new Extrabucks will still print. You can lower your out-of-pocket by rolling your Extrabucks and doing multiple transactions. Or, since the promo limits aren't "per transaction," you may simply purchase all of your items in one transaction, and every Extrabucks will print, one after the other, at the bottom of your receipt. I like to take my long receipt home, cut it up, put it in my coupon binder, and use it the next week.
When redeeming Extrabucks, be aware that if you redeem a $2.00 Extrabucks on a $0.99 order, you will forfeit the additional $1.01 value. (Other drugstores' registers will reject the reward coupon if its value exceeds the subtotal. CVS computers will accept the coupon and adjust it down, so be careful that you don't waste those hard-earned bucks!)
Extracare Coupon Center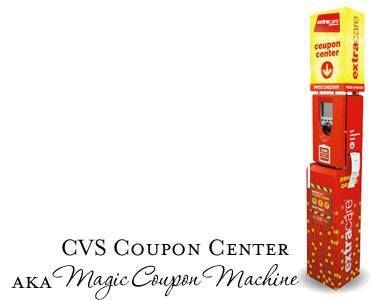 The Extracare Coupon Center, otherwise known as the Magic Coupon Machine, can be found inside your local CVS store. It also doubles as a price-scanner. Locate the machine at your store and make a habit of scanning your Extracare card every time you shop! In fact, it's even a good idea to scan your card more than once!  You will receive coupons from the machine just for doing so! Each week we'll post about the coupons that have been reported to be printing. Coupons vary by customer, so you may get the coupons we told you about, or you may get something even better!
Rain Checks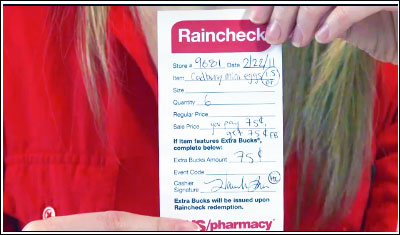 CVS has the best rain check system of all the drugstores! If you find that a product which was part of an Extrabucks promotion is out of stock, simply let your cashier know and he will write you up a rain check.
Irish Spring Body Wash $2.99, sale price
Buy 1, Receive $2.00 Extrabucks, Limit 1
If you found the above product out of stock, the customer service representative would write your rain check for the $2.99 sale price, and indicate that it is to earn $2.00 Extrabucks. This means that you can save the rain check, and next time the product is back in stock, you can return to the store to purchase it for only $2.99, and the associate will "force print" your Extrabucks rewards. CVS rain checks do not have expiration dates, and you can use manufacturer & store coupons in addition to your rain check on the purchase of the item(s). If the product that is out of stock was part of a limited promo (in the case of the Irish Spring, the limit was one), the rain check will be written for the purchase of only one body wash. You will not be able to use the rain check to buy multiple body washes for the promotional price.
CVS Beauty Club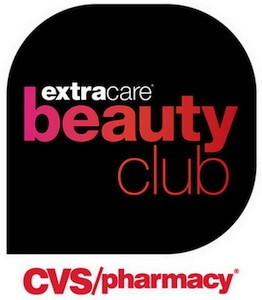 Another great way to earn rewards for things you are already purchasing, is to sign up for the ExtraCare Beauty Club. For every $50.00 you spend on qualifying Beauty items at CVS (pre-coupon), you will earn $5.00 Extrabucks, which can be applied to future CVS store purchases, just like the ExtraBucks you earn from weekly promotions. You'll also receive $3.00 Extrabucks on your birthday (if you add your birth date to your online profile).
To join for free, simply visit the CVS Beauty Club website and link your registration to your existing Extracare account. You can also sign up in-store with an enrollment certificate. Currently, CVS is offering a 10% shopping pass when you enroll. Note that your qualifying purchases may take up to 48 hours to apply to your account, so if you don't see them reflected in your Beauty Club balance right away, check again in a couple of days. Print your rewards from your online account or scan your Extracare card in the store to receive a printout.
Qualifying Beauty purchases include items from the following categories: Cosmetics, Ethnic Hair Care, Fragrances, Hair Accessories, Hair Appliances, Hair Care, Hair Color, Hosiery, Healthy Skin Care and Skin Care. Excludes items from Trial & Travel, gift cards and prescriptions. Some items known to not count include: Razors, shaving cream, deodorant, some men's body wash, and sunscreen.
CVS In-App Coupons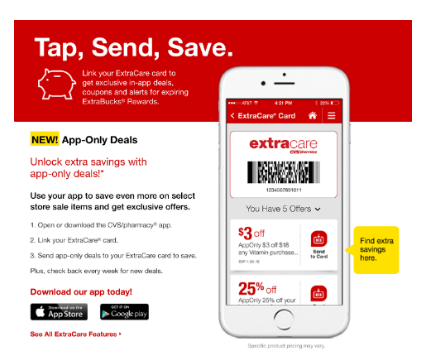 A new way to save at CVS is with In-app coupons. Download the CVS App on your mobile device, create an account or login. Be sure your Extracare account is connected and you'll receive customized digital coupons that can be used at checkout. The deals will show up beneath the "My Deals & Rewards" header where it says "__ deals available." Read more here!