UPDATED July 2014
Walgreens can be an overwhelming place to shop with coupons. Once you understand the ins and outs, though, you'll have a hard time staying away!
Sign up for Balance Rewards Program
Before shopping at Walgreens, sign up for the Balance Rewards Program. It is free and easy to sign up. You must be a Balance Rewards member to receive any Walgreens sale prices or Balance Rewards Points. Sign up in a Walgreens store or online. Every time you check out, be sure to swipe your card or enter the phone number that is attached to your Balance Rewards account.
In-Ad Coupons
Monthly Savings Book
Register Rewards
One of the best ways to save money at Walgreens is to take advantage of Walgreens Register Rewards! A Register Reward is a long, receipt-like coupon that prints at checkout after you make a qualifying purchase. To find items each week that are producing Register Rewards, look through the weekly ad. Look for products that state you'll "receive a Register Reward" with purchase. These items are also tagged accordingly in stores! After purchasing the advertised item, you will receive the Register Reward. It is good as store credit on a future Walgreens purchase. Use it to buy almost anything in the store!
Rolling Register Rewards
Register Rewards have a limit. You can only earn one Register Reward per offer per transaction. If a Vitamin Water energy drink is producing a $1.00 Register Reward, and you want to buy two, you must do two separate transactions. If you purchase both energy drinks in a single transaction, you'll only receive one $1.00 Register Reward. Stores have the right to limit the quantity of promotional items you purchase. If you want to do more than one transaction, ask your store beforehand. Some stores limit the number of transactions you can do in one day. Be respectful and abide by the store and coupon policies.
Register Rewards do not "roll." Let's say you want to purchase two Vitamin Water energy drinks. Again, to earn both $1.00 Register Rewards, you must do two separate transactions. Do not use the $1.00 Register Reward produced from the purchase of drink #1 to purchase drink #2. If you do, you will not receive a second $1.00 Register Reward from the purchase of drink #2. In other words, when you hope to earn a Register Reward in any given transaction, do not use a Register Reward as payment that was earned from the same product or manufacturer as the Register Reward you hop to earn.
To maximize Register Reward savings, there are two options.
1. Alternate between different products. If there are two or more Register Reward promotions generating similar or same-value Register Rewards, go back and forth between those promotions.
If you receive a Register Reward generated by the purchase of product X, you cannot use it to buy a second product X if you want another Register Reward to print. Find two different products that trigger similar value Register Rewards and alternate buying those items in separate transactions. Pay for product Y using the Register Reward earned from product X. Then use the Register Reward earned from product Y to pay for a second product X and so on. (Now go ahead and reread this paragraph a few times until you're no longer scratching your head!)
Here is an example:
2. Roll Register Rewards week-to-week. I prefer to roll my Register Rewards from week to week. On my very first Walgreens shopping trip, I paid quite a bit out of pocket. But I also walked away with a wallet full of Register Rewards, which I saved for the next week. Then, during Week Two, I used all my Register Rewards earned in Week One and I didn't have to pay as much out of pocket or worry about rolling conflicts.
Balance Rewards Points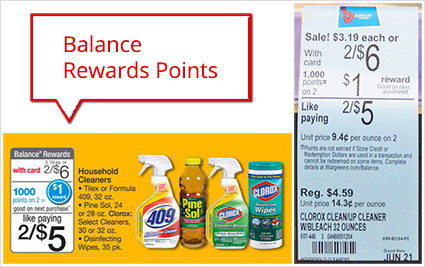 Each week, Walgreens offers Balance Rewards Points with qualifying purchases. Check the weekly ads and the sale tags in stores to find products generating Balance Rewards Points.
To Earn Points
Purchase qualifying products and earn Points! It's as simple as that! Be sure to scan your card or enter your phone number at checkout to earn Points.
You can earn multiple Points in a single transaction. There is not a limit on how many times you can receive Points from the same promotion. In most cases, you do not even need to do separate transactions to earn multiple Points from the same promotion!
Manufacturer coupons and Register Rewards do not interfere with any Points earned. In other words, you will still earn Points when using manufacturer coupons and Register Rewards. The monthly Walgreens Savings Book coupons are the exception to this rule. They do count against your total. If you are doing a "Spend X amount of dollars, Receive X number of Points" promotion, you need to meet the specified total before manufacturer coupons but after the monthly Walgreens coupons.
To Redeem Points
Once you reach at least 1,000 Points on your account, you can redeem them. 1,000 Points are worth $1.00. 40,000 Points are worth $50.00. Save your Points until you have 40,00 to get the most bang for your buck! Points can only be redeemed in the following increments:
(1) 1,000 Points = $1.00
(2) 2,000 Points = $2.00
(3) 3,000 Points = $3.00
(4) 5,000 Points = $5.00
(5) 10,000 Points = $10.00
(6) 18,000 Points = $20.00
(7) 30,000 Points = $35.00
(8) 40,000 Points = $50.00
To redeem Points, follow the prompts on the debit card pad or ask your cashier.
If you are redeeming Balance Rewards Points as payment in a transaction, you cannot earn Points. In other words, Points cannot be earned when you are paying with Points. However, you can earn Register Rewards even if you pay with Points.
Shop at Walgreens and use your card at least once every six months and your Points will not expire for three years.
You cannot redeem or earn Points on purchases of: dairy, stamps, prescriptions, alcohol, tobacco, phone cards, lottery tickets, charitable donations, transportation passes or money orders. To read more, visit the full Balance Rewards Terms and Conditions or read the Walgreens Balance Rewards Q&A.
Balance Rewards Points Summary
You will not earn Points in a transaction in which you redeem Points.
You will earn Points in a transaction in which you use Register Rewards as payment.
You will earn Register Rewards in a transaction in which you redeem Points.
Coupon-to-Product Ratio
The Walgreens cash register will not allow the cashier to accept more manufacturer coupons than total products purchased. This gets tricky because Register Rewards used as payment are considered manufacturer coupons. If you are purchasing five items and using five manufacturer coupons and a Register Reward, the register will beep and reject the sixth coupon. Every manufacturer coupon contains a barcode, which the register pairs with one of the products in the transaction. When the cashier attempts to scan too many coupons, the register cannot find a corresponding product and rejects the coupon.
To solve this problem, purchase what we call a "filler" item. A filler item is any inexpensive product in the store that you can add to your purchase so that the register will accept an additional coupon (the Register Reward). The filler item can be any item, but it makes most sense for it to be inexpensive. Check the local ad for items priced less than $1.00. Make sure you have at least as many items in your transaction as you have manufacturer coupons and Register Rewards used to pay. The total number of Register Rewards + the total number of manufacturer coupons cannot exceed the number of products purchased.
Every week, we publish a post that contains filler item ideas from the weekly ad.
Paperless Digital Coupons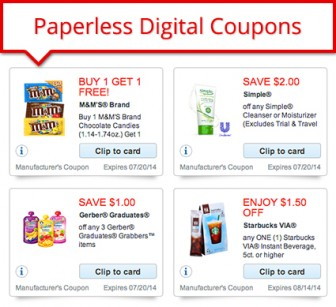 Visit Walgreens.com from your computer or from the Walgreens mobile app to find and clip digital coupons. If you are not logged in, you will need to sign in with your username and password. Click on the "Clip" button on each desired coupon to add it to your account. Up to 100 coupons can be clipped to your account at one time. After clipping, buy the products that correspond with the coupons. Be sure you have scanned your Balance Rewards card or input your phone number at checkout. The coupon will automatically deduct from your total. Each paperless coupon can only be redeemed one time.
Paperless coupons are manufacturer coupons. Each one can be stacked with a Walgreens in-ad coupon or a Walgreens coupon from the monthly savings book. Each paperless coupon cannot be stacked with another physical manufacturer coupon on a single item.