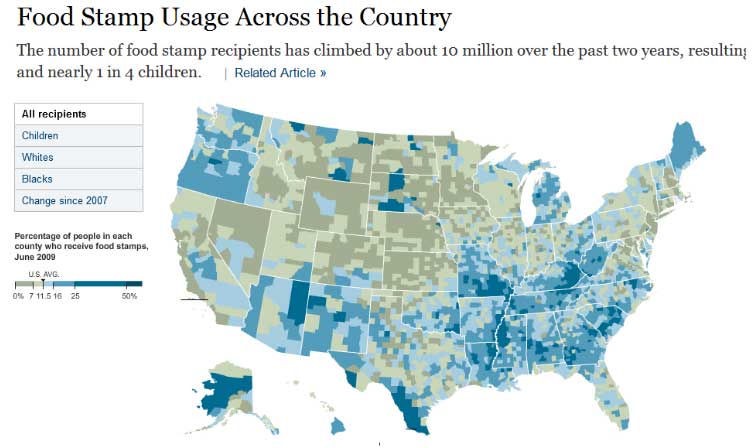 photo source
When I teach coupon classes, I hear this question a lot:
Can I use coupons and food stamps?
YES YES YES, you can! While you absolutely can use coupons to make your food stamps go further, you may want to bring some spare change with you. Here's why: Since a 3rd party (the manufacturer) will be reimbursing the value of the coupons you use, the store must charge sales tax on the value of the coupons.  Remember, coupons are a form of payment NOT A DISCOUNT- so essentially the manufacturer is paying that portion of your bill and you are responsible for the tax.  When you use a store coupon (when the store is not reimbursed by a manufacturer) that is a DISCOUNT, and you do not need to pay any tax. Make sense?
Here are a few examples:

Total of Food: $10.00
Use $7.00 in manufacturer coupons
Pay $0.42 out of your pocket (tax on the coupons)
Put $3.00 on your EBT Card

Total of Food: $10.00
Use $2.00 in store coupons
Put $8.00 on your EBT Card
(No tax is paid when you use STORE coupons)
Here's where things get tricky.  (Please Note that I have never used Food Stamps, so this is soley based on the research I've done. If you know something different, please leave a comment and let us know.


) When you are buying food (covered by food stamps) and Nonfood items like cleaning supplies (not covered by food stamps) and using coupons and food stamps and cash or a debit card to pay-  things may get confusing and you may find it beneficial to seperate your transactions. Here is an example:
$50 in Food
$20 in Cleaning Supplies
-$20 in Food Coupons
-$15 in Cleaning Supplies Coupons
$15 would go on your EBT card
AND THEN you would still owe $20 plus tax  in cash for the cleaning supplies.

The store's registers are generally not smart enough to tell the food and nonfood coupons apart, and so they all get applied to the "food"- which would seem okay, but then you are paying full price for the non food items out of your own pocket
But, if you split up your transaction into Food and Nonfood, here's what it would look like:
$50 in Food
– $20 in Food Coupons
Put $30 on EBT Card

$20 in Cleaning Supplies
-$15 in Cleaning Supplies Coupons
Pay $5.00 out of your pocket