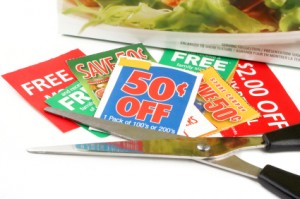 This week our inbox was flooded with readers who all had the same question:
Can I buy 2 items and use (1) $1.00/2 coupon and (1) $1.00/1 coupon together?
Answer: No, in order to use (1) $1.00/2 and (1) $1.00/1 coupon together, you would need to buy 3 items.
Manufacturer's often say "Limit 1 coupon per purchase" on their coupons to make it clear that this is not allowed. You can buy 10 Shampoos (that's 10 purchases- even if bought within the same transaction) and use 10 $1.00/1 coupons- you can not use more than that!
And to make it clear,
here is what we mean when we say we are "stacking coupons:
Stacking Coupons:  Stacking coupons refers to using both a store coupon and a manufacturer coupon on one product.  Nearly all stores will allow you to "stack".  Still, only one manufacturer coupon may be used per item.
Make sense?