Extreme Couponing!  Did you ever know you could save so much by using coupons?
With the TLC Extreme Couponing premiere set for April 6th, it's time to 'woman-up' and get out your scissors!  Want to know how to save big like I did on the pilot of TLC Extreme Couponing?  Here are my top 5 tips to get you on your way to extreme couponing success!!
Get the coupons!  First, get started and print coupons from your home computer!  Then subscribe to your Sunday paper or ask for extra copies from neighbors, friends, co-workers, your local Starbucks or McDonalds, even community recycling bins!
Organize your coupons!   If you want to create a coupon binder like the one you saw Joanie Demer use, download the 36 coupon-binder categories for free.  Tight on time?  Get a file box and organize by date.
Stack-up the savings.  Don't use coupons just 'cause you have them, and DON'T buy something your family won't use!  Wait until the products you use are on sale, then "stack" your coupon with the sale price and stock-up!
Stockpile!  I'm not saying you need a 12 month stockpile like mine or anyone else's on the show, but every successful coupon-shopper MUST stockpile to some extent! Read more about stockpiling.
Pay it forward!  When you begin saving loads of cash, it allows you to give back to your family, neighborhood and community!  Extreme Couponing has allowed me to do 2 things:  First, and most importantly, to be financially independent.  Second, I am able to give back!  Get creative with your donations:  watch me donate 300 lbs of food to my food bank or watch KCL co-founder, Heather donate toys to a woman's shelter.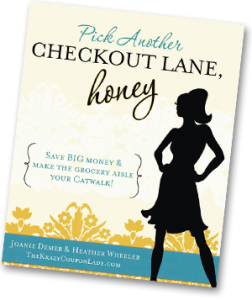 Wanna get on the fast track to "Save BIG Money & make the Grocery Aisle your Catwalk"?
Our book Pick Another Checkout Lane, Honey will take you from coupon-shy to coupon-savvy in a snap!
For more extreme couponing tips, sign up for our FREE daily emails and stay in touch via facebook and twitter!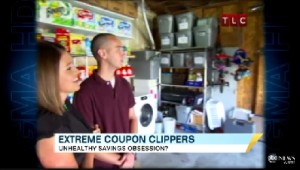 The reviews of the Extreme Couponing pilot were mixed with some applauding the money-saving show and others comparing it to "Hoarders".  ABC's Good Morning America ran a story about TLC Extreme Couponing, and during the segment, they had a "Relationship Expert" on to discuss how our Extreme Couponing  was flirting with the Obsessive Compulsive line.   My favorite part of the interview was when the "Relationship Expert" said (and I quote) "Something becomes problematic when it's a problem"… WOW! This guy really knows his stuff.  Here's the truth:
Couponing Saves Big Money: We aren't ashamed to be a little Krazy, because we are saving 50-90% at the grocery store.   Joanie and I each spend about 2 hours a week clipping coupons, and finding and shopping deals for our families. This is only a little bit more time than I would spend grocery shopping without coupons.
A Stockpile Makes Sense: Stockpiling may sound extreme at first, but it's the only way to save up to 90%  on your grocery bill. We are stocking up when an item is free or cheap in order to avoid paying full price down the road.  While we can't speak for the other couponers on TLC's show, we can say that we have a reasonable stockpile for the size of our families.  My stockpile is kept in my unfinished basement while Joanie's is kept entirely on some shelving in her garage (her 2 car garage, where she also parks her 2 cars).  Check out Joanie Demer's Stockpile Video HERE.
Giving Back: Joanie and I love being able to donate items from our stockpile to neighbors and friends, churches, local food banks and women's shelters. You can see videos of us HERE and HERE.
Our Husbands Love Couponing: We have both mentioned before that when we first started couponing, our husbands were our biggest critics. But once we had a significant stockpile where they could "shop" at home, they were hooked. Now we can't keep them from bragging to their co-workers and volunteering us to teach extreme couponing classes.
If you are new to couponing you may want to check out our 10 Days to Become a Krazy Coupon Lady series!