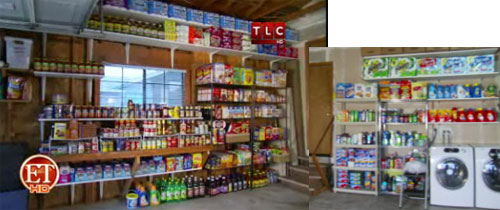 [poll id="26″]
Stockpile (n.)  Food or toiletries purchased at least 75% off retail price. By Stockpiling while something is at a ROCK BOTTOM price, you won't have to pay full price when you run out an NEED to have it.   Anticipate what you're going to need for the next 3 months, 6 months, year, etc. and buy it when it's at an acceptable price TO YOU.  When you stockpile, YOU dictate the price instead of the store.
Above is my stockpile, as pictured AFTER my shopping trip with TLC's Extreme Couponing.  As you can see, it's larger than when I recorded my stockpile video for all of you. I've actually moved since the filming of the show and I donated at least half of my stockpile to friends, family and food bank before and after the move.  I am SO proud of my stockpile.  It saves me so much money, time AND allows me to give back in ways I never could before.  But in the limelight of Extreme Couponing I almost found myself being embarassed about it. (I deserve to be reprimanded for ever wavering, fellow krazies!)
I just had an "ah ha" moment and thought to myself, "suck it up, Joanie!  You preach everyday how a stockpile is the key to saving hundreds every month on your grocery bill   Your stockpile is the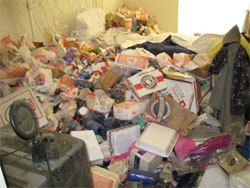 right thing for your family, so pay no mind to what anyone else thinks!"  My kitchen is modest sized and I have no pantry.  My entire stockipile lives in my garage/laundry room where we park both cars.  I'm feeling secure again and I'm ready for your unbiased opinions, so cast your vote!  Many critics are comparing Extreme Couponing to Hoarders (image at right)-  I think it's more than a stretch.  As GMA and my rows of food will tell you, I'm way too OCD about organization to be a hoarder.  Someday I'm gonna get labels for each shelf in my stockpile. 


cartoon credit:  Pick Another Checkout Lane, Honey