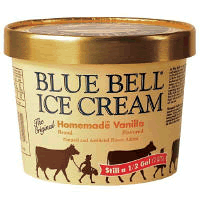 $1.00/1 – Blue Bell Ice Cream, Any flavor – (bluebell.com)
Blue Bell Ice Cream is the LOVE of my life!  Seriously! If you haven't tried it you are missing out.  My favorite flavor is plain old, but delicious, vanilla.  I signed up a few months back to become a Country Club Member with Blue Bell, and it seems like every time I log in I'm able to print 2 more $1.00 off coupons!  This week Kroger has Blue Bell on sale for $3.99. Take your dollar off coupon in and pay $2.99 a gallon, a great price for the best stuff on earth.
Log in or Sign up HERE
Click COUPON at the bottom of the page
Print!
Blue Bell Ice Cream $3.99, On Sale thru 11/22
Use $1.00/1 – Blue Bell Ice Cream, Any flavor – (bluebell.com)
Final Price: $2.99