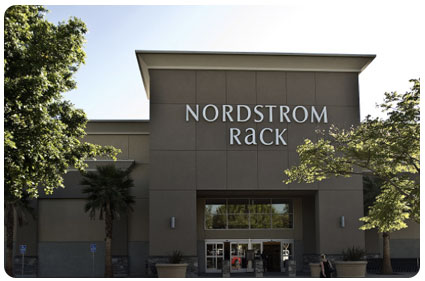 Are you a bargain shopper always on the prowl for discounted designer duds? Does your pocketbook quiver at the sight of Tory Burch shoes and whimsical Kate Spade baubles on sale? If so, then you need to put Nordstrom Rack on your shopping radar.
Nordstrom Rack is the off-price division of Nordstrom. While Nordstrom Rack lacks the ambiance traditionally associated with Nordstrom stores (there is no grand piano or velvet tufted couches for you to lounge on in the shoe department), the store makes up for its lack of frills with discount pricing.  Nordstrom Rack provides style-savvy bargain shoppers with a fashion treasure hunt – the chance to search among endless racks of merchandise for coveted items with some seriously slashed Suggested Retail Prices.
Follow these tried and true tips to make the most of your Nordstrom Rack shopping experience:
Combat Shopping Fatigue! Have an Attack Plan
Ask a sales associate which day of the week the store receives new shipments of merchandise. Visit the store as soon as it opens (typically 10:00 AM) on new shipment day.  After all, the early bird gets the … Burberry wedge espadrille for half-price.
Befriend a sales associate who shares your sense of style.  On new merchandise days, go ahead and ask your beloved sales associate what she thinks are the best pieces in the new shipment of merchandise. If you'd love to swap closets with that preppy sales girl working in the fitting room, then she can probably tip you off as to where to find all the new nautical-striped Trina Turk cardigans and Lilly Pulitzer shift dresses that just came off the truck. Since sales associates at Nordstrom Rack don't work on commission, stay in your beloved associate's good graces by frequently praising her to the store manager.
Short on time? Ask the dressing room attendant if you can go back to the re-stocking room in the dressing room, where employees are sorting and organizing clothes that customers tried on and didn't purchase that day.  The sorting room is sorted by section and sometime size.  These "rejects" typically showcase an edited collection of the store's best pieces. Like you, most other customers come to Nordstrom Rack in search of clothes with recognizable designer names and significant discounts – so why not let them do all the work?
Shhh! The Inside Scoop
Items frequently get misplaced at Nordstrom Rack.  A size 8 dress may be placed on a size 14 rack and Jimmy Choo stilettos might be hiding in a Converse shoebox. Some shoppers will even purposely try to hide great items so they can come back at a later date and find the items.
Find the most amazing pair of shoes in the wrong size? Don't fret, Cinderella – Nordstrom Rack stores throughout the country often carry the same exact merchandise.  Politely ask your sales associate to call the other Nordstrom Rack stores in your area to see if they carry the shoe in your correct size.
Buyer Beware: Just Because It's on Sale Doesn't Make It a Good Deal
Sometimes items at Nordstrom Rack can be priced higher than the same item being sold at non-discount retailers.  I saw a Nike warm-up jacket at the Rack for $39.99 retail price – $15 less than its Suggested Retail Price. I whipped out my smart phone in the store and went to my favorite online price comparison website, www.shopstyle.com, to research how other retailers priced the jacket. Good thing I checked. ShopStyle informed me that the same jacket was being sold for $14.99 at Macys. If you don't have a smart phone with Internet service, write down (or take a photo of) the item's identifying information (brand, style number and name) and then research the item on a price comparison website when you return home.  You can put the items you are interested in on hold until the store closes that day.
Some items at Nordstrom Rack are made specifically for Nordstrom Rack and can be of inferior quality to items that come directly from Nordstrom stores. Here's how you tell the difference: items from Nordstrom feature a price tag with a colored stripe on it (the color indicates the season) and items made for Nordstrom Rack have a plain white price tag with no colored stripe.
While Nordstrom is known for its lenient return policy, Nordstrom Rack is not.  Nordstrom Rack requires every returned item to have its original receipt and price tag. If you bring the item back within 30 days of purchase, then you can either return it for a full refund or exchange it.
This has been a guest post by Lisa from Miami, FL
Find out more about the KCL Contributor Network!