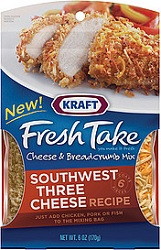 $1.00/1 – Kraft Fresh Take – (kraftrecipes.com)
Thanks, One Momma Saving Money
Have you tried the new Kraft Fresh Take Cheese and Breadcrumb Mixes?  I haven't yet, but with a new coupon I think today might be the day!  Right now you can save $1.00 on one Kraft Fresh Take Mix.  Use it at Target to score one for just $1.99! Find them in the refrigerated section, and use them to coat chicken, fish or pork for a delicious meal!
Kraft Fresh Take Cheese & Breadcrumb Mix $2.99, Regular Price
Use $1.00/1 – Kraft Fresh Take – (kraftrecipes.com)
Final Price: $1.99