If you're going to be the queen of your castle, then you need a great throne. Pottery Barn makes amazing chairs, but they cost a fortune. Lucky for you, I've found some great knockoffs to those pricey Pottery Barn chairs.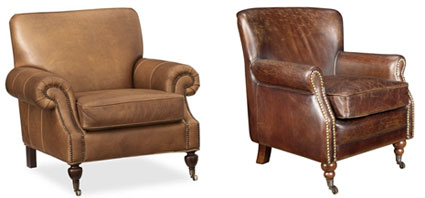 Every home needs a leather armchair with sink-in comfort and classic styling. I love the look of club chairs from 1940s Europe such as the impeccably stylish Pottery Barn Brooklyn Leather Armchair. It costs $1,299 plus a $50 delivery surcharge and $129.90 for shipping, totaling out at $1478.90. It measures 37.5"W x 37"D x 34.5"H and features roll arms outlined with antique-bronze nail heads.
For a cheaper copycat version of this chair, check out the Teva Living Vintage Cigar Leather English Club Chair.  It only costs $485 (shipping included). It measures 28"L x 30"D x 31"H and like the Pottery Barn armchair, features a straight back and rolled arms adorned with brass nail heads. Both chairs are made out of real leather. You'll feel like one classy gal when you're sitting pretty atop this chair!
***Total Savings on Teva Living armchair: $993.90,  a 67% savings!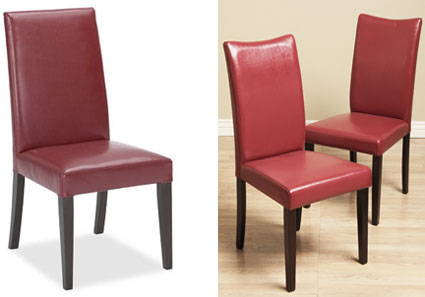 Used as either a dining room chair or a desk chair, a simple leather Parsons-style chair will add timeless sophistication to the room. One Pottery Barn Grayson Chair in red leather measuring 19"W x 23"D x 39"H costs $299 plus $29.90 in shipping, totaling out at $328.90. Alternatively, Overstock.com's set of four Shino Bi-cast Leather Chairs in red measuring 17.7"W x 22"L x 38"H only costs $333.99 plus $2.75 in shipping, totaling out at $336.74. Both chairs feature a sturdy hardwood frame and legs, luxurious bicast red leather, and a thick seat pad for extra comfort. If you were to purchase four of the Pottery Barn chairs, it would cost you $1315.60 (including shipping).
***Total Savings on Overstock.com Shino red leather chair (for a set of 4) : $978.86, a 74% savings!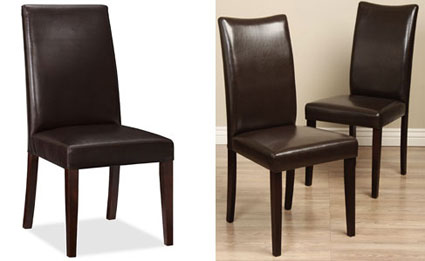 If you're uneasy about red leather (although design experts say red is the new neutral), then both brands of chairs are available in more traditional, chocolate brown leather. In addition to red leather, the Pottery Barn Grayson Chair comes in chocolate brown, orange, and tan leather. On Overstock.com, a set of two Shino Bi-cast Leather Chairs in brown leather is available for $143.99 plus $2.75 for shipping for a total of $146.74. Two Pottery Barn Grayson Chairs in chocolate brown leather cost $598 plus $59.80 for shipping, totaling out at $657.80.
***Total Savings on Overstock.com Shino brown leather chairs (for a set 2): $511.06, a 77% savings!
This has been a guest post by Lisa from Miami, FL
Find out more about the KCL Contributor Network!