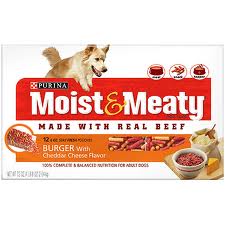 $1.50/1 – Purina Moist & Meaty Brand Dog Food, 72 oz or larger – (coupons.com)
Available under zip code 90210
Show your dog some love with a pack of Purina Moist & Meaty Dog Food! Hurry to print this high-value, $1.50 coupon. Then save it for a sale, or take it to Walmart to grab the twelve-pack for just $3.17. That makes each serving only $0.26!
Purina Moist & Meaty Burger with Cheese Dog Food, 12 ct $4.67, Regular Price
Use $1.50/1 – Purina Moist & Meaty Brand Dog Food, 72 oz or larger – (coupons.com)
Final Price: $3.17 or $0.26 per serving