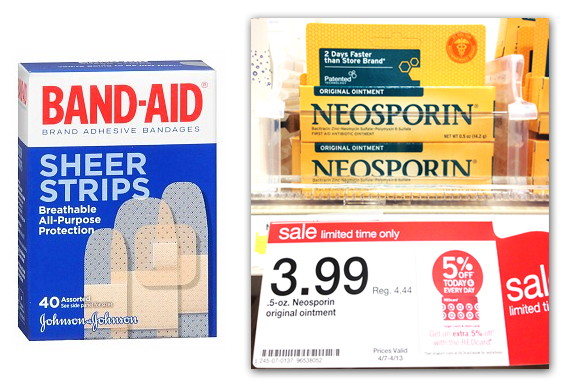 Earlier, we told you about a Healthy Essentials rebate and how to use it at Walgreens. The rebate is for $5.00 and a free first aid bag! Purchase at least $10.00 in Band-Aid and Neosporin products (before coupons). After coupon savings and the $5.00 rebate check, it's like paying only $0.38 for each product! Plus, receive a first aid bag at no charge.
As with all rebates, pay close attention to the requirements and make a copy of your receipt(s), just in case.
Rebate Requirements
The purchase total must be $10.00 or more and include at least one Neosporin Ointment or Cream product and one Band-Aid bandages product.
Purchases must be made between 4/7 and 4/30.
Requests must be received by 5/31.
Mail in the completed rebate form, the original store receipt with products circled, and the UPC barcodes cut from the package.
Limit one offer per household mailing address.
Allow 6-8 weeks to receive a $5.00 rebate check and first aid bag.
Buy 2 Neosporin Original Ointment, 0.5 oz $3.99, sale price through 4/13 Buy 2 Band-Aid Bandages, 40 ct $1.77, sale price through 4/13 Spend $10.00, Submit for $5.00 Mail-In Rebate and Free First Aid Bag through 4/30, Limit 1


Use two

$2.00/1 – Neosporin Product – (neosporin.com)

Or 

$2.00/1 – Neosporin Antibiotic Ointment or Neosporin Lip Health, Excludes Trial Size – (healthyessentials.com) 

Or $1.00/1 Neosporin First Aid Product, excludes trial sizes, Limit one coupon per person, Limit 4 coupons in same transaction from RP 4/7 (exp 5/24)

And use one

$1.00/2 – Band-Aid Brand Adhesive Products, excludes trial and travel sizes – (coupons.com)

Or

$0.75/2 – Band-Aid Brand Adhesive Bandages, excludes trial sizes, limit one coupon per person – (healthyessentials.com)

Or $0.75/2 Band-Aid Adhesive Bandages Products, Limit one coupon per person, Limit of 4 coupons in same transaction from RP 4/7 (exp 5/24)

Pay $6.52, Submit for $5.00

Mail-In Rebate Final Price: $0.38 each, when you buy all 4 plus free first aid bag