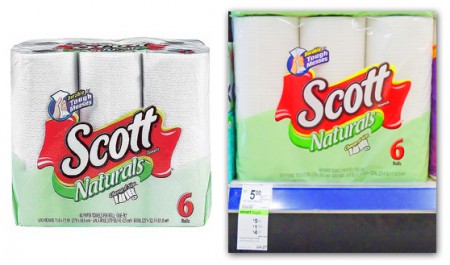 Hurry to Walgreens for a bargain on Scott paper towels! Starting today, a purchase of two or more packs of Scott paper towels will generate a Catalina at checkout. A Catalina is a coupon that prints at checkout that can be used on a future Walgreens shopping trip on almost anything in the store.
Buy Scott Paper Towels, 6 ct between 4/10 – 4/30
Buy 2, Receive $2.00 Catalina
Buy 3, Receive $3.00 Catalina
Use a Walgreens coupon from the April Savings Book to save $1.00 off each package of Scott Naturals paper towels. The April Savings Book is located in the front of the store near the weekly ads. Use one coupon at checkout, and the register will automatically deduct $1.00 for each package purchased.
Also, sign up for a new account on the Scott Shared Values page and print a high-value $1.00 coupon. I wasn't able to find this coupon with my existing Scott account, so I created a new account. To print the coupon:
Click on the coupon link below.
Click the blue "Sign Up" button at the top right.
Create an account.
Instead of the $0.70 coupon, click the blue "Share & Save $1.00" button.
Share the coupon via Facebook or other social media.
Click "Get Scott Towels" and print the coupon!
Buy 2 Scott Naturals Paper Towels, 6 ct $5.00, regular price Buy 2, Receive $2.00 Catalina through 4/30
Use one $1.00/1 – Scott Paper Towels, 6 ct or larger – (scottbrand.com)
And use one $0.75/1 Scott Towels, 6 rolls or more from SS 3/17 (exp 4/27)
And use one $1.00/1 Scott Naturals Paper Towels, 6 ct from Walgreens April Savings Book (exp 4/27) will automatically deduct $1.00 twice
Pay $6.25, Receive $2.00 Catalina


Final Price: $2.13 each, when you buy 2, or $0.35 per roll