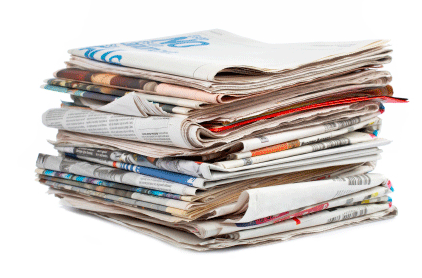 We've all seen those ladies on Extreme Couponing who have 50 or more coupons for one item. But how the heck does the average person collect that many coupons without buying them? You've probably heard about dumpster diving for coupons and asking friends and family to save old newspaper inserts. But did you know there are tons of other ways you can stock up on old newspaper coupons?
1. Check schools
Call your local schools and see if they have a recycling program. Many schools have newspaper programs to helps get kids involved in the local and national news — that means a recycle bin (with tons of coupon inserts) in almost every classroom!
2. Visit gas stations
Check with the gas stations and convenience stores around town. In some cities, the gas stations only have to give the first page of the unsold paper back to the carrier. What do they do with the rest of the leftover papers? Toss them in the trash! Ask the manager if they'd save the newspapers for you rather than throw them in the garbage can. Unfortunately, this trick doesn't work everywhere — some newspaper carriers actually come and collect all of the old papers.
3. Scout curbside recycle bins
I like to walk around my neighborhood (and surrounding neighborhoods) with my preschooler on recycle day, and not just because we need the exercise. There are usually tons of old newspaper coupons in my neighbors' curbside recycle bins. Most of my neighbors are okay with me taking their discarded inserts — but you might want to double check with yours before you go rifling through their trash.
4. Charm your delivery person
If you currently have a newspaper subscription, ask your delivery person if they could give you some extra inserts. My delivery person gives me four free extra inserts every Sunday. And all just because I asked nicely. Although this might not work in every case, it never hurts to ask.
5. Run to the store
I like to scout out my favorite grocery stores on Monday morning. I usually find discounted Sunday newspapers — once, the manager even let me have some for free!
6. Take advantage of apartment life
If you live in an apartment complex (or condos, townhouses, etc.), go door to door and ask your neighbors to save their newspaper inserts for you. If you don't feel comfortable doing that, see if your apartment manager will allow you to post a notice in the office, or check to see if your apartment complex has a newspaper recycle bin.
7. Play the trade game
Host a "Coupon Trading Party." Post invites on your city's local couponing Facebook page (if your city doesn't have one, consider starting one yourself!), hang notices at the library, run an ad in the local paper or ask friends and family to spread the word. Parties like these are not only a great way to get old newspaper coupons, they are a terrific way to meet coupon gurus just like you. If you'd rather trade online, use websites like AFullCup, HotCouponWorld, HaveCouponsWillTravel or Freecycle.
8. Look for free local papers
Some cities publish free little local newspapers that carry coupon inserts. One newspaper found in several cities, called Yes!, is actually delivered right to your door for free (do a Google search to see if Yes! is available in your city). Sometimes you can spot free local papers like these around town on Sunday morning — just be sure to only grab a few from each location. You don't want to wipe out the entire supply in one spot.