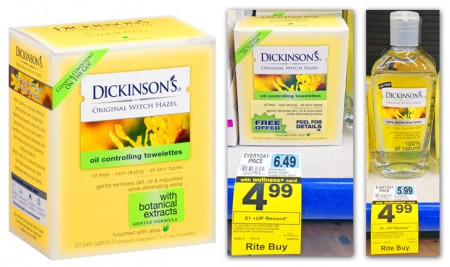 Dickinson's Witch Hazel towelettes and toner are on sale for $4.99 this month at Rite Aid! Buy one and receive a $1.00 +Up Reward. Plus, look for "Free Offer" peelies on the boxes of witch hazel towelettes! Here are the rebate details if you find the "Free Offer" peelie rebate form:
Purchase Dickinson's Original Witch Hazel product between 10/1/2012 and 11/1/2015.
Submit the original store receipt with the product circled, along with the completed mail-in rebate peelie form.
Submissions must be postmarked by 11/15/2015.
Allow 6-8 weeks to receive a check for the purchase price.
There is a limit of one offer per name, household or address.
Dickinson's Original Witch Hazel Oil Controlling Towelettes, 20 ct $4.99, sale price through 7/27 Dickinson's Original Witch Hazel Pore Perfecting Toner, 16 oz $4.99, regular price
Buy 1, Receive $1.00 +Up Reward through 7/27, Limit 4
Buy 1, Submit for $4.99 Peelie Mail-In Rebate through 11/1/2015, Limit 1
Pay $4.99, Receive $1.00 +Up Reward and Submit for $4.99 Mail-In Rebate


Final Price: $1.00 Moneymaker 

free

USD
Can't find the mail-in rebate peelies? Try this deal:
Dickinson's Original Witch Hazel Oil Controlling Towelettes, 20 ct $4.99, sale price through 7/27 Dickinson's Original Witch Hazel Pore Perfecting Toner, 16 oz $4.99, sale price through 7/27
Buy 1, Receive $1.00 +Up Reward through 7/27, Limit 4
Pay $4.99, Receive $1.00 +Up Reward


Final Price: $3.99