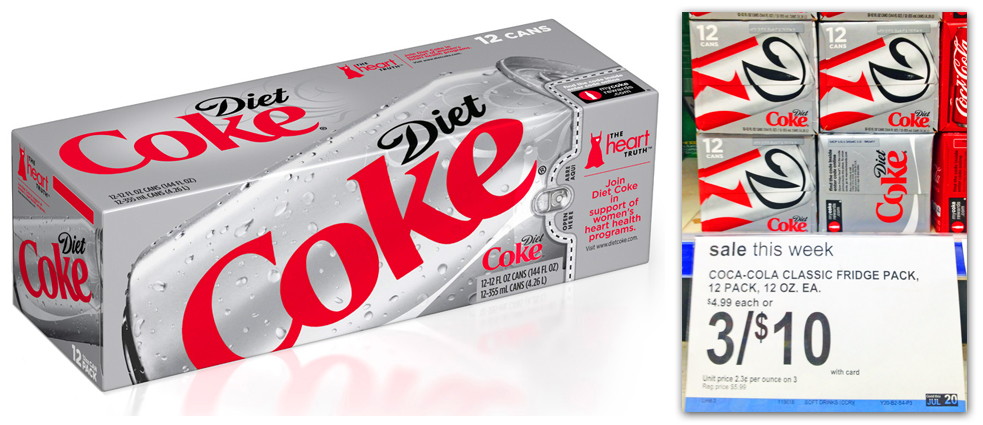 Twelve-packs of Coca-Cola and Coke products are on sale at Walgreens this week! Use a coupon from yesterday's Smart Source newspaper insert to save $1.00 on three cases. Also, look out for $1.00/3 peelie coupons attached to the cases of soda.
Buy 3 Diet Coke, 12 oz 12 ct $3.33 each, when you buy 3, sale price through 7/20 Use one $1.00/3 Diet Coke 12-packs, 12 oz cans OR (2) Large Pack (20pk/24pk/28pk) Cans, 12 oz from SS 7/14 (exp 8/11)


Final Price: $3.00 each, when you buy 3 

$3.00

USD
In some regions, Coca-Cola twelve-packs are on sale, three for $9.00! Be sure to check the front page of your local ad to find out what the price is.
Buy 3 Diet Coke, 12 oz 12 ct $3.00, each, when you buy 3, sale price through 7/20 Use one $1.00/3 Diet Coke 12-packs, 12 oz cans OR (2) Large Pack (20pk/24pk/28pk) Cans, 12 oz from SS 7/14 (exp 8/11)


Final Price: $2.67 each, when you buy 3

$2.67

USD
Thanks, Reader wfteresa