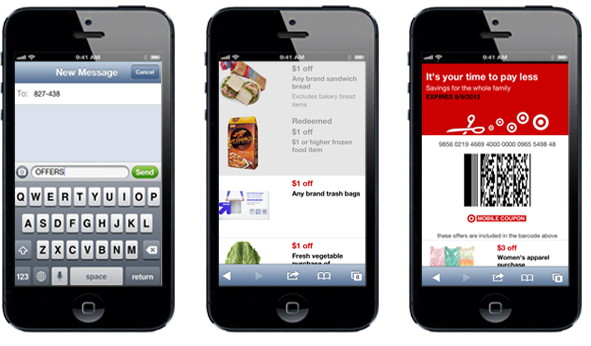 Target mobile coupons are Target store coupons that are sent to your phone by text message. The text message includes a link. Click on the link to open a web page with the Target mobile coupon offers. There is a barcode located at the top of this page that the cashier will scan at checkout. There is only one barcode. When it is scanned, the register will automatically deduct the coupon amount from the price of the item(s) you are purchasing. If you do not have a smartphone or are unable to open up the web page on your phone, type the web address into an Internet browser on your computer. From there, print the barcode, and have the cashier scan it just like they would from a phone. To sign up for Target mobile coupons, text OFFERS to 827438 (TARGET) or go to target.com and sign up using your phone number.
Target mobile coupons are good for one use only. When you redeem a Target mobile coupon, your Target receipt will show you how many offers you have remaining. Target mobile coupons are store coupons and can be combined with manufacturer coupons and Target Cartwheel offers. They cannot be combined with any other Target coupon (printable, newspaper, mailer, etc.) See below for a step-by-step tutorial on Target mobile coupons:
1. Sign up for Target mobile coupons. Text OFFERS to 827438 or go to target.com.
2. Open the link that is sent via text message, and the Target mobile coupons will open on your phone's browser.
3. Show your phone to the cashier to scan the barcode at checkout.