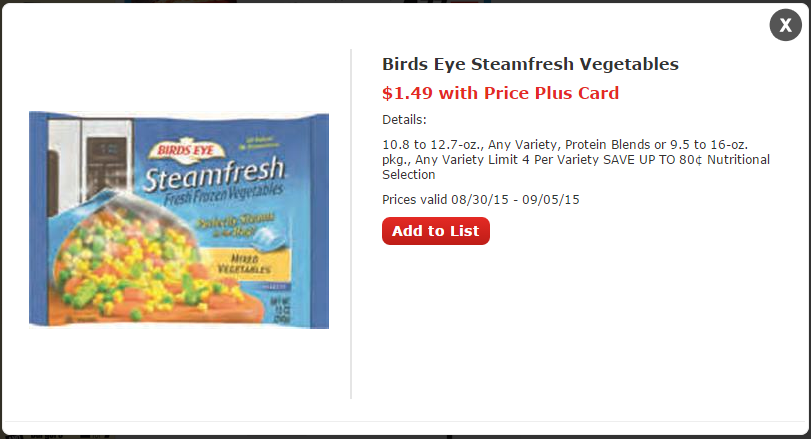 There is a pretty good deal on Bird's Eye Steamfresh Protein Blends or Flavor Full Bags if you still have those $1 Manufacturer coupons. I have to admit I was going to toss out these coupons because I held them for so long without a deal. This week you can get a bag for $0.49 after coupon! My boyfriend and I did 2 separate transactions to use all my coupons. (I took a look at the Bird's Eye website and just wanted to let you know there are more flavors than the ones that were shown on their website. We saw Lime Fiesta Corn, Sweet Chili Carrots, Sour Cream and Onion Potatoes, etc.)
Transaction:
4 Bird's Eye Steamfresh Southwest Protein Blend: Sale Price $1.49 each
4 Bird's Eye Steamfresh Sour Cream and Onion Potatoes Flavor Full: Sale Price $1.49 each
Coupons Used:
4 $1 off 1 Bird's Eye Steamfresh Protein Blend Bag
4 $1 off 1 Bird's Eye Steamfresh Flavor Full Bag

Total after Coupons: $3.92!
My boyfriend did the same deal only we bought some Lime Fiesta Corn and Barbecue Corn Flavor Full bags.
I'm so happy I didn't toss these coupons out yet. Now if only I can find some normal Steamfresh coupons, I really want to stock up on some Edamame and Peas.