I never liked the "X% off" coupons from CVS until I realized these were good on regular priced items that generated ECBs… My sister and I got back from a busy weekend realizing some of our coupons were expiring and we had these CVS Qs that we weren't sure what to do with… so we did some recommended MM deals that KCL recommended.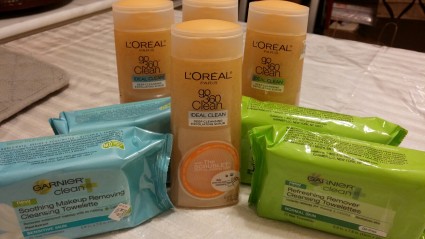 L'oreal go360Clean Facial Scrub:
$6.29 Reg Price
– 25% off Facial Care CVS Q
– 2x $2/1 L'oreal Skin Care Product MQ
Total: $5.43 + Buy 2 Get $10ecb
Garnier Cleansing Towelettes 25ct
$6.79 Reg Price
– 25% off Facial Care CVS Q
– 2x $3/1 Garnier Moisturizer or Cleanser MQ
Total: $4.18 + Buy 2 Get $5ecb
Paid about $10 after tax and received a $10 & $5 ecb making this about $5MM!
Did the same deal on my sister's card except she had the 20% off all Reg priced items emailed CVS Q which made hers about $3.50 MM. Still did good!