As a first brag, I feel like this isn't too shabby – 75%+ off on beer and produce. Those two things are NEVER this cheap!
Total + tax before discounts and coupons= 124.96
Total + tax after all discounts, coupons, and rebates = 31.02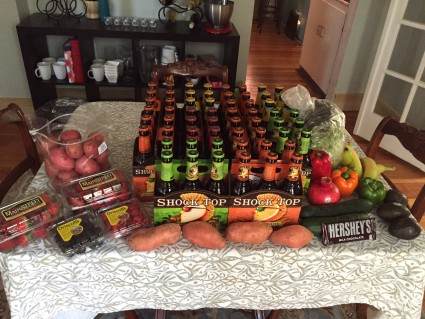 How we did it:
Thanks to KCL, we knew that Shopmium had $5 rebates per 6-pack of Shock Top up to 5. My roommate and I share all groceries and she's a bit of a beer connoisseur, so stocking up is always a good idea when there's decent cheap beer involve. After looking at the stores I frequent, I found that HyVee had the best price on 6-pack Shock Top ($8.49 at most stores, though I don't know what regular price is at HyVee).
Our shopping list originally contained ONLY 10 6-packs of Shock Top. We didn't have a discount at Ibotta, but it was still going to be $6.97 minus $5 (Shopmium rebate) per pack and $1.97 (net) for a 6-pack is next to unheard of. Since we both have the Shopmium app, we could both redeem 5 rebates.

Upon arrival, however, HyVee also had tear sheet coupons for $2 off any produce purchase exceeding $2 with any 6-pack purchase of Shock Top – but they were limited to one per transaction.
By splitting the produce into $2ish chunks wherever possible, we saved $20 through 10 transactions.
Here's the breakdown:
10 6-packs Shock Top on sale $6.97 = 69.70
1 bunch red leaf lettuce on sale $2
1 bag red potatoes $6.22 – $0.50 automatic saving = $5.72
6 bananas $0.99
1 orange pepper on sale (misrung up – didn't catch it until I got home, but should have been $2) $1
2 cucumbers $0.99 each = $1.98
1 pomegranate $2.99
3 avocados on sale $2
1 red pepper on sale $2
1 Hershey chocolate bar $0.89
4 sweet potatoes $3.62
1 green pepper on sale $1
1 6oz carton blackberries on sale $1.67
1 6oz carton raspberries on sale $1.67
2 1lb cartons strawberries (reg price $3.99) on sale $0.99 each = $1.98
Used (10) $2 off produce purchase exceeding $2 when Shock Top 6-pack is purchased in same transaction
Redeemed SavingStar 20% off sweet potatoes ($0.72) and Free Hershey chocolate bar ($0.89)
Submitted for (10) Shopmium $5 rebate on purchase of any Shock Top 6-pack (5 redeemed by me, 5 by my roommate)
After tax, our total for all transactions (after rebates and coupons) was $31.02 on a total value of $124.76 or a 75.1% saving!