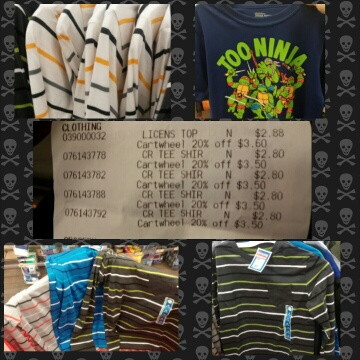 Got some great deals today. I'm especially happy about the boys tees that I got for my nephews…
Circa Long Sleeve boys tees, normally about $7 is on clearance for $3.50!
Teenage Ninja Turtle boys tees, normally $12 is on clearance for $3.60! I only found one left in my store.
Plus… add the 20% off cartwheel makes it only $2.80/$2.88 each! I bought 4 x Circa and 1 x Ninja…Gatorade 32oz is on sale at $1 each. I have a bunch of these $0.50 coupons from those coupon pads at Walgreens so it makes these .50 each!!
Sara Lee's brownie chocolate chip cakes – Regular $2.50 – $1/1 MQ = $1.50! (They're a pretty big pack too!)
Market Pantry Frozen appetizers/snacks are on sale for 3/$9. I bought these yesteday with only the 5% cartwheel and they were so good, I came back for more… this time, with an extra $1/$3 Target Coupon so this made it 3/$7.60 or about $2.53 each! These are so easy to make and delicious snacks!
Pantene Shampoo & Conditioners These were on sale at $4.99 each (one of them rang as $5 so not sure what the difference is but it's all good). When you buy 4, you get a $5 GC… Plus I had the BOGO Manufacturers Coupons from 1/25 so this made it an awesome deal of about $5 for 4 or $1.25 each!
Other worthy deals from today that I should mention:
Up&Up Scissors & 4pk Pens – The signs on these initially said about $3.50 but when I went to check out, these were actually $2.69 and $2.14 respectively. I had a $1/$3 off Up&Up Target coupon from the In With The New booklet. This coupon went through even though the item was not $3+. This was my mistake since I thought the item was $3.50 (maybe it was total of $3 since I bought two items?) but all in all, it went through and I didn't mention it.
Soft Soap Body Wash – I only found one in the clearance section but it was $2.44. I had a $.75 coupon so that makes this $1.69 — unfortunately, I  forgot about this coupon and didn't use it but it was still a good deal!
Northern bath tissues 30pk – So I'm sure everyone saw this deal but I'm disappointed it didn't work out for me. I'm going to return tomorrow. So the deal was… buy 2 at $15.99 each and get $5 GC… there's also a 20% off cartwheel, $.75 Target coupon and $1/1 MQ. The total should've came up to about $8.5-$9 each after coupons and gc but the cartwheel did NOT go through when I did it (and it was getting late so I just left with it). The exclusions only exclude the 30 bonus pack so I plan to try to get the cartwheel at the store tomorrow and if they don't let me, I'll just return it.
Anyways, these were some great deals! I spent about $60 after GC and coupons/cw for about what would normally cost about $80 (or over $100 at full price!), which I feel is pretty good!