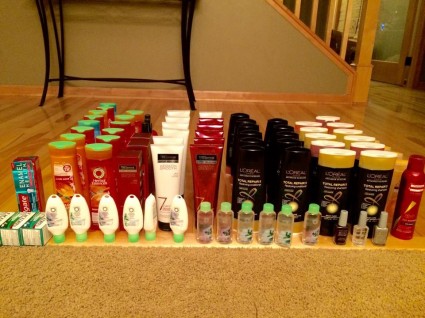 Huge Target score! This is the deal I've been waiting for! 56 products for FREE plus it was a money maker (plus 12 products from CVS)! (And it's all being donated to a battered women's shelter).
Did this deal 5 times, separate transactions at various targets:
4 loreal advanced shampoo or conditioner 3.99 ea
1 tresseme keratin shampoo 4.99
1 tresseme keratin conditioner 4.99
1 keratin treatment 7.79
2 herbal essence shampoo or conditioners 2.50 ea
total: $38.73
used:
$10/35 target beauty coupon
2 $4/2 loreal mq
4 $2/1 loreal tq
1 b2g1 free tresseme keratin treatment mq
1 b1g1 free herbal essence mq
= $2.50 OOP plus receive $5 gc so 9 items $2.50 mm
I think every time but once they gave me the full retail value of the coupons (4.99 for herbal essence and $7.99 for keratin) which made it even more profitable.
The 6th transaction I did a variation of it because I ran out of the loreal target coupons so I did more herbal essence.
Lastly, I had a small money maker at cvs with Excedrin, nail polish and facial cleanser.
All total I made about $30 and got 67 products for free!!!