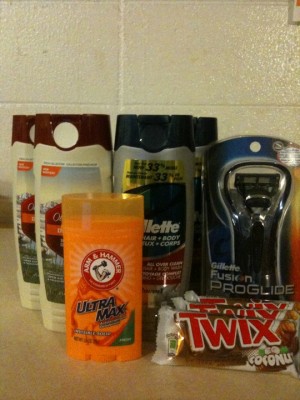 Aloha,
I had just started cutting and collecting coupons this month.
After cutting from the local paper, I found that I could also purchase some on eBay, which I did. As I went though the coupons, I thought I won't need most of those, as I do not purchase these products, and I figure I would just collect it and see if I could repost it on eBay or give them away. Well, I thought wrong.
1st Tip: Keep all your coupons, you never know what sales will come up, and believe me; you will change your mind in purchasing a product when you know you can get it for FREE.
Well after receiving my email from The Krazy Coupon Lady (TKCL), I read up on Walgreens and saw the possible savings with the P&G Coupons, which I still happen to have.
So I had my daughter drop me off for an hour while she went to pick up some extra Sunday inserts from her cousin's house. I did my shopping for the Old Spice, Gillette and A &H, and then walked around to check on other items and prices.
I was a bit nervous going to the register thinking I would have to argue with the clerk in using so many coupons, but it wasn't like that.
Transaction 1 – to get $5 rewards.
Fushion Proglide Razor retail $12.99 on sale for $9.98 – $4 MFC = 5.89 + .47 tax = $6.36
Walgreen Register Rewards for Fushion Proglide Razor = $5.00, actual cost = $1.36
Transaction 2 – to use $5 rewards.
2/16oz Gillette Body Wash @ $5.49 ea = $10.98
Gillette Body Wash MFC @$2.00, B1G1 Free MFC $5.49, Walgreen Store discount coupon $2.00
Cost with coupons = $1.49
2/16oz Old Spice Body Wash @ $5.49 ea = $10.98
Old Spice Body Wash MFC @$1.00, B1G1 Free MFC $5.49, Walgreen Store discount coupon $2.00,
Additional savings when you buy one Old Spice Body Wash, 2nd at 50% off $2.75, (not advertised)
Cost with coupons/store savings = (.26)
Arm & Hammer Deodorant $3.99 – $1 MFC – $2.50 store coupon = .49
6 Twix Coconut bars 3/$2 = $4.00
Sales tax for above = .94
Actual Cost for transaction 2 = $6.66 – $5.00 Register rewards = $1.66
TOTAL AMOUNT PAID, ONLY $3.02!
2nd Tip: Keep the register rewards for another time.
I got so excited with the savings that I should have kept the register rewards for another time and for an item that was $5 or more, skip the Twix and just paid about $1.72 and the tax. But hey, I'm happy. And it is a learning process.
Thanks Krazy Coupon Lady!