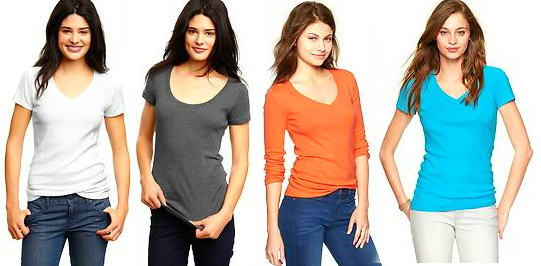 Save 35% at GAP: Tees as Low as $6.50 — Today Only!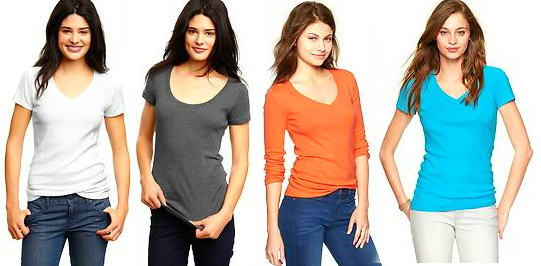 GAP is offering 35% off women and men's clothing today! Simply use code GAPDRESS to save 35% off today, 2/24. The same code will take 30% off 2/25 – 25% off 2/26 — and 20% off 2/27. In addition, save up to 40% on select styles in store and online. The code listed above cannot be used on children's styles.
Now is a great time to stock up on basic tees. The best way to save on this deal is to mix and match 8 different tees in order to have a grand total of $52.00, thus guaranteeing free shipping which is applied on all orders of $50 or more after the code.
To view all of the $10 tees: Visit Gap. Click on "Women" and scroll down to "Deals" on the left side of the screen. Then click on "Ts from $10."
Buy 8 Tees (reg $14.95) $10.00
Use code GAPDRESS to get 35% off
Free shipping with $50 purchase
Final Price: $6.50 each
Buy 1 1969 Curvy Jeans (reg $59.95) $39.99
Buy 1 Chevron Stripe Pullover -vermillion (reg $49.95) $41.99
Use code GAPDRESS for 35% off purchase
Free shipping with $50 purchase
Final Price: $53.29
Buy 1 Terry Sweatshirt Dress (reg $54.95) $27.99
Buy 1 Luxe Jersey Boatneck Tee (reg $24.95) $19.99
Buy 1 Striped Roll-edge Sweater (reg $44.95) $34.99
Use code GAPDRESS for 35% off purchase
Free shipping with $50 purchase
Final Price: $53.93