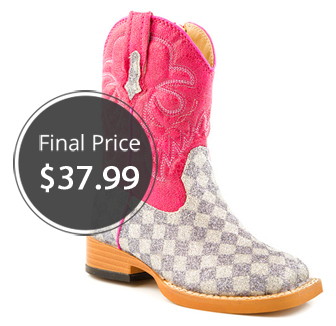 Save up to 45% on kids' Bonanza and Roper boots at
Zulily
, through 10/28 or while supplies last only.
For an example of how to save, check out the Roper Pink Glitter Checkerboard Little Cowboy Boots for only $37.99–normally $63.00.
New to shopping at Zulily? It's an online boutique that sells quality products for women, kids, men and more! It is a members-only site, but it is completely free to sign up!
Pay a one-time shipping charge and get free shipping for the rest of the weekend at Zulily. We suggest placing a small order with the lowest shipping charge possible, then going back to take advantage of free shipping on larger orders placed before midnight PT on Sunday.
Visit Zulily and click on "Bonanza Boots Kids" to start browsing!
Roper Pink Glitter Checkerboard Little Cowboy Boots (reg $63.00) $37.99
Free shipping after first order
Final Price: $37.99