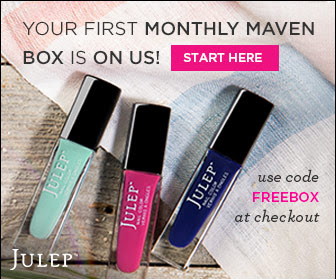 Free Nail Polish and Beauty Box—Just Pay Shipping!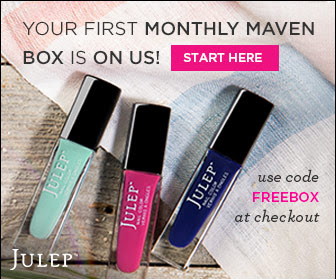 Have you ordered a Julep box yet? If not, now is the time to do so!
Julep is a highly-rated subscription service that  sends out unique nail polish colors and cosmetics to members each month. It has been featured in magazines like Allure, Seventeen and Lucky and was selected as one of Oprah's favorite things in 2012.
We checked out the reviews for Julep, and they are awesome! One reviewer wrote, "Received my Boho Glam intro box today & it's Gorgeous…even the packaging is beautiful. The nail polish is AMAZING. The pedi creme softened my dry heels after only 1 use."
To order:
Sign up with your email.
Take the style quiz to find out your style personality.
Click on "I'm in, show me my style" button.
Add your style box to your cart.
Enter the coupon code "FREEBOX" at checkout. The total price drops from $19.99 to $0.00! Just cover the $3.99 cost of shipping.
Julep is a monthly subscription that charges $19.99 per month after your free box. You can cancel your subscription at any time by contacting the site's customer service.
Julep Welcome Box $19.99
Enter coupon code FREEBOX at checkout
Pay $0.00, plus $3.99 shipping
Final Price: $3.99 shipped
Magda Depa I would want to participate on dyson vacuum sweepstake. Unfortunately I can't comment under box. Is there a reason I am blocked?

bstine90 Just to let everyone know:

You CANNOT cancel Julep online. You have to call their customer service over the phone. They will not take online order cancellations and they don't tell you that before you make your purchase.

My welcome box came with 2 polishes and their cuticle oil.