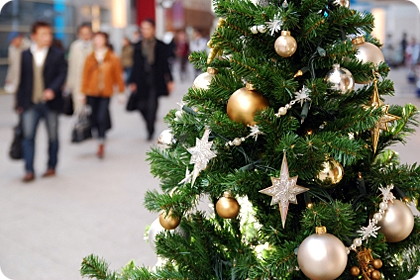 First, there was just Black Friday. Then there was Cyber Monday. And now, since good things come in threes, we have the latest in the discount holiday shopping days series: Grey Thursday. This Thanksgiving, November 22, many popular retailers across the nation will open their doors for eager discount shoppers.
Grey Thursday is a perfect way to work off a third helping of pumpkin pie (shopping is cardio!), get out of doing the dishes or watching some boring football game, or get a head start on holiday shopping deals. Check out the following list of stores that will open on Thanksgiving Day:
Walmart guarantees it will have its three most popular items available for customers who line up at the store on Thanksgiving Day between 10 p.m. and 11 p.m. The items are: Apple iPad®2 16GB with Wi-Fi ($399 plus a bonus $75 Walmart gift card); an Emerson® 32-inch 720p LCD TV for $148 (originally priced at $228); and an LG® Blu-ray™ Disc player for $38 (about half off the original price). How it works: If you want one (or two or three) of these selected items, line up in the designated area at your Walmart store between 10 p.m. and 11 p.m. on Thanksgiving Day. If you are in line and the product you want sells out, Walmart will issue you a Guarantee Card. The item must be paid for and registered online by midnight on Thanksgiving and will be shipped, free of charge, to the store where it was purchased for you to pick up before December 25.
If you plan on visiting any of the stores on this list on Grey Thursday (Thanksgiving Day) or Black Friday, make sure to call your local store ahead of time to confirm Thanksgiving Day and Black Friday hours and special deals.