Sorry — this deal is no longer available. Never miss another deal! Sign up for daily updates:
Here's a few scenarios for the Proctor & Gamble Spend $30, Receive $10 off your next order promo
Raleys Printable Shopping List
Make sure you print and take this with you to the store!  Any of the items on this list can be used to reach $30 minimum (pre-coupon, pre-tax total)
Buy 4 Pantene Shampoo or Conditioner $13.56
Buy 2 Olay Regenerist Facial Scrub $11.68
Buy 4 Crest Toothpaste $6.00
Use 2 $3.00/2 Pantene from 12/27 PG
Use 2 $3.00/1 Olay Regenerist from 11/29 PG (Expire today!)
Use 4 $0.75/1 Crest Toothpaste from 11/29 PG
Pay:$16.24 + tax, receive $10 Catalina coupon
Final Price: $6.24
submit for $15 Olay rebate here, making your final price an $8.76 Moneymaker!
Buy 6 Pantene $20.34
Buy 3 Crest Toothpaste $4.50
Buy 1 Nyquil
Use 3 $3.0/1 from 12/17 PG
Use 3 $0.75/1 Crest from 11/29 PG
Use 1 $1.50/1 Nyquil from 12/27 PG
Pay: $17.33, Receive $10 Catalina Coupon
Final Price: $7.33
Spend $30 on participating P&G products, Receive $10 Catalina Coupon off your next order
The way to maximize your savings is this:  Buy just over $30 worth of merchandise.  Then present all your coupons to lower your total (total only must be $30 before tax and coupons!).  Then pay, and receive your $10 catalina off your next order at Raleys.  Now, do another transaction if you wish, with $30 more worth of participating P&G products (see your local ad & shelves for what's participating), then present your coupons AND your $10 catalina.  This is called "rolling the catalina".  $10 Catalina for $10 purchase is essentially 33% savings.  Final Prices below assumme that you buy exactly $30.00 of merchandise per transaction.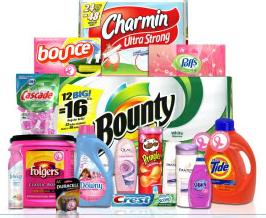 Pantene Shampoo or Conditioner $3.39
$3.00/2 from 12/27 PG
Final Price: $0.77 after catalina savings
Olay Body Wash $3.99
$1.00/1 from 12/27 PG
Final Price: $1.67 after catalina savings
Prilosec OTC $9.99
$3.00/1 from 12/27 PG
Final Price: $3.69 after catalina savings
Clairol Nice n Easy Hair Color $5.99
$1.00/1 from 12/27 PG
Final Price: $3.01 after catalina savings
Crest Toothpaste $1.50
$0.75/1 from 11/29 PG
$0.50/1 from 12/27 PG
Final Price: as low as $0.25 after catalina savings
Cascade $4.49
$0.50/1 from 12/27 PG
Final Price: $2.51 after catalina savings
Tide Detergent $9.99
$0.35/1 from 12/27 PG
Final Price: $6.34 after catalina savings
Pampers Big Pack $19.99
$2.00/1 from 12/27 PG
Final Price: $11.39 after catalina savings
Olay Regenerist 25% off
$3.00/1 from 11/29 PG
submit for rebate here
Final Price: possibly Free of Moneymaker
Dayquil or Nyquil $5.99
$1.50/1 from 12/27 PG
Final Price: $2.51 after catalina savings