Sorry — this deal is no longer available. Never miss another deal! Sign up for daily updates: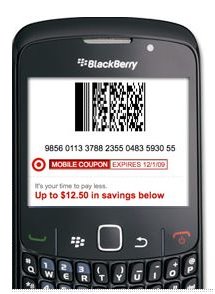 Target just released two new sets of mobile coupons! Today we received one focusing on Halloween products and another focusing on baby products. Signed up for mobile coupons and did not receive them? Simply text OFFERS to 827438 and they should be resent. To sign up to receive them, do so here. Target texts these coupons, which are redeemable by scanning the barcode image on your phone. Mobile coupons are Target store coupons and may be "stacked" with a manufacturer coupon.
All Target mobile coupons have a limit of 1 per item, which means they can only be used once.
This set is available by texting BABY to 827438 after signing up for mobile coupons. These expire on 10/27:
Buy 2 Enfamil Ready-to-Feed Bottles, 8 oz 6 ct $9.99, regular price
Use two $3.00/1 – Enfamil Product – (enfamiloffers.com)
And use one $3.00/2 Enfamil Ready-to-feed Liquid Bottles, 8 oz 6 ct, limit one item or offer per coupon, Target Coupon from Target Mobile Coupon


Final Price: $5.49 each, when you buy 2
Tommee Tippee Baby Bottles, 9 oz 3 ct $17.99, regular price
Use $3.00/1 Tommee Tippee Bottles, limit one item or offer per coupon, Target Coupon from Target Mobile Coupon


Final Price: $14.99 
MAM Silicone Pacifiers, 2 pk $3.99, regular price

Use $2.00/1 – MAM Product – (facebook.com)
Use $2.00/1 MAM Teething and Brushing Set OR Pacifiers, 2 pk, limit one item or offer per coupon, Target Coupon from Target Mobile Coupon


Final Price: $1.99
The following coupons are available by texting OFFERS to 827438 after signing up for mobile coupons. These expire on 10/26:
Darth Vader Light Saber Costume Accesory $8.00, regular price
Use B1G1 25% off, limit one item or offer per coupon, Target Coupon from Target Mobile Coupon


Final Price: $7.00 each, when you buy 2 
Halloween Novelty String Lights $8.00, sale price
Use 20% off Halloween String Lights, limit one item or offer per coupon, Target Coupon from Target Mobile Coupon


Final Price: $6.40 
Hershey's Snack-Size Chocolate Candy Bags, 36.2 oz $9.99, regular price
Use $1.00/1 Hershey's Assorted Snack Size Bag, 22 oz or larger from SS 10/14 (exp 10/31)$1.00/2 Hershey's Milk Chocolate, Hershey's Milk Chocolate with Almonds and Hershey's Special Dark Chocolate Bars, 6-packs from SS 8/19 (exp 10/14)
And use $2.00/1 Hershey's Bagges Snack-Size Chocolate Candy, 35-38 oz, limit one item or offer per coupon, Target Coupon from Target Mobile Coupon
Or $2.00/2 – Hershey's Chocolate Candy Bags, 16.5 oz or Larger, limit one coupon or offer per guest, Target Coupon – (target.com)


Final Price: $6.99
Starbucks Grandé Pumpkin Spice Latte $4.55, regular price
Use B1G1 Free Starbucks Pumpkin Beverage, Frappuccino or Latte, valid at Target Starbucks only, maximum value $5.45 for free item, limit one item or offer per coupon, Target Coupon from Target Mobile Coupon


Final Price: $2.28 each, when you buy 2
Greeting Card $1.99, regular price
Use $2.00/2 Greeting Cards, $1.00 or higher, limit one item or offer per coupon, Target Coupon from Target Mobile Coupon
Or $1.00/3 – Greeting Cards, $1.00 or Higher, Target Coupon – (target.com)

Final Price: $0.99 each, when you buy 2 
Buy 1 Target Cafe Flatbread Sandwich $2.29, regular price
Buy 1 Target Cafe Medium Fountain Soda $1.49, regular price
Use Buy 1 Target Cafe Classics Entree, Receive Free Target Cafe Medium Fountain Soda, maximum value $1.79, limit one item or offer per coupon, Target Coupon from Target Mobile Coupon


Final Price: $2.29, plus Free Medium Fountain Soda
Photofinishing Prints, 4 x 6 in $0.19, regular price
Use Buy 20, Get 10 Free Photofinishing Prints, 4 x 6 in, valid in store Target Photo Lab only, maximum retail value $30.00 for free item, limit one item or offer per coupon, Target Coupon from Target Mobile Coupon


Final Price: $0.13 each, when you buy 30