Sorry — this deal is no longer available. Never miss another deal! Sign up for daily updates: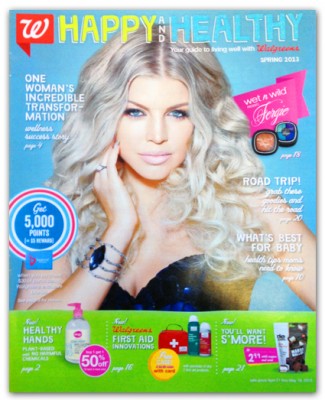 On your next Walgreens shopping trip, be sure to pick up a new Walgreens Happy and Healthy magazine! In my store, these magazines were located with the weekly ads and at the checkout counter. The magazine contains Walgreens coupons for Walgreens brand products. Several of the coupons are valid now through May 18th, and several are only valid for one week. Keep an eye on the dates each coupon is valid.
Plus, between now and 5/18, receive 5,000 Balance Rewards Points with a $30.00 purchase of Walgreens, Good & Delish, Nice! Ology and Well Beginnings products! The $30.00 purchase must be made in a single transaction and must be reached after Walgreens coupons.
$0.99 Nice! Thin Mints, 5 oz, Limit 3 (valid 4/21 – 5/18)
$3.49 Good & Delish Chocolate Bar, 10.5 oz, Limit 3 (valid 4/21 – 5/18)
$2.49 Nice! Veggie Snacks, 7 oz, Limit 3 (valid 4/21 – 5/18)
$2.49 Studio 35 Beauty Nail Polish Remover Pump, 5.9 oz, Limit 3 (valid 4/21 – 5/18)
$3.99 Good & Delish Extra Virgin Olive Oil, 16.9 oz, Limit 3 (valid 4/21 – 5/18)
$2.99 Good & Delish S'mores, 5.75 oz, Red Velvet Caramels, 6 oz or Sandwich Cookies, 8 oz, Limit 3 (valid 4/21 – 5/18)
$2.49 Nice! Caramel & Fudge Coconut Cookies, 7 oz, Limit 3 (valid 4/21 – 5/18)
$3.49 Pet Shoppe Natural Biscuits, Sweet Potato Slices or Wraps, 7-24 oz, Limit 4 (valid 4/21 – 5/18)
$2.00/1 Walgreens Acne Wash or Scrub, 5-9.1 oz, Limit 3 (valid 4/21 – 5/18)
$0.79 Studio 35 Beauty Lotion, 2.5 oz, Limit 3 (valid 4/21 – 5/18)
$0.99 W Alkaline Batteries AA or AAA, 4 ct, Limit 3 (valid 4/21 – 5/18)
$3.00/1 Walgreens Neti Pot, Nasal Wash Kit or Saline Packet Refills, 100 ct, Limit 3 (valid 4/21 – 5/18)
$2.00/1 Walgreens Sleep II Tablets, 96 ct, Limit 3 (valid 4/21 – 5/18)
$1.49 Studio 35 Beauty or W Cotton Swabs or Textured Rounds, 80-375 ct, Limit 3 (valid 4/21 – 5/18)
$6.99 Walgreens Diabetic Nutritional Shakes, 6 ct, Limit 3 (valid 4/21 – 5/18)
$2.00/1 Walgreens Certainty Pads, 52 ct, Underpads, 10-36 ct or Underwear, 10-34 ct, Limit 3 (valid 4/21 – 5/18)
$10.00/1 Immunetech My Allergy Test, Limit 3 (valid 4/21 – 4/27)
$3.49 Nice! Homestyle Meatballs, 16 oz, Limit 3 (valid 4/21 – 4/27)
$2.49 Nice! Whole Cashews, 8.5 or 9.5 oz, Limit 3 (valid 4/21 – 4/27)
$1.99 Nice Purified Water, 16.9 oz 24 ct, Limit 2 (valid 4/21 – 4/27)
$0.99 Nice! Loaded Potato Skins, 4.5 oz, Limit 3 (valid 4/28 – 5/4)
$1.00/1 Walgreens Heel Balm, 2 oz, Limit 3 (valid 4/28 – 5/4)
$2.50 Good & Delish Peachs or Mandarin Oranges, 24.5 oz, Limit 4 (valid 4/28 – 5/4)
$3.99 Nice! Pistachios, 10 oz, Limit 3 (valid 4/28 – 5/4)
$15.99 Finest Nutrition Whey Protein, 2 lbs, Limit 3 (valid 5/5 – 5/11)
$1.49 Good & Delish Kettle Cooked Potato Chips, 8.5 oz, Limit 4 (valid 5/5 – 5/11)
$5.49 Good & Delish Coffee, 12 oz, Limit 3 (valid 5/5 – 5/11)
$2.49 Nice! Magic Mix or Trail Mix, 9 oz, Limit 3 (valid 5/5 – 5/11)
$6.99 W Photo Memory Storage 2GB Micro SD or 4GB SDHC Memory Card, Limit 2 (valid 5/12 – 5/18)
$15.00/1 Walgreens Nicotine Mini Lozenges, 81 or 135 ct, Limit 3 (valid 5/12 – 5/18)
$1.49 Patriot Candles Wax Melts, 6 ct, Limit 3 (valid 5/12 – 5/18)
$3.99 Nice! Almonds, 16 oz, Limit 3 (valid 5/12 – 5/18)