Sorry — this deal is no longer available. Never miss another deal! Sign up for daily updates: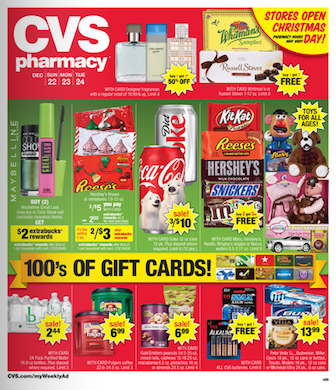 CVS has a split ad this week due to the holiday. Here are the deals at CVS for the week of 12/22. Ads are split below into 12/22 – 12/24 & 12/26 – 12/28.
Be sure to scroll down for the second half of the ad!
12/22-12/24 (Sunday through Tuesday Only)
Buy 2 Almay Color + Care Liquid Lip Balm $5.99, regular price Buy 2, Receive $5.00 ExtraBucks, Limit 1, Valid 12/22-12/24

Use one

$5.00/2 – Almay Cosmetic Products, excludes trial/travel size – (coupons.com)

Pay $6.98, Receive $5.00 ExtraBucks

Final Price: $0.99 each, when you buy 2
Gillette Venus Razor, 1 ct $6.79, regular price Buy 1, Receive $5.00 ExtraBucks, Limit 1, Valid 12/22-12/24

Use $3.00/1 Gillette Venus Razor, excludes disposables, Limit 4 like coupons per household per day from RP 12/15 (exp 1/31/14)

Pay $3.79, Receive $5.00 ExtraBucks

Final Price: $1.21 Moneymaker
Buy 2 Colgate MaxFresh Toothpaste, 6 oz $3.00 Buy 2, Receive $2.00 ExtraBucks, Limit 2, Valid 12/22-12/24

Use two $1.00/1 Colgate Total, Optic White, Max Fresh or Sensitive Toothpaste, 4 oz or larger, Limit 4 same coupons in same transaction from SS 12/15 (exp 12/28)

Pay $4.00, Receive $2.00 ExtraBucks

Final Price: $1.00 each, when you buy 2
Buy 3 Schick Hydro 5 Disposable Razors, 3 ct $9.99, regular price Spend $25.00, Receive $10.00 ExtraBucks, Limit 1, Valid 12/22-12/24

Use three

$4.00/1 – Schick Hydro 5, disposable pk – (smartsource.com)

Pay $17.97, Receive $10.00 ExtraBucks

Final Price: $2.66 each, when you buy 3
Buy 3 Colgate Total Toothpaste Gel Whitening, 6 oz $3.69, regular price Spend $10.00, Receive $5.00 ExtraBucks, Limit 2, Valid 12/22-12/24

Use three $1.00/1 Colgate Total, Optic White, Max Fresh or Sensitive Toothpaste, 4 oz or larger, Limit 4 same coupons in same transaction from SS 12/15 (exp 12/28)

Pay $8.07, Receive $5.00 ExtraBucks

Final Price: $1.02 each, when you buy 3
Buy 5 Reach Mint Waxed Floss, 55 yard $1.99, regular price Spend $10.00, Receive $5.00 ExtraBucks, Limit 2, Valid 12/22-12/24

Use one

$1.00/2 – Reach Floss Products, limit one coupon per person, limit 4 coupons of any kind in same transaction – (coupons.com)

And use one

$1.00/2 – Reach Floss Products, limit one coupon per person, limit 4 coupons of any kind in same transaction – (smartsource.com)

Pay $7.95, Receive $5.00 ExtraBucks

Final Price: $0.59 each, when you buy 5
Buy 2 Glade Scented Oil Warmer $2.27, regular price Buy One Get One 50% Off , Valid 12/22-12/24

Use two

$1.00/1 – Glade Oil; PlugIns Scented Oil Warmer or Starter Kit – (coupons.com)

Final Price: $0.70 each, when you buy 2
Buy 3 Mars Single Serve Bars, 0.5-2.17 oz $1.19, regular price Buy Two Get One Free, Valid 12/22-12/24

Use

B2G1 FREE – Mars Chocolate Bars; Snickers, Twix, M&M's, 3 Musketeers, Dove, Milky Way or Bites, 1.14 to 2.83 oz, up to $1.29 – (coupons.com)

Final Price: $0.40 each, when you buy 3
Physicians Formula Glow-Boosting Pressed Bronzer $14.99, regular price Spend $15.00, Receive $10.00 ExtraBucks, Limit 1, Valid 12/22-12/24

Pay $14.99, Receive $10.00 ExtraBucks

Final Price: $4.99
CVS Men's 5 Blade Razor, 1 ct $6.99, regular price Buy 1, Receive $5.00 ExtraBucks, Limit 1, Valid 12/22-12/24

Pay $6.99, Receive $5.00 ExtraBucks

Final Price: $1.99
CVS All-Pro Toothbrushes Full Head, 3 pk $3.19, regular price Buy 1, Receive $2.00 ExtraBucks, Limit 2, Valid 12/22-12/24

Pay $3.19, Receive $2.00 ExtraBucks

Final Price: $1.19
Buy 1 Pantene Shampoo, 22.9-29.2 oz $5.99 Buy 1 Pantene Conditioner, 22.9-29.2 oz $5.99 Spend $10.00, Receive $3.00 ExtraBucks, Limit 1, Valid 12/22-12/24

Use one $3.00/2 Pantene Products, excludes trial/travel size, Limit 4 like coupons per household per day from PG 12/1 (exp 12/31)

Pay $8.98, Receive $3.00 ExtraBucks

Final Price: $2.99 each, when you buy both
Buy 2 Altoids Mints, 1.76 oz $2.29, regular price Buy One Get One Free, Valid 12/22-12/24

Final Price: $1.15 each, when you buy 2
Buy 2 Ocean Spray Juice, 64 oz $3.99, regular price Buy One Get One Free , Valid 12/22-12/24

Final Price: $2.00 each, when you buy 2
Buy 2 Whitman's Sampler, 12 oz $9.99, regular price Buy One Get One Free , Valid 12/22-12/24

Final Price: $5.00 each, when you buy 2
Buy 2 Maybelline Color Show Polka Dots Nail Lacquer $3.99, regular price Buy 2, Receive $2.00 ExtraBucks, Limit 1, Valid 12/22-12/24

Use two $1.00/1 Maybelline New York Color Show Nail Lacquer from RP 12/8 (exp 2/8/14)

Pay $5.98, Receive $2.00 ExtraBucks

Final Price: $1.99 each, when you buy 2
Buy 4 4×6 Single-Sided Photo Book prices starting at $4.99, regular price Spend $20.00, Receive $5.00 ExtraBucks, Limit 1, Valid 12/22-12/24

Pay $19.96, Receive $5.00 ExtraBucks

Final Price: $3.74 each, when you buy 4
Buy 2 Duracell Quantum AAA or AA Batteries, 12 pk $11.99 Spend $15.00, Receive $5.00 ExtraBucks, Limit 1, Valid 12/22-12/24

Use one $3.00/2 Duracell CopperTop AA/AAA, 8 pk or larger, CopperTop C/D, 4 pk or larger, 9V, 2 pk or larger, Quantum AA/AAA, 6 pk, Rechargeable, Hearing Aid or Specialty Batteries, excludes 1 ct and trial/travel size, Limit 4 like coupons per household per day from RP 11/24 (exp 12/31)

Pay $20.98, Receive $5.00 ExtraBucks

Final Price: $7.99 each, when you buy 2
Buy 2 Nuance Salma Hayek Nail Lacquer $5.99, regular price Spend $10.00, Receive $3.00 ExtraBucks, Limit 1, Valid 12/22-12/24

Pay $11.98, Receive $3.00 ExtraBucks

Final Price: $4.49 each, when you buy 2
Buy 3 Scope Outlast Mouthwash, 42.3 oz $6.79, regular price Spend $20.00, Receive $5.00 ExtraBucks, Limit 2, Valid 12/22-12/24

Use three

$1.00/1 – Scope Outlast, 750 ml or larger, excludes trial/travel size, limit 4 like coupons per household per day – (coupons.com)

Pay $17.37, Receive $5.00 ExtraBucks

Final Price: $4.12 each, when you buy 3
Crest 3D White Whitestrips Vivid Dental Whitening Kit, 10 ct $31.99, regular price Buy 1, Receive $10.00 ExtraBucks, Limit 2, Valid 12/22-12/24

Pay $31.99, Receive $10.00 ExtraBucks

Final Price: $21.99
Buy 2 CVS Color Treated Hair Shampoo Volume, 12.6 oz $2.99, regular price Buy 2 CVS Color Treated Hair Conditioner Volume, 12.6 oz $2.99, regular price Spend $12.00, Receive $4.00 ExtraBucks, Limit 1, Valid 12/22-12/24

Pay $11.96, Receive $4.00 ExtraBucks

Final Price: $1.99 each, when you buy all 4
Buy 2 Nabisco Golden Oreo Sandwich Cookies, 5.5 oz $2.37, regular price Buy One Get One Free, Valid 12/22-12/24

Final Price: $1.19 each, when you buy 2
12/26-12/28 (Thursday through Saturday Only)
Colgate Total Toothpaste, 5.8-5 oz $3.49 Buy 1, Receive $2.00 ExtraBucks, Limit 2, Valid 12/26-12/28

Use $1.00/1 Colgate Total, Optic White, Max Fresh or Sensitive Toothpaste, 4 oz or larger, Limit 4 same coupons in same transaction from SS 12/15 (exp 12/28)

Pay $2.49, Receive $2.00 ExtraBucks

Final Price: $0.49
Physicians Formula Glow-Boosting Pressed Bronzer $14.99, regular price Spend $15.00, Receive $10.00 ExtraBucks, Limit 1, Valid 12/26-12/28

Pay $14.99, Receive $10.00 ExtraBucks

Final Price: $4.99
Gillette Sensor 3 Sensitive Disposable Razors, 4 ct $9.99, regular price Buy 1, Receive $3.00 ExtraBucks, Limit 1, Valid 12/26-12/28

Use $3.00/1 Gillette Male Disposable Razor, excludes trial/travel size, Limit 4 like coupons per household per day from RP 12/8 (exp 1/31/14)

Pay $6.99, Receive $3.00 ExtraBucks

Final Price: $3.99
Buy 2 Alka Seltzer Plus Cold Effervescent Tablets Orange Zest, 20 ct $5.99, regular price Buy One Get One 50% Off , Valid 12/26-12/28

Use two $2.00/1 Alka-Seltzer Plus Cold Product, excludes antacid products from RP 12/15 (exp 1/31/14)

Final Price: $2.49 each, when you buy 2
Oral-B 3D White Action Rechargeable Toothbrush $21.99, regular price Buy 1, Receive $10.00 ExtraBucks, Limit 2, Valid 12/26-12/28

Pay $21.99, Receive $10.00 ExtraBucks

Final Price: $11.99
Culturelle Kids! Probiotic Chewables Naturals Bursting Berry Flavor, 30 ct $23.99 Buy 1, Receive $9.00 ExtraBucks, Limit 3, Valid 12/26-12/28

Use

$5.00/1 – Culturelle Kids Product – (facebook.com)
if included

Pay $18.99, Receive $9.00 ExtraBucks

Final price: $9.99
Buy 2 Not Your Mother's Clean Freak Refreshing Dry Shampoo, 7 oz $5.99, regular price Buy One Get One Free, Valid 12/26-12/28

Final Price: $3.00 each, when you buy 2
White Diamonds by Elizabeth Taylor Gift Set for Women $19.99, regular price 50% Off, Valid 12/26-12/28

Final Price: $10.00
Wet n Wild Fast Dry Nail Pail $9.99, price estimate 50% Off, Valid 12/26-12/28

Final Price: $5.00