Check the Walmart app for a clearance price on a tube of Colgate Enamel Health Sensitive Toothpaste. My app showed me an in-store price of $0.75. The actual price at my store was $2.50. I showed my phone with this item pulled up and requested a price match from the cashier. Since Walmart does price match to Walmart.com, the cashier honored the $0.75 price. I used a $1.00 coupon from the 2/4 Smart Source newspaper insert and scored a $0.25 moneymaker!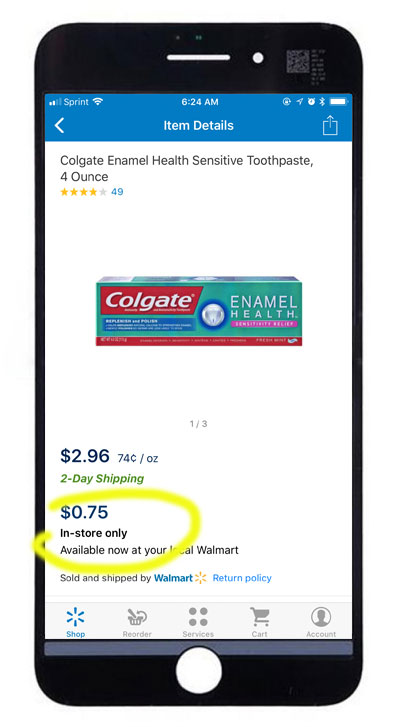 Be prepared. While it is Walmart policy to match Walmart.com prices, not all Walmart stores will honor this since individual stores sometimes have their own policies.
Also, readers have reported that some stores are not giving overage as cash. Again, it is Walmart policy that overage is paid out. However, to avoid any issues I recommend purchasing other items to absorb the overage in the total of the transaction.
If your store does not have the Colgate Enamel Sensitive Toothpaste deal, use a new $0.50 coupon that does not have any restrictions on which variety you purchase. Several other Colgate toothpastes are $1.67. Apply the coupon and pay $1.17.