Sorry — this deal is no longer available. Never miss another deal! Sign up for daily updates:
I stocked up on some grocery bargains this week at Aldi!
The first thing I went for was a container of Goldhen Eggs. My local Aldi store has a great everyday low price of just $0.79 per dozen.
Next I headed to the section of the cooler where the refrigerated Aldi Finds items are kept. This is often a great area to find discounts on items that have been around for more than a week. Sure enough, I found eight-packs of YoCrunch Yogurt on clearance for just $1.99.
Right above the YoCrunch, I saw that Danimals Smoothies were also marked down to $1.99, so I grabbed a package of those as well.
One thing I always do at Aldi is check the meat section for sticker discounts. These are red stickers attached to the top of the product that are worth $1.00 or more off (the discount is taken at the register at checkout). I was in luck. I found packages of Kirkwood Chicken Breasts and Chicken Thighs with "1/2 Price" stickers attached, saving me $1.25/lb on both.
In the baking aisle, I grabbed a couple of cans of Baker's Corner Canned Pumpkin on clearance for $0.49 each.
I finished up my trip by getting two containers of Chef's Cupboard Beef Broth, which is on sale for $1.19 per quart. Since this item is a current "Aldi Savers" product, the price drop will likely be around for several weeks.
At checkout, my total for chicken, yogurt, eggs, smoothies, pumpkin and broth came to just $14.94.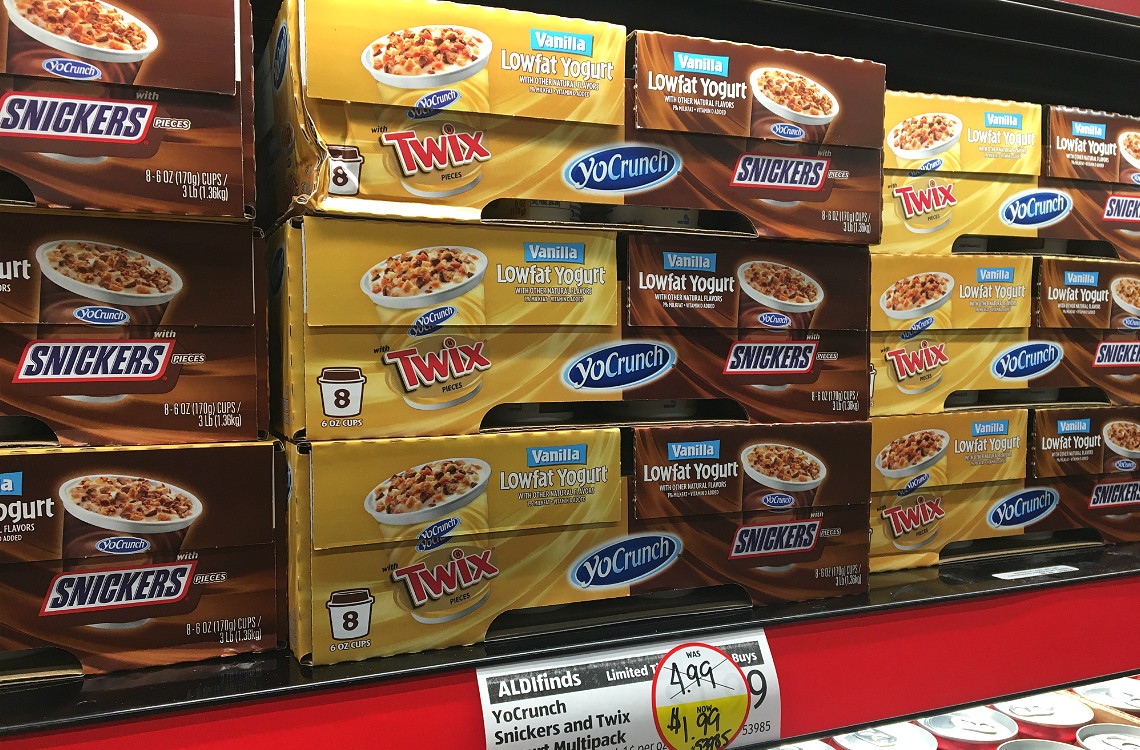 TOTAL COST: $14.94 FOR ALL 9 PRODUCTS WORTH $27.93!