Five years ago I was a stay-at-home mom living paycheck to paycheck with a big idea and not a penny in savings to make it happen. Today, I'm co-owner of a successful business and the sole breadwinner for my family. Now I'm sharing with you how I did it and how you can start your own blog and make it profitable in the first month. Seriously. Here are the three steps you must follow to create your blog.
Note: We recently (as of March 17, 2015) became aware of Escalate Media's changes to new user requirements. Escalate now requires new users to have at least 6 months of blogging history along with 1,000+ Facebook followers. To help you gain more traffic to your existing blog or to create a following, you may want to check out our entire How to Blog series for tips!
[See all posts in our new How To Blog series!]
Why am I doing this? Why would I want to hurt my business by creating more coupon blogs?
The way  I see it, there are not a finite number of frugal people in the world, divisible by the number of coupon blogs available to them. On the contrary, I believe the more blogs, the more buzz, the louder our voice and the larger our soapbox. More blogs reach more people, grow our industry, and ultimately save people money and (corny alert!) change lives.
HOW TO START A COUPON BLOG
1. SET UP A DOMAIN AND HOSTING
This is the fun part! What are you gonna call your blog? Amidst the sea of coupon queens and discount divas, might I suggest you step outside the mold? Make your blog name uniquely yours. Or throw in the towel and use this gem. I just checked and it's still available. I think it's got real potential: MoneySavingCouponSavvyDiscountFrugalThriftyBargainDealQueenDivaLadyMomPerson.com
Once you've picked a name, head to Bluehost to see if your domain is available. I'm setting up CouponingForKids.com to show just how simple this is!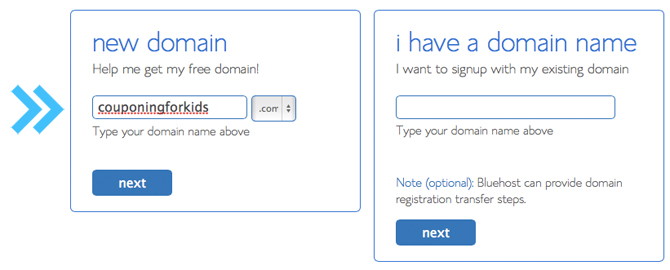 Luckily, with BlueHost the domain name is free. The only associated cost is hosting, at $5.95 per month. Think of hosting like monthly rent for space on the web. You can't avoid paying it, and the more traffic you gain, the more you'll pay. (KCL pays thousands each month just to keep the site live. . .oy!) But, don't you worry! I'll show you in step three how to earn enough to more than recoup those costs!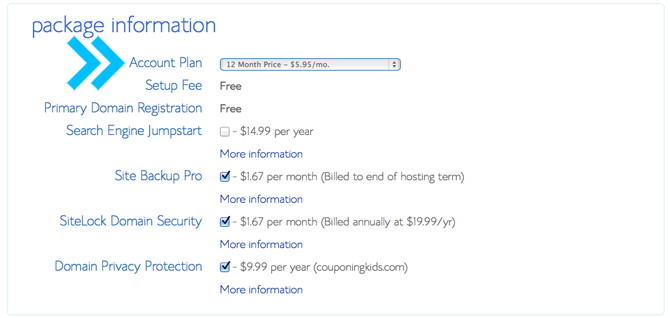 To keep your out-of-pocket costs down, I suggest you select the 12-month price and forego all of the optional upgrades.

Now, Lean In! And get your entrepreneurial self headed over to Bluehost to set up your blog!
2. INSTALL WORDPRESS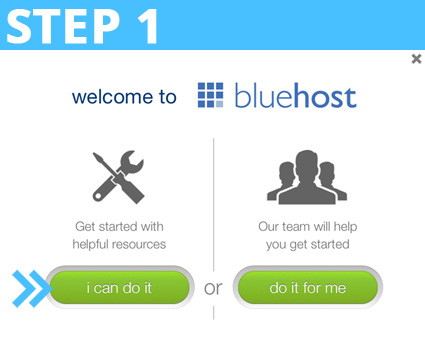 Log in to your Bluehost account, channel your inner Rosie the Riveter, and select "I can do it"  on the Welcome pop-up.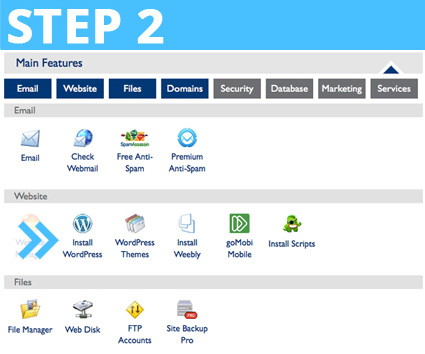 Find the "Install WordPress" icon in the Bluehost dashboard.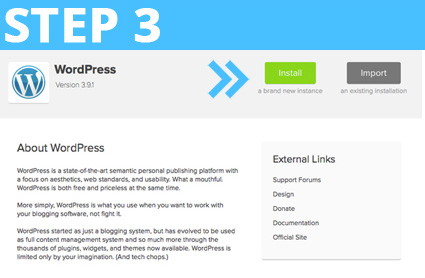 Click the green "Install" button.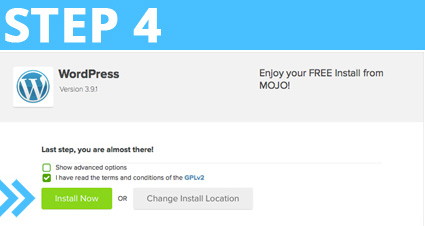 Approve the terms and conditions, then click "Install Now."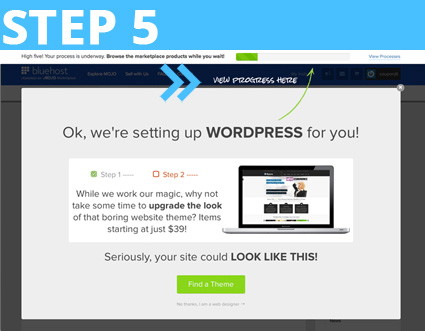 Tick tock. Be patient while WordPress takes a minute to install on your computer.
Congratulations! You officially have a blog! Type in your domain/URL (ex: http://couponingforkids.com) and click "Log In." For future reference, your login URL will be http://YOURDOMAIN.com/wp-admin.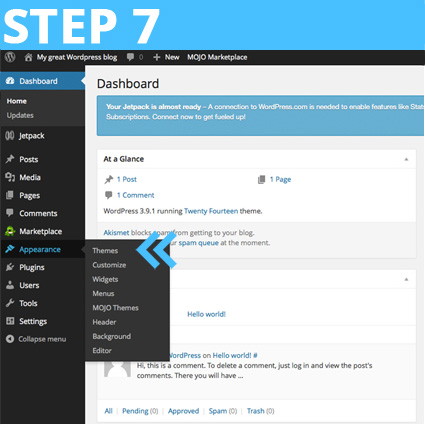 Now that you're in the WordPress dashboard, install a free theme. This is the fun part! I chose "Capture" for
my blog
.

Here's the good part where I show you how to earn money by running a free website! [WARNING: If you thought couponing was addicting, wait til it starts paying you!] There are lots of ways to make a blog profitable. I'm going to show you my favorite. I think it's the best because it's the least obtrusive to your audience, and it has great earning potential. Here's the skinny! You're going to want to sign up to be an affiliate publisher for Coupons.com. By doing so, you'll be able to earn $0.42 for every coupons.com print session your site generates.
Print Session, huh?

If I visit your site today, click on your Coupons.com link and print one coupon, you'll have $0.42 added to your account. (You're welcome!) If I print 20 coupons with your link today, you still just get $0.42. But, if I print one coupon today, and another one (or ten) tomorrow, you'll get $0.84. A print session is defined as any number of prints in a 24-hour period.
If your site generates one session per day, that's $12.60 per month! See that? You're only paying $5.95 in hosting. With one measly coupon print per day, you're already staring at a $6.65 potential net profit! And that's just the beginning. Generate 100 sessions a day and you're looking at $1260 per month. That oughta cover your couponing budget, don't you think? Your affiliate link will look like this: http://strk.enlnks.com/aff_c?offer_id=30&aff_id=473 
To get this link, you must sign up to be a publisher at Escalate Media. I've worked with Escalate for years, and I pinky promise they'll take care of you! Approval takes up to 48 hours, but we've asked that they rush all of you through as quickly as possible! Publishing your first post will help your approval move more quickly.
How To Create A Widget
After you log in to Escalate Media and find the coupons.com offer, click "Coupons.com Post Widget." Copy/paste the code above into your WordPress  blog.
From the WordPress dashboard hover over "Appearance," and click "Widgets."
Drag a 'Text' box to one of the widget areas, such as sidebar.
What do you think? Have I given you the itch? If you like this post and want to see more like it, leave me a comment, k friend?