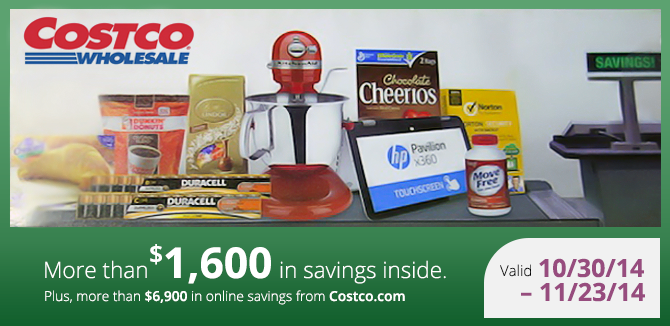 Here are the Costco coupon book offers, effective 10/30 – 11/23. These deals are hot! One of our favorites is the savings on Nutella. Compare the Costco price of two 33.5-ounce jars of Nutella, regularly $11.99. With the Costco $3.50 coupon, the price drops to $8.49. Walmart sells a 13-ounce jar for $3.48.  The savings are huge!
Did you know that you no longer need to present the coupon book to get these deals? Use your membership card at checkout, and the discounted prices shown in this monthly coupon book will be directly applied to your purchase.
Costco is a membership clubhouse, so you must be a member to use the coupons. The coupons in the booklet are manufacturer coupons. When redeemed, state sales tax may be due on the value of the pre-discounted price. These taxes, if applicable, are in addition to the amount that you are paying for the product. Selection may vary by location. The instant savings booklet offers are manufacturer coupons, valid in U.S. Costco warehouses and not valid at Costco Business Centers. They may not be combined with any other offer or coupon. Selection and pricing may vary. A rain check may be issued if the promotional item is out of stock during the term of promotion.
Beauty
Colgate 360 Optic White Toothbrush, 8 ct $13.99, regular price
Use $4.00/1 – Colgate 360 Optic White Toothbrush, 8 ct, limit 2, exp 11/23
Final Price: $9.99
Colgate Optic White Toothpaste, 5 ct 6.3 oz tubes $14.99, regular price
Use $4.50/1 – Colgate Optic White Toothpaste, 5/6.3 oz, limit 2, exp 11/23
Final Price: $10.49
Dove Shampoo and/or Conditioner, 40 oz bottles $6.49, regular price
Use $2.00/1 – Dove Shampoo or Conditioner, 40 oz, limt 2, exp 11/23
Final Price: $4.49
Gillette Fusion ProGlide Power Razor, 1 ct and Cartridges, 6 ct $29.99, regular price
Use $6.00/1 – Gillette Fusion ProGlide Power Razor 6 Cartridges, FlexBall Technology, limit 2, exp 11/23
Final Price: $23.99
Lubriderm Daily Moisture Lotion, 2 ct 24 oz bottles + bonus 1 ct 6 oz bottle $13.99, regular price
Use $3.75/1 – Lubriderm Daily Moisture Lotion, 2/24 oz bonus 1/6 oz, limit 2, exp 11/23
Final Price: $10.24
Neutrogena Rainbath Shower Gel, 40 oz bottle $17.49, regular price
Use $4.00/1 – Neutrogena Rainbath Shower Gel, 40 oz, limit 2, exp 11/23
Final Price: $13.49
Beverages
Dunkin' Donuts Coffee Original Blend, 40 oz, $17.99, regular price
Use $3.50/1 – Dunkin Donuts Coffee, Original Blend, 40 oz, limit 2, exp 11/23
Final Price: $14.49
Naked Juice Variety Pack, 12 ct 10 oz bottles - $14.49
Use $4.00/1 – Naked Juice Variety Pack, 12/10 oz, limit 4, 11/23
Final Price: $10.49
San Pellegrino Mineral Water, 12 pk $14.99, regular price
Use $3.00/1 – San Pellegrino Mineral Water, 12 pk, limit 4, exp 11/23
Final Price: $11.99
Starbucks French Roast Whole Bean Coffee, 2.5 lbs $19.99, regular price
Use $4.50/1 – Starbucks French Roast Whole Bean Coffee, 2.5 lb, limit 5, exp 11/23
Final Price: $15.49
Starbucks Frappuccino, 12 pk 9.5 oz bottles $13.79, regular price
Use $3.00/1 – Starbucks Frappucino, 12 pk 9.5 oz,  no limit, exp 11/23
Final Price: $10.79
Swiss Miss Hot Chocolate, 60 ct $5.89, regular price
Use $1.50/1 – Swiss Miss Hot Chocolate, 60 ct, limit 4, exp 11/23
Final Price: $4.39
Starbucks Via Instant Coffee, 24 ct $15.99, regular price
Use $3.25/1 Starbucks Via Instant Coffee, Columbian or Italian Roast, 24 ct, limit 5, exp 11/23
Final Price: $12.74
Grocery

Bertolli Chicken Margherita & Penne Skillet Meal, 2 ct 30 oz bags $14.99, regular price
Use $4.00/1 Bertolli Chicken Margherita & Penne Skillet Meal, 2/30 oz, no limit, exp 11/23
Final Price: $10.99
Carr's Water Crackers Collection, 6 ct $8.99, regular price
Use $2.50/1 – Carr's Cracker Collection, 6 ct, limit 2, exp 11/23
Final Price: $6.49
General Mills Chocolate Cheerios, 36 oz $6.99, regular price
 Use $2.00/1 – General Mills Chocolate Cheerios, 36 oz, limit 4, exp 11/23
Final Price: $4.99
Jimmy Dean Precooked Turkey Sausage Links, 48 ct $8.59, regular price
Use $2.80/1 – Jimmy Dean Turkey Sausage Links, 48 ct, limit 3, exp 11/23
Final Price: $5.79
Ling Ling Mini Spring Rolls, 30 ct $9.49, regular price
Use $2.50/1 – Ling Ling Mini Spring Rolls, no limit, exp 11/23
Final Price: $6.99
Lindt Lindor Truffles Assorted Chocolates, 50 ct $9.89, regular price
Use $2.90/1 – Lindt Lindor Truffles, 50 ct, no limit, exp 11/23
Final Price: $6.99
M&M's Peanut or Milk Chocolate, 56 oz $9.79, regular price
Use $2.25/1 – M&M's, 56 oz, limit 3, exp 11/23
Final Price: $7.54
Pillsbury Crescent Rolls, 5 ct 8 oz tubes $7.89, regular price
Use $2.60/1 – Pillsbury Crescent Rolls, 5 ct 8 oz tubes, limit 2, exp 11/23
Final Price: $5.29
Nutella Hazelnut Spread, 2 ct 33.5 oz jars -$11.99, regular price
Use $3.50/1 – Nutella, 2ct 33.5 oz, limit 5, exp 11/23
Final Price: $8.49
Splenda Sweetener Packets, 1000 ct $17.99, regular price
Use $5.00/1 – Splenda Sweetener; Includes Packets, 1000 ct, limit 2, exp 11/23
Final Price:  $12.99
Stacy's Naked Pita Chips, 28 oz $5.79, regular price
Use $2.00/1 – Stacy's Pita Chips, 28 oz, limit 3, exp 11/23
Final Price: $3.79
Household
Arm & Hammer Oxi Clean Max Liquid Detergent, 160 loads, 250 oz $15.79, regular price
Use $4.00/1 – Arm & Hammer Oxi Clean Max Liquid Laundry Detergent, 250 oz, 160 loads, limit 5, exp 11/23
Final Price: $11.79
Bounce Dryer Sheets, 260 ct $8.99, regular price
Use $2.00/1 – Bounce Dryer Sheets, 260 ct, limit 1, exp 11/23
Final Price: $6.39
Cascade Complete Action Pacs, 85 ct $14.99, regular price
Use $3.00/1 – Cascade Complete Action Pacs, 85 ct, limit 1, exp 11/23
Final Price: $11.99
Clorox Toilet Bowl Cleaner, 6 ct 24 oz bottles $8.99, regular price
Use $2.80/1 – Clorox Toilet Bowl Cleaner, 6/24 oz or Automatic Toilet Bowl Cleaner Tabs, 6/3.5 oz, limit 5, exp 11/23
Final Price: $6.19
Clorox Automatic Toilet Bowl Cleaner, 6 ct 3.5 oz tabs $10.49, regular price
Use $2.80/1 – Clorox Toilet Bowl Cleaner, 6/24 oz or Automatic Toilet Bowl Cleaner Tabs, 6/3.5 oz, limit 5, exp 11/23
Final Price: $7.69
Duracell Coppertop Batteries C and/or D, 14 ct $14.89, regular price
Use $3.00/1 – Duracell Alkaline Coppertop Batteries, 14 ct C or D, limit 10, exp 11/23
Final Price: $11.89
Gain Liquid Laundry Detergent, 146 loads, 225 oz $17.99, regular price
Use – $4.00/1 Gain Liquid Laundry Detergent, 225 oz, 146 load, limit 1, exp 11/23
Final Price: $13.99
Gain Powder Laundry Detergent, 180 loads, 206 oz $23.99, regular price
Use $4.50/1 – Gain Powder Laundry Detergent, 206 oz, 180 load, limit 1, exp 11/23
Final Price: $19.49
Kirkland Signature Ultra Clean Regular or Free & Clear Liquid Laundry Detergent, 126 loads $13.99, regular price
Use $2.90/1 – Kirkland Signature Ultra Clean Regular or Free & Clear Ultra Clean Liquid Laundry Detergent, 194 oz, 126 loads, limit 2, exp 11/23
Final Price: $11.79
Palmolive Liquid Dish Soap, 90 oz $7.99, regular price
Use $2.00/1 – Palmolive Liquid Dish Soap, 90 oz, limit 2, exp 11/23
Final Price: $6.49
Pine-Sol, 175 oz $10.49, regular price
Use $2.50/1 – Pine-Sol Disinfectant Cleaner, 175 oz, limit 5, exp 11/23
Final Price: $7.99
Scotch-Brite Sponges, 18 ct $12.99, regular price
Use $2.70/1 – Scotch-Brite Sponges, 18 ct, limit 5, exp 11/23
Final Price: $10.29
Pharmacy
Benefiber Powder, 190 doses $20.99, regular price
Use $5.00/1 – Prevacid Capsules, 3/14 ct or Benefiber Powder, 190 Dose, limit 6, exp 11/23
Final Price: $15.99
Delsym 12 Hr Cough Suppressant, 2 ct 5 oz bottles $19.69, regular price
Use $5.00/1 – Mucinex Fast-Max Severe, 2 – 9 oz; Children's Multi-Symptom Cold, 2 – 6.8 oz; or Delsym, 12 Hour Cough Suppressant, 2/5 oz; no limit, 11/23
Final Price: $14.69
Dimetapp Combo Pack Day, 2 ct and Nighttime 4 oz bottle $10.99, regular price
Use $3.50/1 – Dimetapp, 2/4 oz Day & 4 oz Night Combo Packs, limit 5, exp 11/23
Final Price: $7.49
Excedrin Extra Strength Caplets, 300 ct $15.39, regular price
Use $3.00/1 – Excedrin Extra Strength Caplets, 300 ct; Migraine Caplets, 300 ct; or Gas-X Extra Strength Softgels, 120 ct; limit 6, exp 11/23
Final Price: $12.39
Halls Cough Drops Variety Pack, Regular, 6 ct $8.39, regular price
Use $2.50/1 – Halls Cough Drops Variety Pack, 6 ct, limit 6, exp 11/23
Final Price: $5.89
Mucinex Fast-Max Severe, 2 ct 9 oz bottles $21.99, regular price
Use $5.00/1 – Mucinex Fast-Max Severe, 2/9 oz; Children's Multi-Symptom Cold, 2/6.8 oz; or Delsym, 12 Hour Cough Suppressant, 2/5 oz, no limit 11/23
Final Price: $16.99
Prevacid Capsules, 3 pk 14 ct $24.39, regular price
Use $5.00/1 – Prevacid Capsules, 15 mg, 3/14 ct or Benefiber Powder, 190 Dose, limit 6, exp 11/23
Final Price: $19.39
Prilosec OTC Tablets 20 mg, 3 pk 14 ct boxes $22.89, regular price
Use $6.00/1 – Prilosec OTC Tablets, 20 mg, 3/14 ct; Metamucil Orange Sugar-Free, 228 dose; or Orange Regular, 228 Dose, limit 1, exp 11/23
Final Price: $16.89
Zantac Tablets 150 mg, 2 pk 50 ct $21.99, regular price
Use $4.50/1 – Dulcolax Laxative Tablets, 200 ct or Zantac Tablets, 150 mg, 2 50 ct, limit 3, exp 11/23
Final Price: $17.49