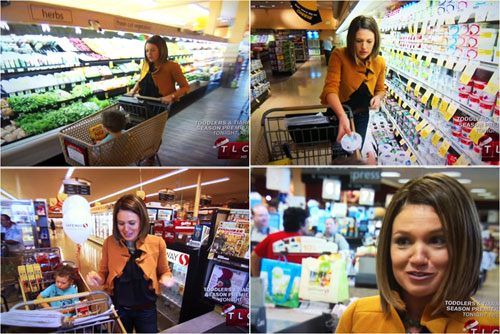 In honor of TLC re-airing Extreme Couponing tonight at 9 PM, EST I wanted to answer one of the most popular questions asked by you:  "will you share your shopping list from the show?"  Below is my shopping list as I copied from my 5 ft receipt (I just can't seem to throw it away)!
I stacked store coupons, manufacturer coupons and eCoupons* on many of the items purchased.  Not a single one of my coupons was doubled;  there are no stores in Northern California that regularly double coupons.  It is one of the most expensive grocery markets in the nation.  However, there is no sales tax on food.
The most important detail that was left out on the show was that I actually did 3 or 4 transactions previous to this last one.  I spent under $20 total on all of those transactions, but I received over $20 in Catalina coupons which I saved to use on my final checkout.  Below is the shopping list from only my final transaction.
My TLC shopping list
Grocery
1 Betty Crocker Mashed Potatoes
1 GM Lucky Charms
1 GM Honey Nut Cheerios
1 GM Fiber One Raisin Bran
10 Quaker Hearty Medley Oatmeal
40  Ragu Pasta Sauce
6 Hormel Chili
10 Kellogg's Fruit Snacks
2 Nabisco Oreos
3 Nilla Wafers
40 Barilla Piccolini Pasta
2 Gingerale 2-Liter
4 A&W Root Bear 2-Liter
4 7-Up 2-Liter
Non-edible (only things with sales tax)
8 Arm & Hammer Laundry Detergent
1 OxiClean stain remover
2 Clorox Disinfecting Wipes
2 Scrubbing Bubbles aerosol cleaner
2 Always Infinity pads
2 Glade Candles
2 Banana Boat kids sunscreen
Refrigerated
1 Pillsbury Sweet Moments
1 Pillsbury French Bread
1 Pillsbury Buttermilk Biscuits
4 Welch's Refrigerated Juice
6 Yoplait Yogurt
2 Jimmy Dean Sausage & French toast
3 Gallons 2% milk
18 Fage Greek Yogurt Cups
Baked Goods
1 Fresh French Bread
1 Bakery Raisin Bread
1 Bakery Artisan Bread
1 Bakery Sandwich Rolls
Meat
2 Hillshire Farm Deli Select Lunchmeat
3 Oscar Mayer Chicken Franks
Produce
2.05 lbs Bananas
5.00 lbs Strawberries
paid: $2.64
saved: $632.34
*It should also be noted that since the taping of the show, Safeway has changed their policy and no longer allows stacking of eCoupons with manufacturer coupons.  This change was already in the works and launched in other test markets before I taped this piece, so don't try to blame me for the change. 🙂