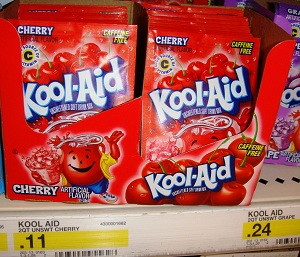 I don't know about anyone else, but every time I see Kool-Aid it reminds me of 'lemonade' stands in the hot summer months as a child!  I hope my kids keep the tradition.

 Right now, there is a $0.50/5 coupon on Kool Aid's Facebook page. To print the coupon follow these steps:
Go HERE and like their facebook page
On the Kool-Sweeps page, click Enter Now
Enter your email address and click submit
Fill our your info and click submit
At this point, you will be entered  into their contest and you should see a link for the coupon!
Yes, I am sure most people would think this was a lot of work to save $0.10 each on 5 packets of Kool Aids… But hey, they don't call us KRAZY for nothing!
Use at Target for this deaL
Kool-Aid Unsweetened Cherry Packets $0.11, Regular Price
$0.50/5 Kool-Aid Unsweetened Packets – (facebook.com)
Final Price: $0.01 each when you buy 5