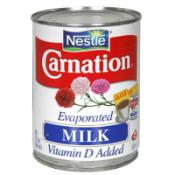 $0.50/2 – Carnation Evaporated Milk, 12 oz – (verybestbaking.com)

Attention all bakers:  If you are planning on doing some baking over Easter, you may want to grab this coupon.  It's not the best deal, but it sure beats paying full price!


I called over to my local Walmart and they are priced at $0.96 a can.
Carnation Evaporated Milk, 12 oz $0.96
$0.50/2 – Carnation Evaporated Milk, 12 oz – (verybestbaking.com)
Or use $0.50/2 Carnation Evaporated Milk from SS 1/23
Final Price:  $0.71 each when you buy 2