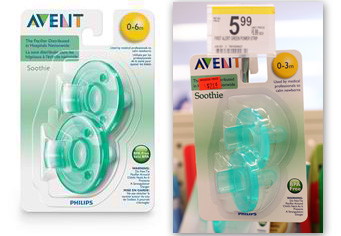 $1.50/1 – Avent Pacifier Pack – (couponnetwork.com)
All of my kids have loved their pacifier.  I don't know what my husband and I would have done if they hadn't!  


 The next time you're at Walgreens, be on the lookout for Avent Soothie Pacifiers in the clearance section.  Today I found a two pack for $2.14!  There is also a $1.50 off coupon that will bring your price down to $0.64!  I don't have kids using pacifiers right now, but this will be a great baby shower gift.
Avent Soothie Pacifier, 2 pack $2.14, On Clearance
Use $1.50/1 – Avent Pacifier Pack – (couponnetwork.com)
Final Price: $0.64 for 2