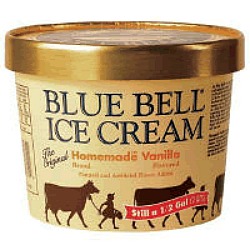 $1.00/1 – Blue Bell Ice Cream , half gallon – (bluebell.com)
I'll apologize in advance to all of you who don't have Blue Bell Ice Cream in your state!  It is beyond delicious, and you are definitely missing out.  Be sure to print your $1.00 off coupon for Blue Bell Ice Cream while you can! Save it for a sale, or use it at Walmart to purchase this deal:
To Print Your Coupon
Go to bluebell.com.
Sign in or sign up for your account.
Click on coupon at the bottom.
Print your $1.00 off coupon!
Blue Bell Ice Cream $5.25, Regular Price
Use $1.00/1 – Blue Bell Ice Cream , half gallon – (bluebell.com)
Final Price: $4.25