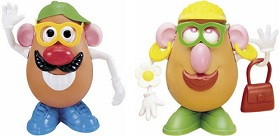 Here is the kind of deal that makes me want to drop everything and get to the store as quickly as possible, (like, speeding ticket fast). Normally, Mr. and Mrs. Potato Head are $7.99 at Toys R Us. This week they are on sale for $4.99. And when you buy one, you can get another for half off! And then, to really get your blood pumpin' there is a $2.00 printable coupon. Run! Don't walk to print this coupon–I have a feeling it will go fast!
Buy 2 Mr. and Mrs. Potato Head ($7.99) $4.99 
Buy One, Get One 50% off Playskool Toy Sale
Use two $2.00/1 – Mr. Potato Head or Mrs Potato Head Classic Toy- (coupons.com)
Final Price: $1.74 each, when you buy 2 
Thanks, reader Mallory!