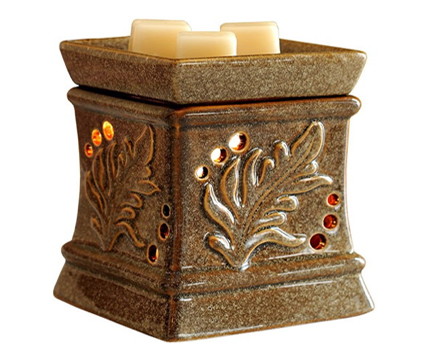 Recently, I was given a popular brand electric wax warmer as a gift. While I enjoy the safety and ease of this flameless device and the way it diffuses scent through a room better than a traditional candle, I don't like having to buy expensive blocks of wax to fill it. Through a direct sales representative, a six pack can cost $6 or more, and the price is not much better at gift and specialty stores. Since my warmer takes 2–3 blocks at a time, it's easy to overspend on supplies.
Luckily, I have found some tricks for saving on the cost of blocks and have discovered unique substitutions that still provide a bold, pleasant scent while not costing a fortune. Here are my tricks and tips for savings money on wax melts:
Buy from Hallmark
Based on the high cost of their merchandise, this may not initially seem like a cost-saving idea, but Hallmark is notorious for releasing high-value coupons ($5 off a $10 purchase, for instance, several times a year) that can be used on anything in the store. My local Gold Crown also runs 40-percent-off coupons in the local paper, sends a birthday savings certificate once a year, and delivers other savings and special event opportunities to my inbox. I never pay more than $3 for a six pack there. And with each dollar I spend, I earn store points to use for other merchandise. To learn more about this program and other store savings techniques, click here.
Try BHG brand from Walmart
At $2 a six pack, I wondered how good the Better Homes and Gardens brand of wax melts could be. What a pleasant surprise I was in for when I fired up my warmer with delicious Orange Clove Pomander blocks for the first time! Running the warmer once a day, I've found their scents can easily last me two weeks before I need to replace them. Since Walmart clearances seasonal scents, be sure to check, too, for sales on this brand post-holidays. Last Christmas, I was able to get Oatmeal Cookie blocks for 75 percent off!
Purchase Glade—with coupons
Did you know Glade manufactures warmer blocks? Their pack of eight individual blocks—as opposed to most companies' six per package that have to be broken apart by hand—sell for around $3 anywhere you normally purchase Glade products. You can even win some during company giveaways throughout Wednesdays in August (units are being given away here!). I'm so excited because, as a KCL, I know Glade coupons are available everywhere: in Sunday circulars, in printables from the KCL database, and as product peelies. And if you need coupons now, check the September edition of Family Fun magazine—its coupon insert has a 75-cents-off any fall scent coupon as well as one for $1 off two wax melt packages.
Alternatives
Additionally, you can use these alternatives in an electric warmer:
Downy Unstopables. These sweet-scented laundry beads aren't just for the washing machine. If you have some in your stockpile, sprinkle 2–3 tablespoons in a clean warmer. Rather than removing the excess when the scent diminishes, just add a few more beads. (Click here for more alternative use ideas for this very versatile product!)
Wax tarts. These small, cupcake-shaped products found next to the candles in the store can be used as an alternative to actual wax blocks—just cut in half, if needed. Yankee Candle manufactures 0.8 oz. wax tarts that come in a wide variety of scents (and colors). What I like about Yankee brand is that all scents/products come with a satisfaction guarantee, so I can get my money back if they underperform. Additionally, I can purchase Yankee for less than retail at closeout stores and at my local Bealls department store at sharp discounts.
Candle Remnants. Have a votive that just won't light? Have leftover wax in the bottom of a glass jar? Carefully remove these remnants from their existing containers (a little time in the freezer and then removing with a butter knife works well) along with any stray wicks or metal bottoms. Put these broken pieces into a warmer to extend their life before their trip to the garbage. And don't worry about mixing scents: mixing 2–3 types of remnants (think vanilla and lavender or citrus and berry) can create an aromatic, one-of-a-kind scent you may actually enjoy more than the original candle.
Spending less on supplies makes me love my electric wax warmer even more! With these savings strategies, I'll be enjoying this gift for many years to come.