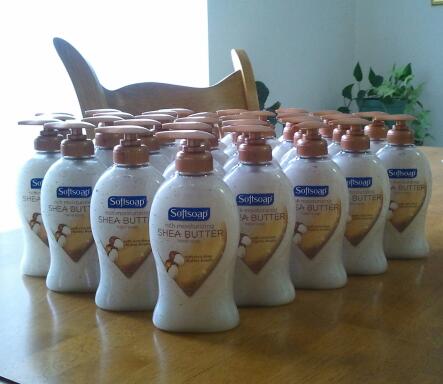 I special ordered these from CVS last week and they finally arrived!.. I ordered 40 but only got 36 because of how they come shipped in. So I got a rain check for the other 4. I am missing 6 because family members have taken them!.. My purchase was..
36 Softsoap-$0.99 each
1 Swiss Lemonade-$0.89 (not pictured)
Used (18) coupons that were $2.00 off of 2.. One coupon had to be adjusted to $1.64 and I also used a ECB that was $0.99 which had to be adjusted to $0.89.
35.64+0.89+1.80=38.33
38.33-34.00=4.33
4.33-1.64=2.69
2.69-0.89=1.80
Subtotal-$0.00
Tax-$1.80
Total-$1.80
According to my receipt, I saved $144.53!!