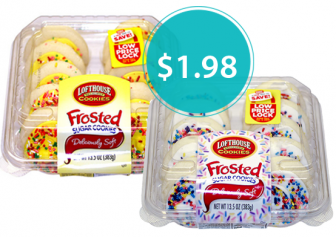 Print
this coupon
now! Save $1.00 on popular Lofthouse frosted sugar cookies.
Walmart
has these priced at $2.98 for a 10-count package. Use the coupon and pay only $1.98.
Here's an idea! Print a couple of coupons now and hold on to them for upcoming holiday celebrations at children's schools, work or home.

We are celebrating the season by giving readers a chance to win weekly giveaways. Enter today! Click here for more information.