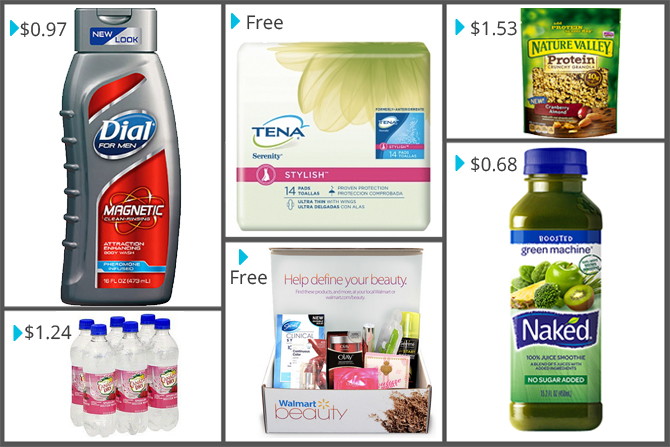 It's been a big week for savings at
Walmart
! Here is a list of next week's deals. Included are freebies and items under a dollar. There are two inserts in Sunday's paper, including a Smart Source and a Red Plum. Keep in mind, inserts are regional and coupon values may vary.
To print zip code-specific coupons, go to coupons.com. Sign in and enter your profile. Input the desired zip code. Then return to this post, click on the links below and the coupons will be already selected.
Top Deals of the Week
Serenity Tena Pantiliners, 44 ct $4.97, regular price
Use $5.00/1 – Tena Product from SS 9/7
Final Price: Free
Walmart Beauty Box $20.00 value
Step 1: Sign up for your Walmart Beauty Box.
Step 2: Get a new box every season and pay only $5.00 for shipping per box.
Step 3:  You will receive a survey asking you to share your experiences with the products.
Final Price: Free, just pay $5.00 shipping
Moneymakers and Freebies
Cascade Platinum Dishwasher Detergent Fresh Scent ActionPacs, 14 ct $3.97, regular price
Buy 1, Submit for Mail-In Rebate through 12/31
Pay $3.97, Submit for Mail-In Rebate
Final Price: Free
Clearasil Hydra-Blast Face Wash, 6.5 oz $4.47, regular price
Buy 1, Submit for Try Me Free Mail-In Rebate from SS 8/17
Use $1.00/1 - Clearasil Product from SS 8/17
Pay $3.47, Submit for Mail-In Rebate
Final Price: Free
Rave Hair Spray, travel size $0.97, regular price
Use Free – Rave Travel Size, 1.5 oz from SS 8/3
Final Price: Free
$1.00 or Less
Grocery
Wonka Peel-a-Pop Frozen Treats, 8 ct $3.00, regular price
Use $1.00/1 – Wonka Peel-a-Pop Frozen Dessert Pops, 8 ct from SS 8/17
Final Price: $2.00
Blue Diamond Almond Breeze Almond Milk, 32 oz $2.48, regular price
Use $1.00/1 – Blue Diamond Chilled or Shelf Stable Almondmilk from SS 8/17
Final Price: $1.48
Starbucks VIA Ready Brew, 6 pk $6.88, regular price
Use $2.00/1 – Starbucks VIA Instant Beverage, 5 ct or larger from SS 8/17
Final Price: $4.88
Ken's Steak House Ranch Dressing, 16 oz $2.38, regular price
Use $1.00/1 – Ken's Dressing, 16 oz or larger from SS 8/10
Final Price: $1.38
Post Honey Bunches of Oats with Crispy Almonds Cereal, 18 oz $3.24, regular price
Household
Tide Oxi Multi-Purpose Stain Remover, 114 oz $9.97, regular price
Use $4.00/1 – Tide Oxi from PG 8/31
Final Price: $5.97
Cascade with the Power of Clorox Dishwasher Detergent Action Pacs, 32 ct $5.97, regular price
Use $1.00/1 – Cascade with Clorox from PG 8/31
Final Price: $4.97
Ultra Dawn Hand Renewal Cucumber & Melon Scent Dishwashing Liquid, 20 oz $2.63, regular price
Use $0.50/1 – Dawn Hand Renewal, Power Clean, Bleach Alternative or Oxi from PG 8/31
Final Price: $2.13
Mr. Clean Magic Eraser, 2 ct $2.97, regular price
Use B2G1 Free – Mr. Clean Magic Erasers from PG 8/31
Final Price: $1.98 each, when you buy 3
Health and Beauty
Zyrtec Allergy 24 Hour, 10 mg 12 ct $12.42, regular price
Use $4.00/1 – Zyrtec Product, 12 ct or larger from SS 9/14
Final Price: $8.42
Clear Care One Bottle Cleaning & Disinfecting Solution, 3 oz $5.38, regular price
Use $3.00/1 – Clear Care Solution, 12 oz or larger from SS 9/14
Final Price: $2.38
Maybelline New York Great Lash Big Washable Mascara, .34 oz (reg $4.44) $3.97, rollback price
Use $1.00/1 – Maybelline Mascara from RP 9/7
Final Price: $2.97
Clairol Natural Instincts Hair Color $5.92, regular price
Use $2.00/1 – Clairol Hair Color from SS 8/24
Final Price: $3.92
Clairol Nice 'n Easy Natural Permanent Hair Color $6.92, regular price
Use Free – Clairol Root Touch Box when you buy (1) Nice 'N Easy Hair Color Box from PG 8/31
Final Price: $6.92 plus free Clairol Root Touch Up
Tampax Pearl Active Plastic Light Tampons, 18 ct $3.97, regular price
Use $1.00/1 – Tampax Pearl or Radiant Tampon, 16 ct or larger from PG 8/31
Final Price: $2.97
Degree Women Ultra Clear Antiperspirant/Deodorant, 2.6 oz $3.62, regular price
Use $1.50/1 – Degree Women Motionsense, Ultra Clear or Clinical from RP 8/24
Final Price: $2.12
Axe Clix Deodorant Body Spray, 4 oz $3.97, regular price
Use $2.00/1 – Axe Bodyspray or Deodorant Stick from RP 8/24
Final Price: $1.97
Tresemme Deep Cleansing Shampoo For All Hair Types, 32 oz $3.98, regular price
Use $2.00/1 – Tresemme Shampoo or Conditioner from RP 8/24
Final Price: $1.98
Poise Liners, 24 ct $2.72, regular price
Use $1.00/1 – Poise Pads or Liners from SS 8/17
Final Price: $1.72
Gillette Simply Venus Disposable Razors, 4 ct $4.97, regular price
Use $3.00/1 – Gillette or Venus Disposable Razor from RP 8/10
Final Price: $1.97
Garnier Fructis Shampoo or Conditioner, 13 oz $2.97, regular price
Use $1.00/1 - Garnier Fructis Shampoo, Conditioner or Treatment from RP 8/10
Final Price: $1.97
Pet
Meox Mix Dry Cat Food, 3.15 lb $4.25, regular price
Use $0.75/1 – Meow Mix Dry Cat Food, 3 lbs or larger from RP 8/24
Final Price: $3.50
Purina Cat Chow Healthy Weight Cat, 50.4 oz $4.88, regular price
Use $1.00/1 – Purina Cat Chow Bag, 3.15 lb or larger from RP 8/17
Final Price: $3.88
Purina Beneful Baked Delights Dog Snacks, 9 oz $2.98, regular price
Use B1G1 Free – Purina Beneful Dog Snack, 6 oz or larger from RP 9/7
Final Price: $1.49 each, when you buy 2
Baby
Toys
Play-Doh Launch Game $19.99, regular price
Use $5.00/1 – Play-Doh Launch Game SKU #A8752 from SS 9/14
Final Price: $14.99
Play-Doh Box o'Color Set $4.97, regular price
Use $1.00/1 – Play-Doh Purchase, $2.50 or more from SS 9/14
Final Price: $3.97