Learn how to save at the Gap with these money-saving tips:
1. With the right strategy, you can pay less for a Gap wardrobe than one from Walmart.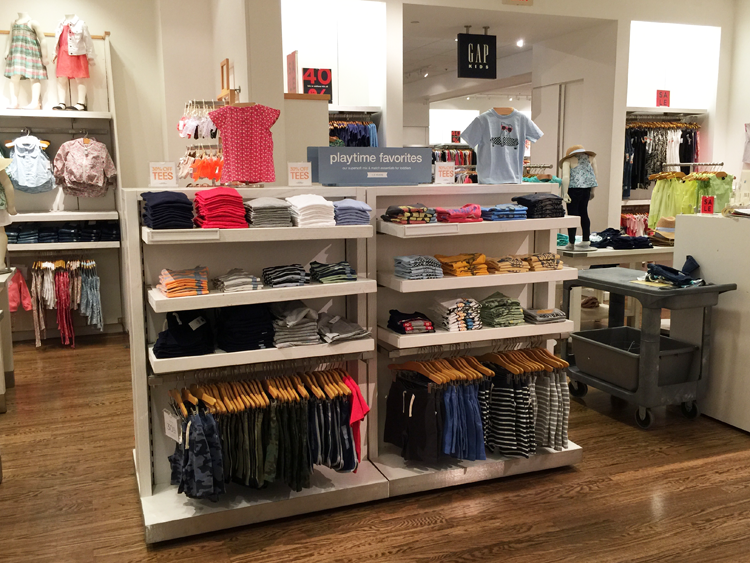 Gap regular prices are high, but sales are frequent and discounts deep. If I were to compare Gap to a grocery store, ('cause on KCL, that's how we do!) it wouldn't be the no-frills bag-your-own-groceries chain, it wouldn't be the discount warehouse club, it would be the corner supermarket (think Kroger) where regular prices can be ridiculously overpriced but loss-leader sales and promotions drive prices lower than any competitor, and if you time your purchases around those sales you can pay less than you would have at a discount store.
2. At Gap, the magic number is 40%.

The Gap generally offers a store-wide, 40% off full-price merchandise promotion every six to eight weeks. Each promotion lasts for three to four days and often coincides with holidays like Presidents' Day, Memorial Day, Independence Day and Labor Day. And then there's Gap Friends and Family event, which usually comes around in March and November.
The HOLY GRAIL of Gap sales is the additional savings on sale items, topping out at an extra 40% off already reduced prices. The value and frequency of additional percent-off sale prices vary by store based on quantity of remaining inventory. Extra percent-off sales run for at least one to two weeks each month, but 40% off comes around about every other month. The best way to know what's happening and when is to follow your local Gap store on Facebook and Instagram. Search "[your city]" Gap to find the page.
40% is the greatest discount you'll see all year. . . . until Black Friday, when the entire store is often 50% off. So put that in your back pocket and sit on it til November.
3. There is NO excuse for paying full price with these Gap coupons!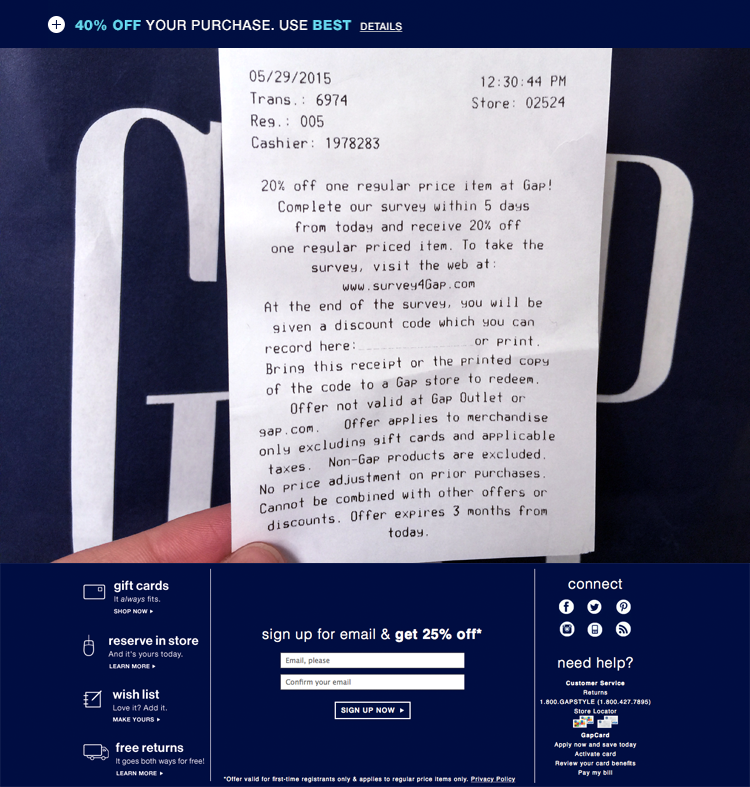 Never (not ever) pay full price at Gap! Gap sales and coupon codes are widely available and updated frequently, often multiple times per week. Here are a couple ways to get a coupon.
Visit Gap.com and watch for the coupon banner at the top of the page for discounts often between 20-40% off.
Complete the 3-minute survey from your in-store receipt for 20% off a regular-priced item.
Sign up for Gap Emails and receive a coupon within minutes. Avoid junk mail by creating a dummy email account just for newsletter signups. Or, get a temporary email address at 10minutemail.com.
Gap cardholders get 10% off every Tuesday with code TUESDAYS.
Gap cardholders get 10% off all purchases for 60 days with code WELCOME. (Stacks with other coupons.)
4. While coupon stacking is generally not allowed in-stores, you can stack up to five Gap coupon codes online.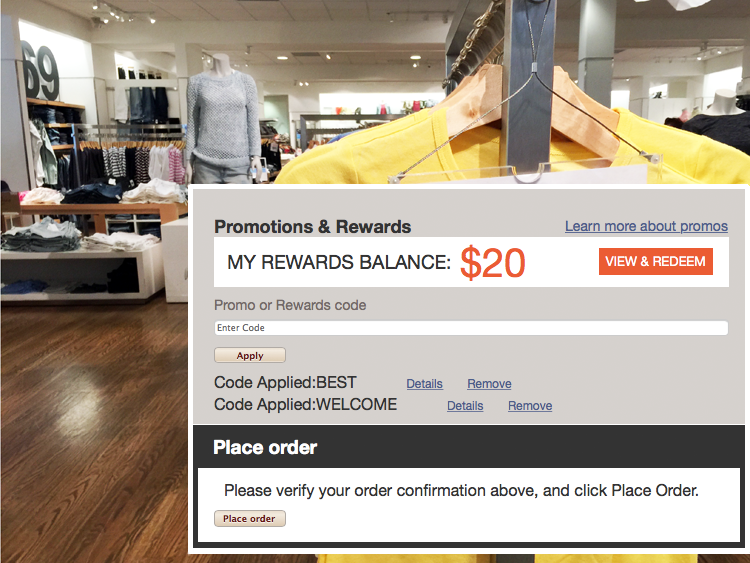 Gap.com allows up to 5 coupons per order. Not all coupon codes stack. Usually a percent-off discount will stack with a dollar-off discount. In the screenshot above, I used a 40% off code: BEST, stacked with the 10% off code: WELCOME, and redeemed a $20 Gap card reward.
Some stores allow a coupon such as 10% off in addition to an in-store promotion such as an additional 25% off sale. The catch is, this only works when the in-store promo rings up automatically. The cashier is only permitted to enter one discount code per purchase. If the in-store promo requires manual coupon entry, no other coupons may be applied. Just watch the payment screen as your items ring up. If the extra 25% savings is deducted automatically, go ahead and present your coupon to the cashier. If the items ring through without the additional 25%, it's safe to assume that the cashier will have to enter a promo code at the end, and you won't be able to use your coupon for additional savings.
5. Gap stores will match online pricing and sales.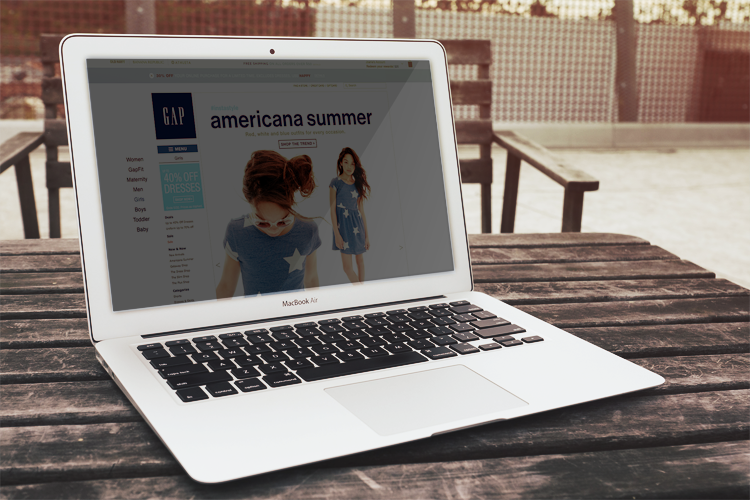 Retail price of Gap apparel is the same online and in-stores, but markdown prices are almost always different. Gap.com often does markdowns first. But once stores mark items down, price is frequently lower in-store than online.
Just mention the online price or percent-off promotion when you shop in-store, and the sales associate will match that price. Gap.com will also honor in-store sales and promotions when you call to place your order over the phone (800-427-7895). If you're having trouble finding an item or a size you need in-store, ask your local sales associate to call in your order, and customer service will honor the in-store price or sale. BE AWARE: you cannot double dip by matching a lower online price with an in-store promo. You have to stick with "all online" or "all in-store"; no mixing and matching. $6 flat-rate shipping applies to orders placed online or over the phone.

6. Prices ending in $0.97 are known by Gap employees as "price kills."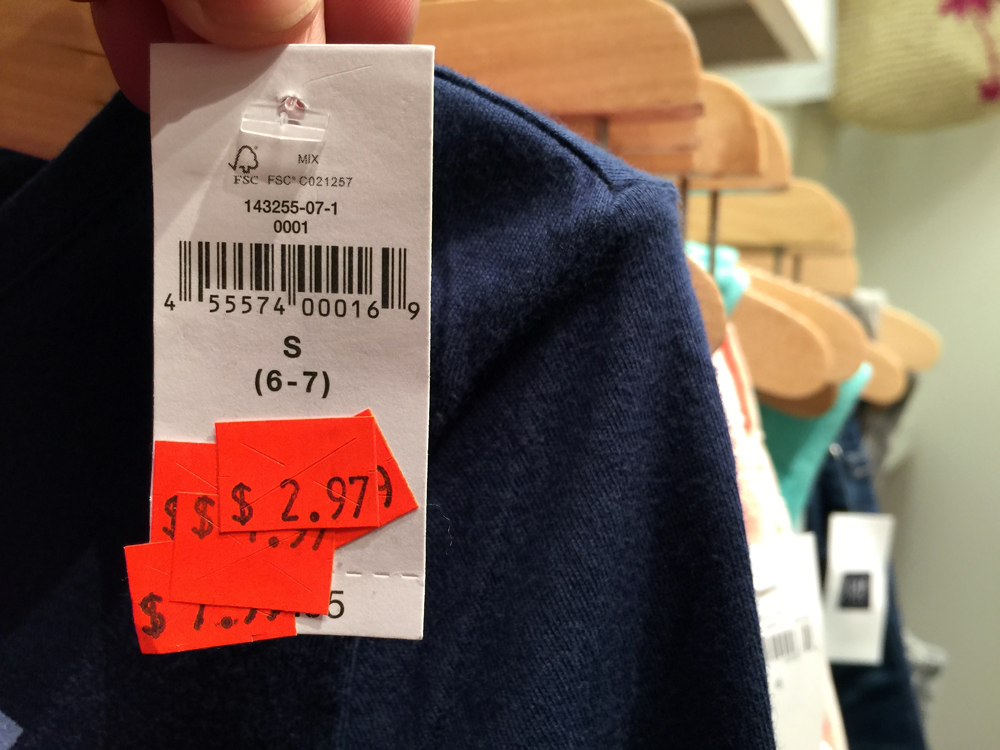 Prices ending in $0.97 are final markdowns and cannot be returned. In rare cases, if a price kill item doesn't sell for at least a month, it's "killed" again. In photo above, the item was marked $4.97, then marked down again to $2.97.
7. Gap markdowns always happen mid-week.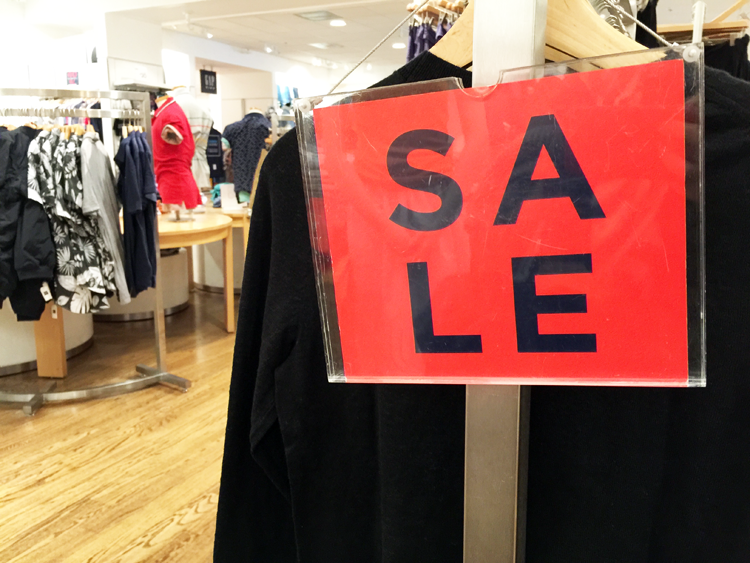 Gap stores do not adhere to a strict or consistent markdown schedule, but here is what I can tell you: markdowns always happen mid-week, often on Wednesdays. Friday-Monday is spent preparing for, dealing with, and recovering from weekend shoppers. An item's first markdown (the little orange sticker) is placed about four weeks after it arrives in the store. Most items will be marked down at least once before reaching their final sale price (price ending in 7). First markdown will result a price ending in a 9, such as $8.99, $14.99.
8. The most over-stocked sizes are Newborn: 0-3M, Gap Baby: 12-18M, and Gap Kids: L-XL.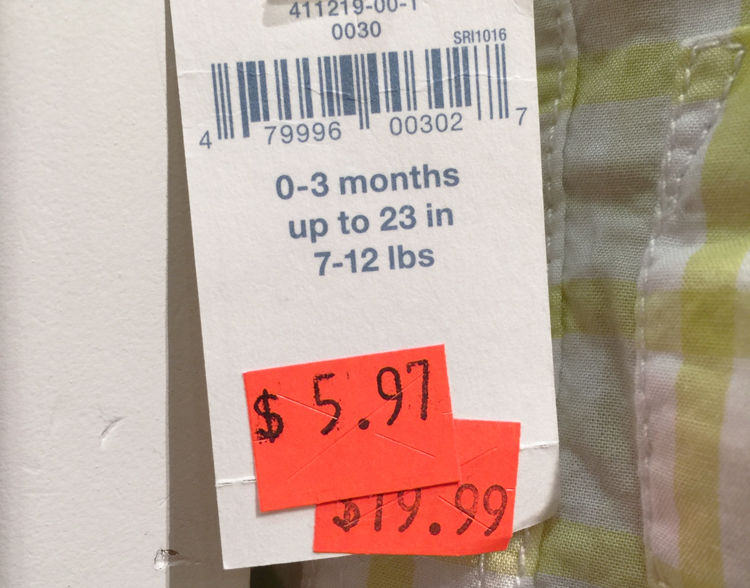 Demand for some sizes is greater than others, increasing or lessening the likelihood that you'll be able to get a deal. In Baby Gap, sizes 3T-5T always sell out first, 12-18 months and 18-24 months last. And newborn smaller sizes follow the same trend, making 0-3 month clothing widely available at markdown prices. Across the aisle in Gap Kids, the opposite is true. Sizes XS-M are way more likely to disappear before reaching their lowest price than kids' sizes L-XXL. By the time we get to adult, the rule is more of a suggestion. Outlying sizes generally hang around stores the longest. If you wear a ladies' size zero and size 11 shoe, you should be doing a happy dance right now.
9. If an item's price drops after your purchase, Gap will pay you the difference in a gift card.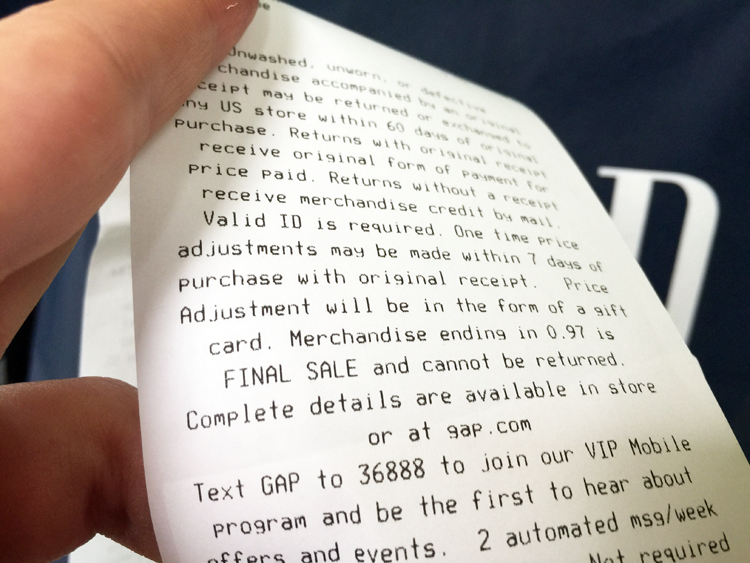 Gap offers a one-time price adjustment within 7 days of an in-store purchase with original receipt. Price adjustments apply to markdowns (the orange sticker) or in-store promotions. Example: if you bought a shirt on sale for $12.99 and you return a few days later when sale items are 40% off, you may request an adjustment in the amount of $5.20. Price adjustment will be paid as a Gap gift card. Online orders have a 14-day price adjustment period. [source] Upload a pic of your receipt to Slice app and receive an alert if the price of an item drops within the price adjustment period.
10. Don't buy anything that's been in-store less than three weeks.

Don't buy an item that just arrived in the store and hope for the price to drop within seven days. Instead, wait about three weeks before purchasing. (Just ask an employee how long they've had the item in stock.) Items usually see their first markdown about four weeks after original stock date. Even better, wait until the item is marked down for the first time, then take your receipt back and hope the item has been marked down again!
Exception to the rule applies when regular priced merchandise is 30-40% off. Since the first markdown is usually in the 30% range, there's no harm in purchasing early.
11. Sometimes you CAN haggle on price.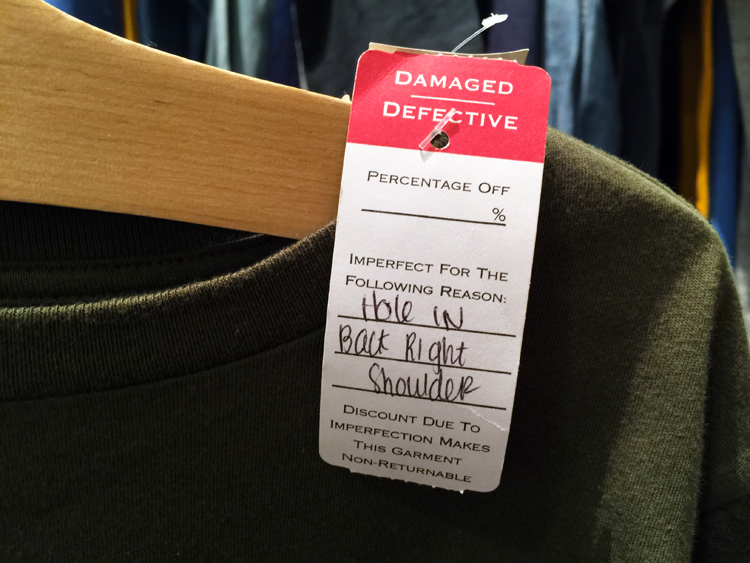 If you find an imperfect or defective item in stores, you have carte blanche to haggle on price. I recommend offering no more than 25% of the retail price (like $5 on a $19.99 item), or at least 50% off the most recent markdown.
If you have a problem with an online order, especially if you receive a damaged, defective or disappointing item, call customer service to log your complaint and request a 10% off coupon code. These customer service codes are gold for Gap coupon shoppers because they stack with EVERYTHING.
12. Consider a Gap card only if you're prepared to be brand loyal.

Gap card is worth it only if you are brand loyal and you're spending enough money. If you're a new mom to an only child and you're living on a budget, skip the Gap card. If you've got a houseful of kids and you're outfitting them in all or mostly Gap apparel, you're gonna be glad you signed up for a Gap card. You'll earn $5 for every $100 spent, get 10% off every Tuesday, and get at least an extra 15% off your first order. If you spend $800 in a calendar year, you'll receive Silver status, which gets you free shipping on all orders with no minimum, which is life changing.
The APR and late payment fees on Gap cards are HIGH. Don't be the patsy who signs up to save 15% then gets docked with a $35 late fee month one.
13. Or skip the Gap card and save with discounted gift cards.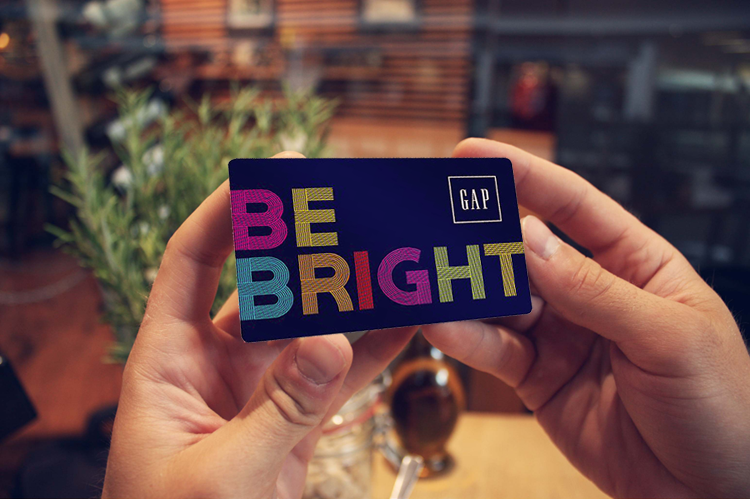 Shop second-hand gift cards and save an extra 10-20%! Browse the selection at Cardpool.com, GiftCardGranny.com, or Raise.com and look for the greatest discount. I recently purchased a $75 gift card for $64.50 (14% savings), then used it on an online order where I bought $189 retail for only $80. When factoring my gift card savings, it made my total out of pocket $69.50, 63% off retail price.
Keep in mind, Old Navy and Banana Republic gift cards can also be redeemed at Gap, so broaden your gift card search to include other brands!
14. Here are the price points I typically see on Baby+Kids apparel at Gap.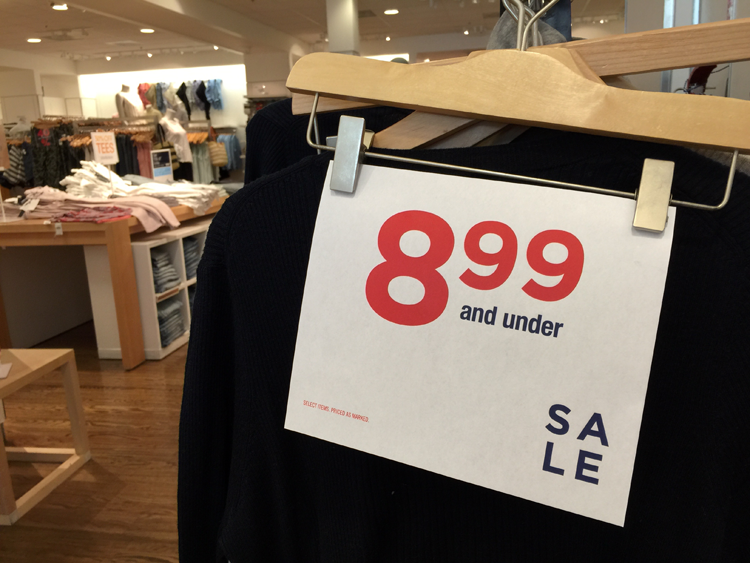 Gap's pricing strategies have changed over the past 5 to 6 years. The store has moved to higher prices and bigger sales. But, interestingly enough, the average cost of individual sale items hasn't really changed. I've been using the following as guidelines for children's apparel since I began working at Gap in 2004. What I find now is there are more outliers, like shirts and shorts for $2-3 and an occasional dress that never drops below $16.99. But 90% of the time, items can be purchased within the following price ranges:
Gap Baby/Kid Shirts: $4.97-7.99
Gap Baby/Kid Shorts: $4.97-9.99
Gap Baby/Kid Pants: $7.97-12.99
Gap Baby/Kid Skirts: $7.97-9.99
Gap Baby/Kid Dresses: $9.97-$14.99
Gap Baby/Kid Winter coat: $9.97-24.99
Gap Baby/Kid Accessories, hats: $2.97-$5.00
15. Unsold Gap inventory never goes to the Factory Outlet.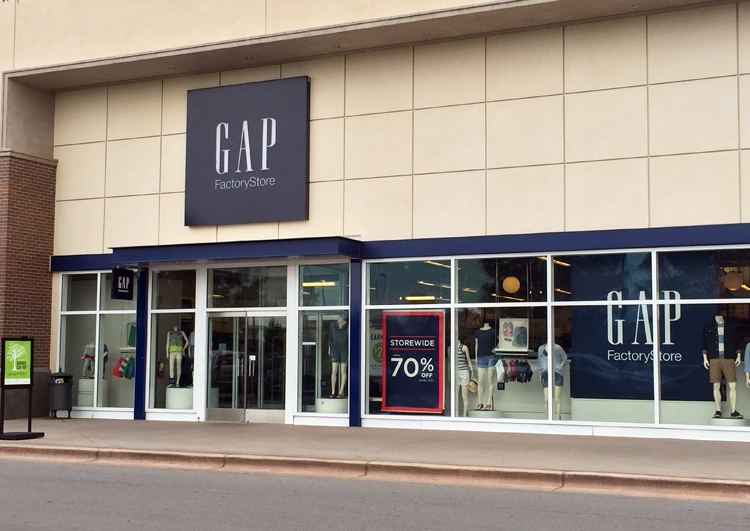 All merchandise at the Gap Outlet is manufactured specifically for sale at the factory store. Each year, Gap Factory Store remakes styles from previous years' lines at Gap retail. Items may be pretty different or near identical. Sometimes the quality is equal (love outlet PJs) but often the clothing at Gap outlet is less well made (think embroidered tees).
16. While outlet styles may be near identical, there are distinct differences.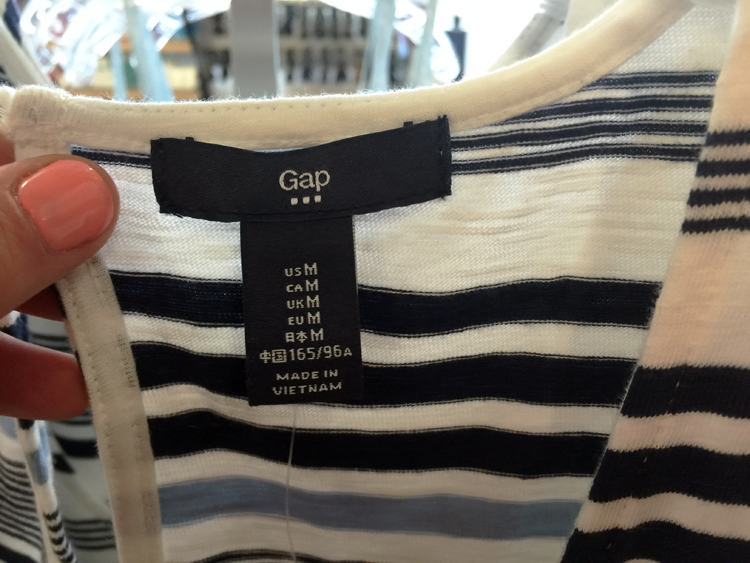 While items at the Gap Outlet may look nearly identical to items sold at regular Gap stores, there will typically be a difference in the fabric and garment construction. You can tell if an item is from the regular Gap or the Gap Outlet by looking at the label. All Gap Outlet items will have three square dots on the label.
Gap cardholders can earn and redeem rewards at Gap Factory Store.