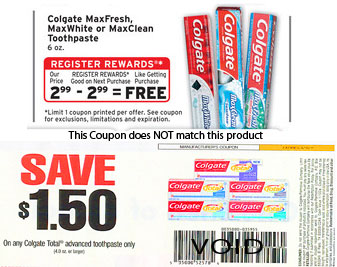 Many 'coupon virgins', as we affectionately refer to them, do not realize that when they begin "extreme couponing" there is a set of rules to which they must adhere.  I want to discuss one of these rules now.   It is possible for a coupon to give you a discount on a product, for which it is not intended.  A Krazy Coupon Lady ALWAYS obeys every letter of text on every coupon!
Yesterday, I made a mistake when I defended one of the Extreme Couponing cast in one of my posts.  When I wrote the post, I was aware that the woman had misused coupons in the past, something she told me was a mistake she made as a newbie for which she was very sorry.  I did not defend her behavior in my comments or post; only proposed that we should forgive one another our mistakes and not be mean.  There is new evidence that is fairly convincing to the fact that this woman AGAIN misused coupon during her TLC shopping trip.  I have deleted the post about her and contacted her for her response.  She quickly responded to me and let me know that she is going to "go through her receipt and compose a response".  I will update you when I receive the response from her.  I hope that my readers understand that I will never support the misuse of coupons in any way. I do still make mistakes in my posts and I appreciate you helping me correct them, but we never intentionally lead anyone to misuse coupons!

An example of Coupon Fraud
Let's say you shop at Walgreens this week and you want to buy the Colgate toothpaste that is a part of the "free' after Register Reward promotion.  You look through your coupons and see this $1.50 off Colgate Total Advanced toothpaste, 4 oz or larger coupon!  Your plan is to head to the store and get paid to buy toothpaste:
Colgate MaxFresh, MaxWhite or MaxClean toothpaste,  6 oz., $2.99
Buy 1, Receive $3.00 Register Reward
Use $1.50/1 Colgate Total Advanced toothpaste from SS 3/27
Pay: $1.49, Receive $3.00 Register Reward
Final Price: $1.51 Money-Maker

[Do NOT attempt the above deal.  It is an example of fraud.]
So, as you hand your coupon to the cashier, you just now realize that the coupon says "Colgate Total Advanced" and you just purchased "Colgate MaxFresh".  Too late, the cashier has already scanned your coupon!  You say, "Oh!  I'm sorry, that coupon was for the wrong product, I just realized!!"  The friendly cashier looks at you and says, "oh, it scanned through, so it's fine!  I'll accept it!"
WHAT DO YOU DO?
This happens all the time!  As we often see, cashiers are not as educated on couponing and coupon policies as Krazy Coupon Ladies!  The right thing to do is to explain to the cashier that it was your mistake, but that the cashier should never accept a coupon for a product which is not specifically allowed in the verbiage of the coupon!
Other examples of coupon misuse

Purchasing Original variety Honey Bunches of Oats and using
$1.00/1 Post Honey Bunches of Oats Raisin Medley box from SS 2/27
Purchasing any Crest brand product and using
Crest 3D White or 2 Hour Express or Professional Effects Whitestrips from PG 4/3
We get plenty of deals by using coupons the RIGHT way!  There is no reason to EVER use them the wrong way.