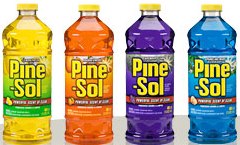 $1.00/1 – Pine-Sol Cleaner, Any – (Pinesol.com)
Woot!  The $1.00 off coupon on the Pine-Sol website is back up and printing again!  Thanks, everyone, for letting us know!


If you weren't able to get it last time, grab it now before it's gone again.  Bottles of Pine-Sol cleaner are only $1.97 at Walmart, which means you can get a bottle for only $0.97!
Pine-Sole Cleaner, 28 oz. $1.97
$1.00/1 – Pine-Sol Cleaner, Any – (Pinesol.com)
Final Price: $0.97