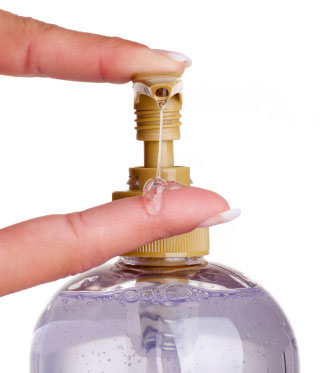 I remember the first time I stocked up on bars of soap! I went nuts and bought at least 10 packages! Then, when I got home and was bragging to my husband about my score, he gently reminded me, "But we don't use bars of soap." At the time we were strictly liquid soap users.  Well, to prove my husband wrong I found another way to use up my soap!  Thanks to SavvyHouseKeeping for this recipe:
Homemade Liquid Soap
Ingredients you will need:
1 cup Grated Bar Soap Flakes
10 cups Water
1 Tbsp Glycerin*
Other Items you will need for this project:
Cheese Grater
Large Pot
Spatula
Left over Soap Container with pump
Container for Extras
Funnel
Directions: Grate the Soap; you will need about 1 bar to get 1 cup of flakes. In a large pot, combine 1 cup soap flakes, 10 cups water, and 1 tablespoon glycerin. Turn on medium-low heat and stir until the soap dissolves. This should only take about 2 minutes.  Take off heat and let it cool completely. Once it's cool, use the funnel to put the liquid soap into your container.  Now, enjoy your super frugal soap!
*Glycerin can be purchased at craft stores (Michaels, etc) or at many drugstores and supercenters.  Ask at the pharmacy.
If you are out of soap, this could be a fun, cheap way to build your stockpile! Here is a valid Walmart Scenario:
Lever 2000, 4-pack $2.23, Rollback Price
Use $1.00/1 – Lever 2000 Bar Soap – (bricks.coupons.com)
Final Price: $1.23 (or $0.31 a bar)