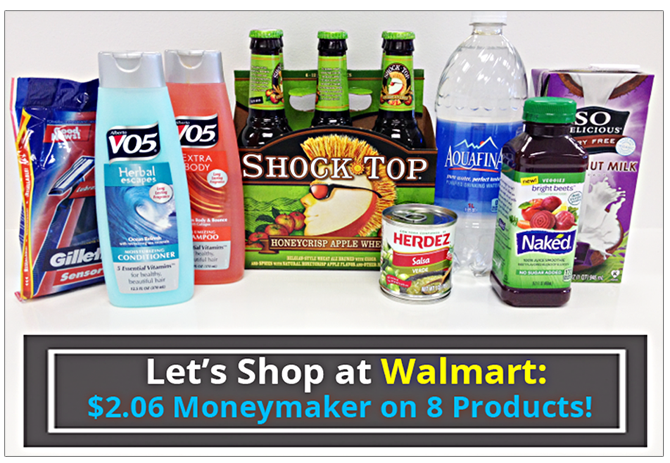 This week's shopping trip at Walmart was HOT! I bought eight items and the entire trip was a $2.06 moneymaker!
The best buy was the Shock Top beer; it was a $2.53 moneymaker after a $5.00 rebate from Ibotta and a $5.00 rebate from Shopmium. Want to learn more about Ibotta? Click here.
Bought 2 VO5 2-in-1 Moisturizing Shampoo & Conditioner, 15 oz (reg $0.84) $0.75, rollback price
Used one $0.50/2 - Alberto VO5 Shampoo or Conditioner from SS 4/19
Final Price: $1.00
Bought 1 Gillette Good News Disposable Razors, 2 ct $1.97, regular price
Used one $3.00/1 – Gillette Male Disposable Razor from RP 4/12
Final Price: $1.03 Moneymaker
See the Gillette razor deal here.
Bought 1 Aquafina Bottled Water, 1.5 L $1.00, regular price
Buy 1, Receive $0.75 with Ibotta 
Paid $1.00, Submitted for $0.75 Ibotta Credit
Final Price: $0.25