Holiday Scrub Daddy sponges are a thing. They always come in limited stock and are hard to find, so just know that you'll rarely find them on sale.
And if you've never used these smiley face-shaped scrubbers before, they're heavy-duty sponges that'll last you longer than your average dollar-store sponge. I have nothing against cheaper sponges, but Scrub Daddy brings in the value. Every Scrub Daddy I've owned has lasted at least twice as long as my other sponges.
Use them with cold water and it'll stay stiff to wipe away grease and grime from Christmas dinner. And when you use it warm, Scrub Daddy absorbs more water so you don't have to reach for a harsh cleaning spray.
These little guys make great stocking stuffers or white elephant gifts that people will actually want. You can even get free shipping on orders over $30. So if you buy two of the Christmas All Year Long bundles, you can break them up into six little gifts and save on shipping.
Unfortunately, Scrub Daddy won't typically offer special promo codes or newsletter specials. But trust me, you're definitely getting what you're paying for!
For all the best money-saving tips, text DEALS to 57299 and be the first to know about the hottest money savers each day.
Shop Scrub Daddy Halloween Sponges now at select Walmart locations:
Spotted at select Walmart locations: Scrub Daddy holiday Halloween sponges! These guys are priced at $4.48 each and there's a ghost, pumpkin, and green monster sponge in the special edition collection. But heads up — not all Walmart stores have these in stock right now. If your local Walmart doesn't currently have the Halloween sponges available, they may not show as "in stock" online, either.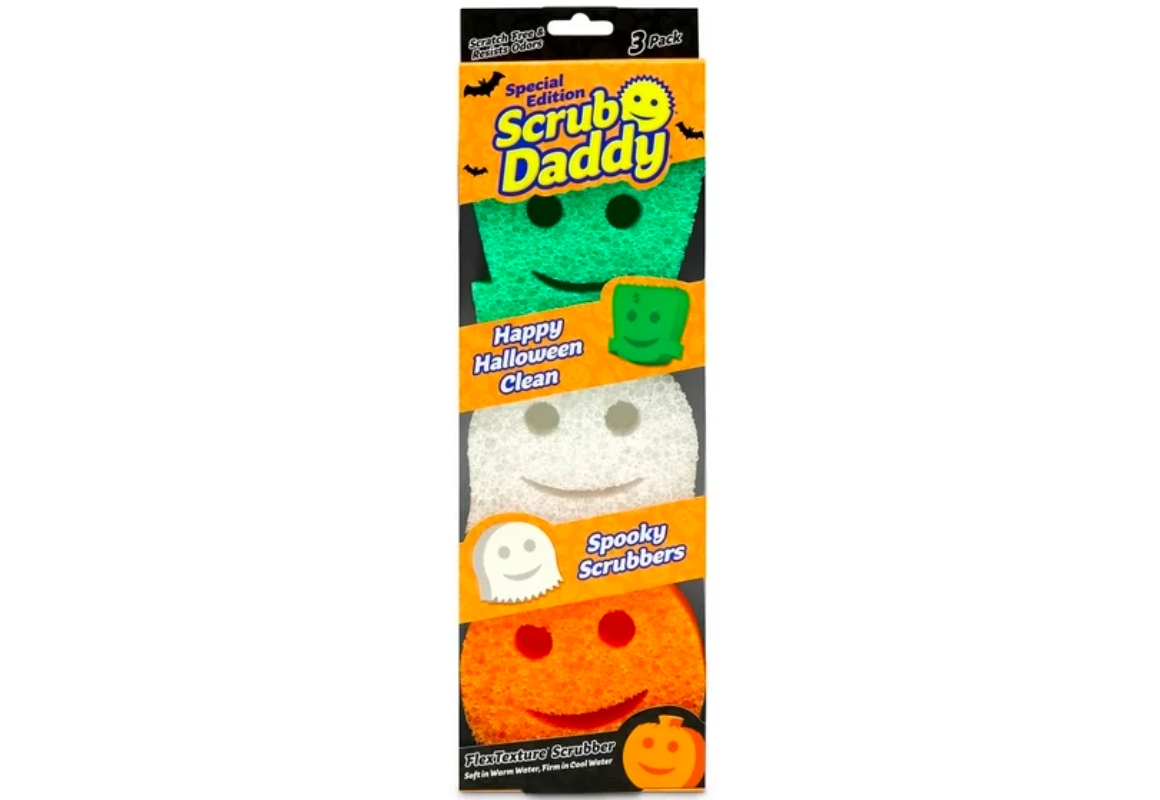 Shipping:
Free with Walmart+ or on orders of $35+
Winter Shapes Sponge Set: $14.99 at Scrub Daddy
The shapes in the winter set ($14.99, Scrub Daddy) come with Douglas the Fir, Rudy the Reindeer, and Frosty the Snowflake, all for under $15. A single Scrub Daddy sponge is $4.98 at Target, so you're paying a penny difference for these winter shapes.
Fun fact: the mouth is actually designed to clean both sides of your utensils at one time. And this special edition pack is only available while supplies last. Be warned — they won't restock once the set sells out.
Related: The Best Home Cleaning Hacks of All Time
Christmas All Year Long Bundle: $24.98 at Scrub Daddy
Last year, The Christmas All Year Long Bundle ($24.98, Scrub Daddy) was released. We expect a simlilar item to pop up again in 2023.
It featured six holiday Scrub Daddy shapes for under $25. This makes the scrubbers about $4 each. That's the same price as the regular shapes you can buy in the grocery store and the cheapest way to buy the holiday shapes. This bundle has two pairs of Christmas trees, reindeer, and gingerbread shapes in various colors. The sponges feature the brand's signature scratch-free FlexTexture on one side and the soft sponge on the other.