Where can I find Chick-fil-A coupons? Are there any Chick-fil-A secret menu items? What about the best Chick-fil-A hacks?
Never fear, we're here to share all the ways to get Chick-fil-A coupons and savings so you can go ahead and stay addicted, friend.
1. Get free chicken sandwiches, fries and breakfast entrees with the Chick-fil-A app.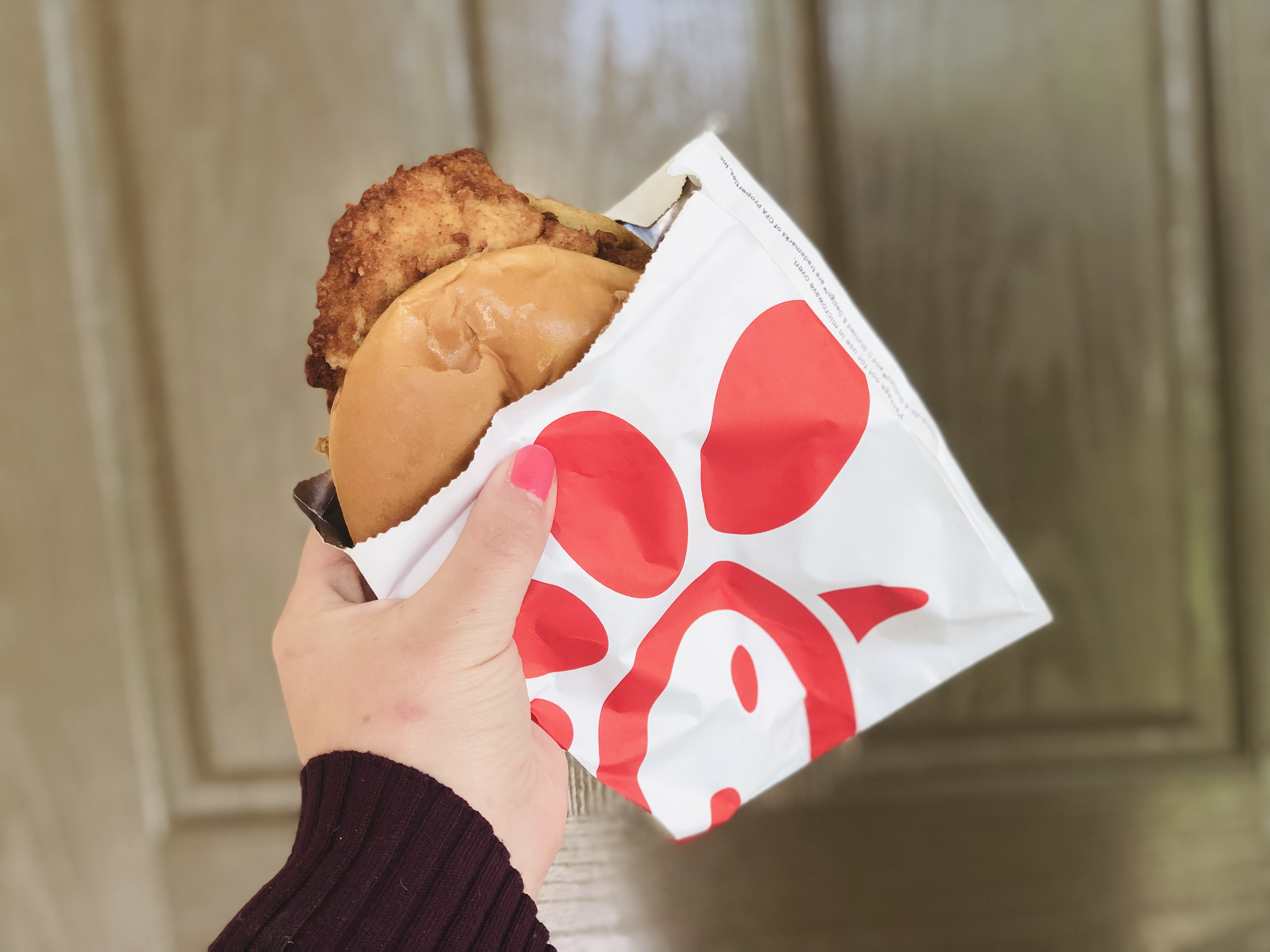 Through the Chick-fil-A app, earn free food, customize your order, pre-order and skip the checkout line. Make sure you scan your unique QR code before you pay to start earning Chick-fil-A coupons toward free food or "treats" as they say in Chick-fil-A speak.
You'll earn 10 points for every $1.00 you spend and you'll be able to unlock additional benefits as you move through tiers (based on how much you spend).
You'll earn a free sandwich at 350 points, which you could reach in just a few orders, depending on how large your family is!
TIP: Consider allowing Chick-fil-A to access your location because you could get random offers for free food from restaurants you're near.
2. Get a Chick-fil-A coupon for a free cookie on your birthday when you download the app.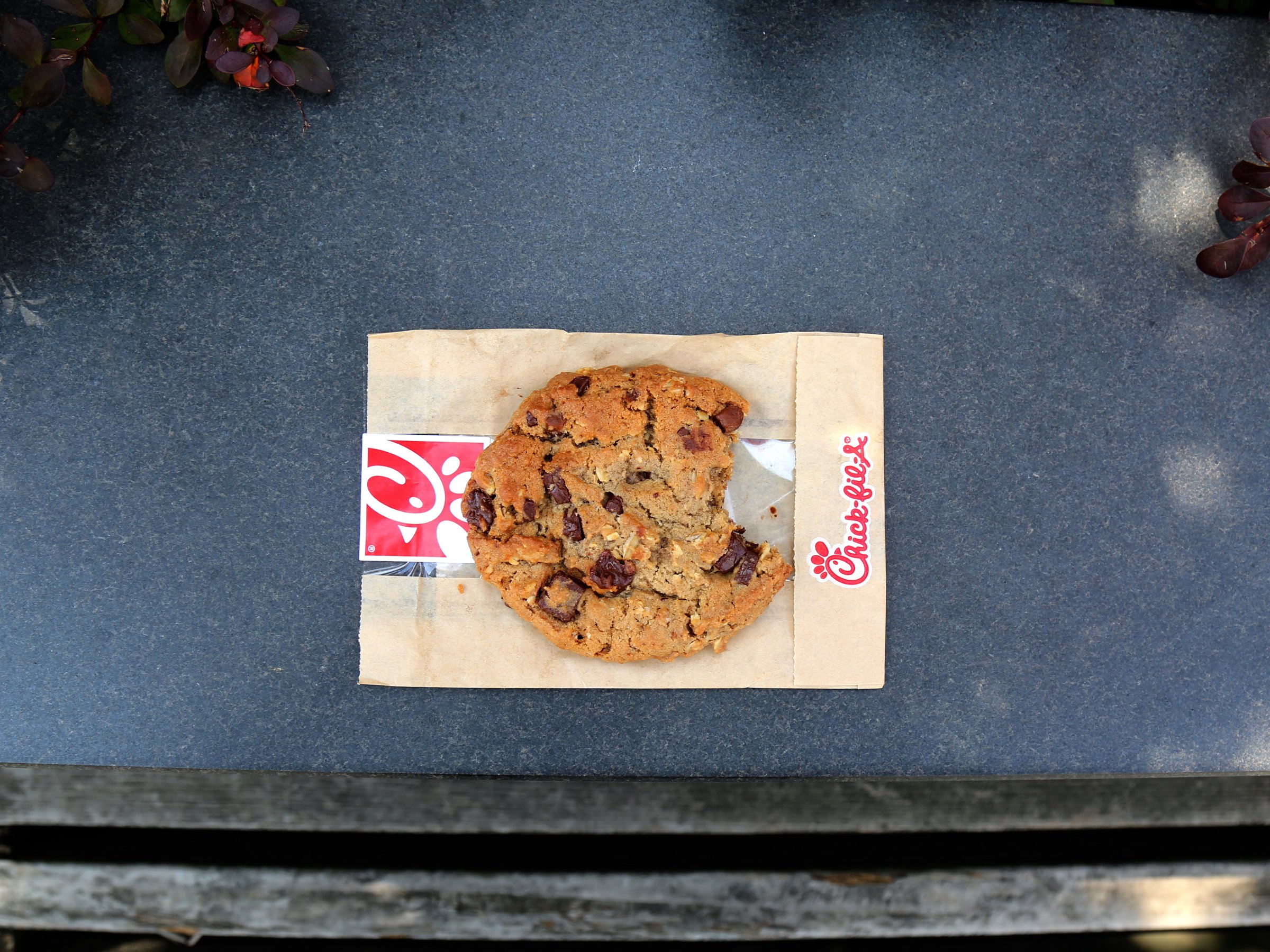 When you join the rewards program, you'll get a Chick-fil-A coupon for a free cookie on your birthday.
Make sure you use it within 10 days!
3. Buy the 4-piece strip meal instead of two chicken sandwiches to save $1.21.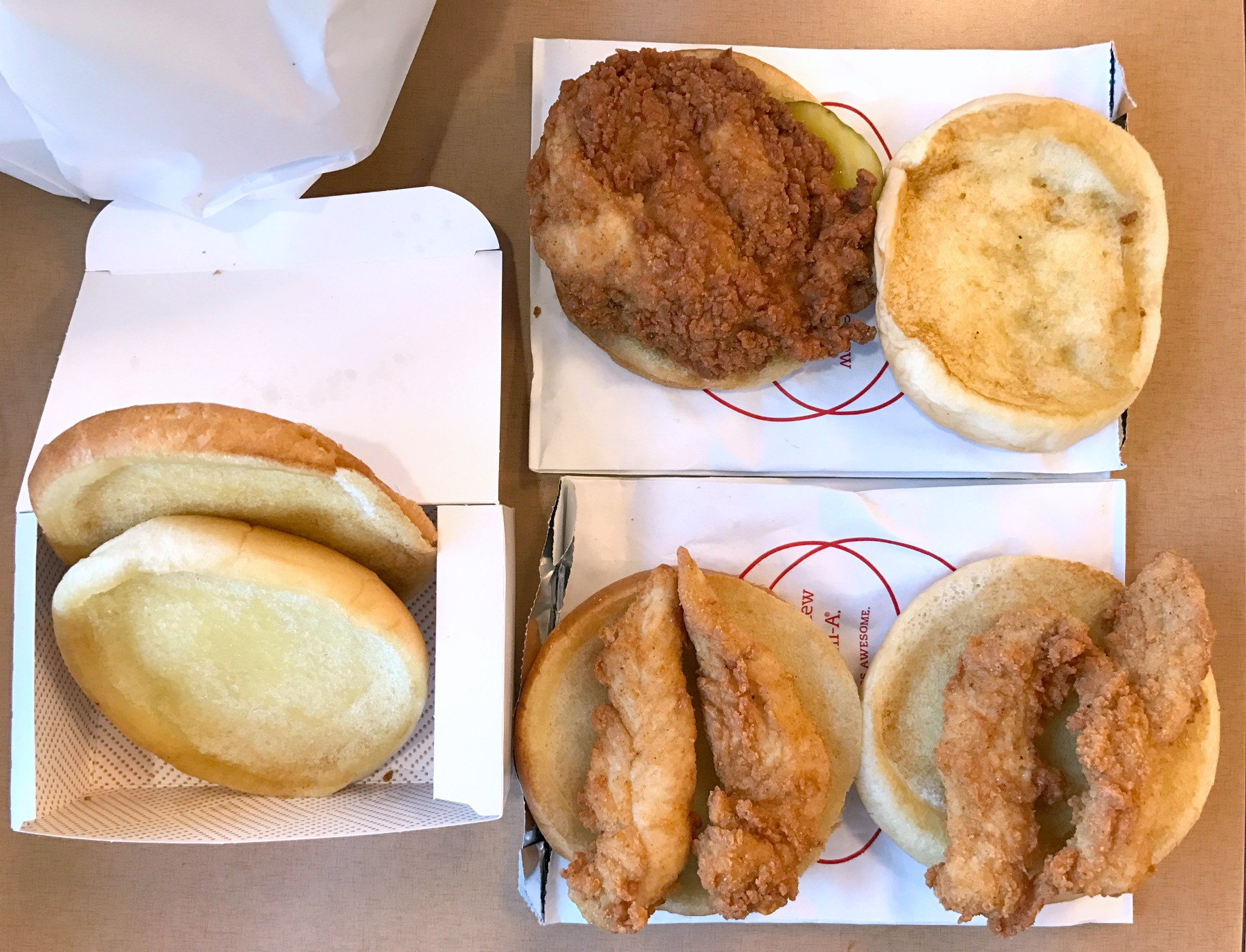 The 4-piece meal has as much chicken as two original chicken sandwiches and only costs $4.69 instead of two chicken sandwiches for $6.10. Hello Chick-fil-A deals!
Order the 4-piece meal with two buns ($0.20 for two) on the side.
Put two strips in each bun, and voila!
Since two strips are the size of a chicken sandwich, you get a two-for-the-price-of-one meal.
4. Get as much Chick-fil-A sauce as you want for no extra charge.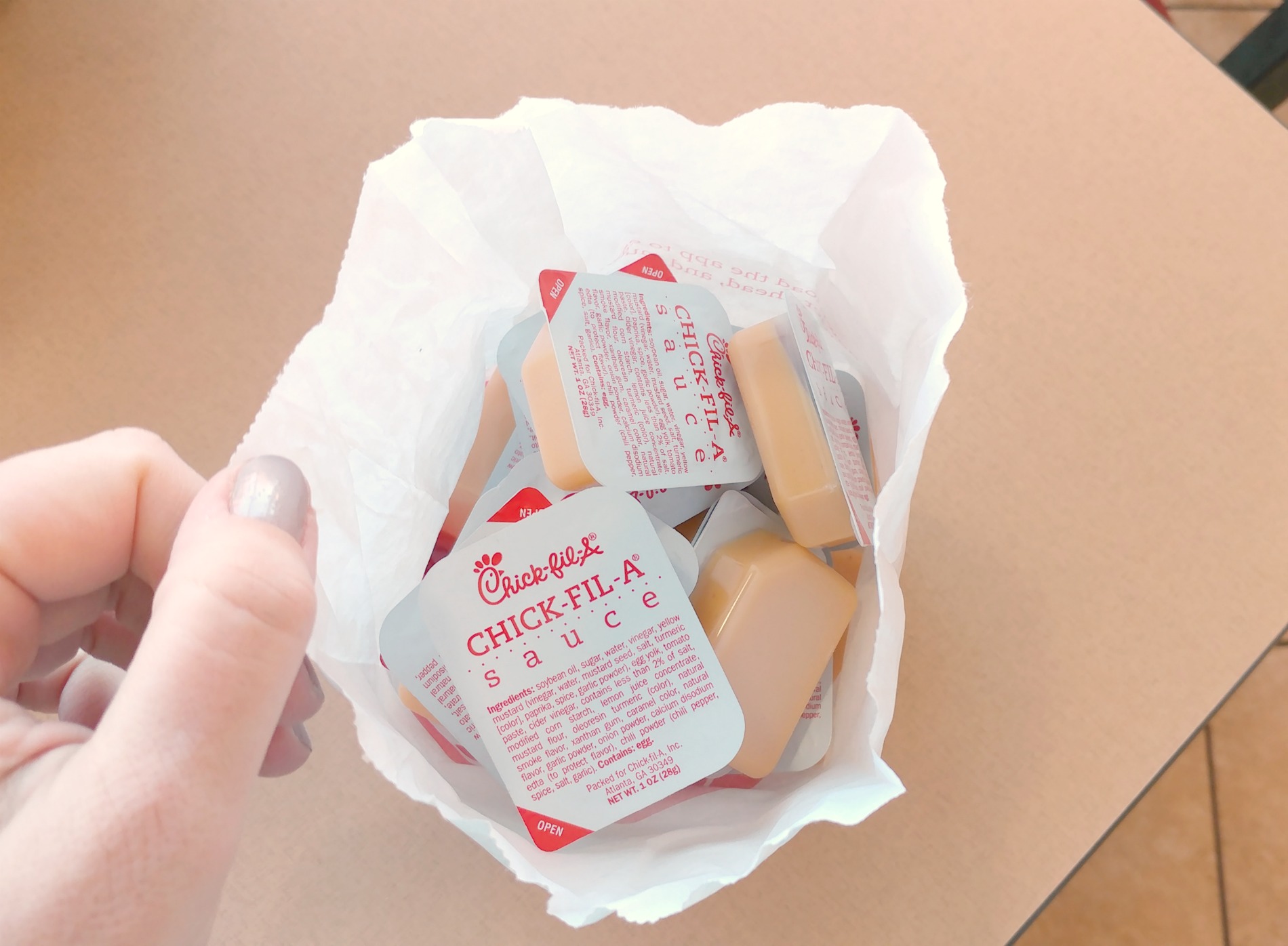 Chick-fil-A sauce is a world-famous cult classic. But did you know that you can ask for as much of it as you want with your order?
As always, don't be a sleazeball about this!
5. Follow your local Chick-fil-A on Facebook for freebies — like a breakfast entree and cookies.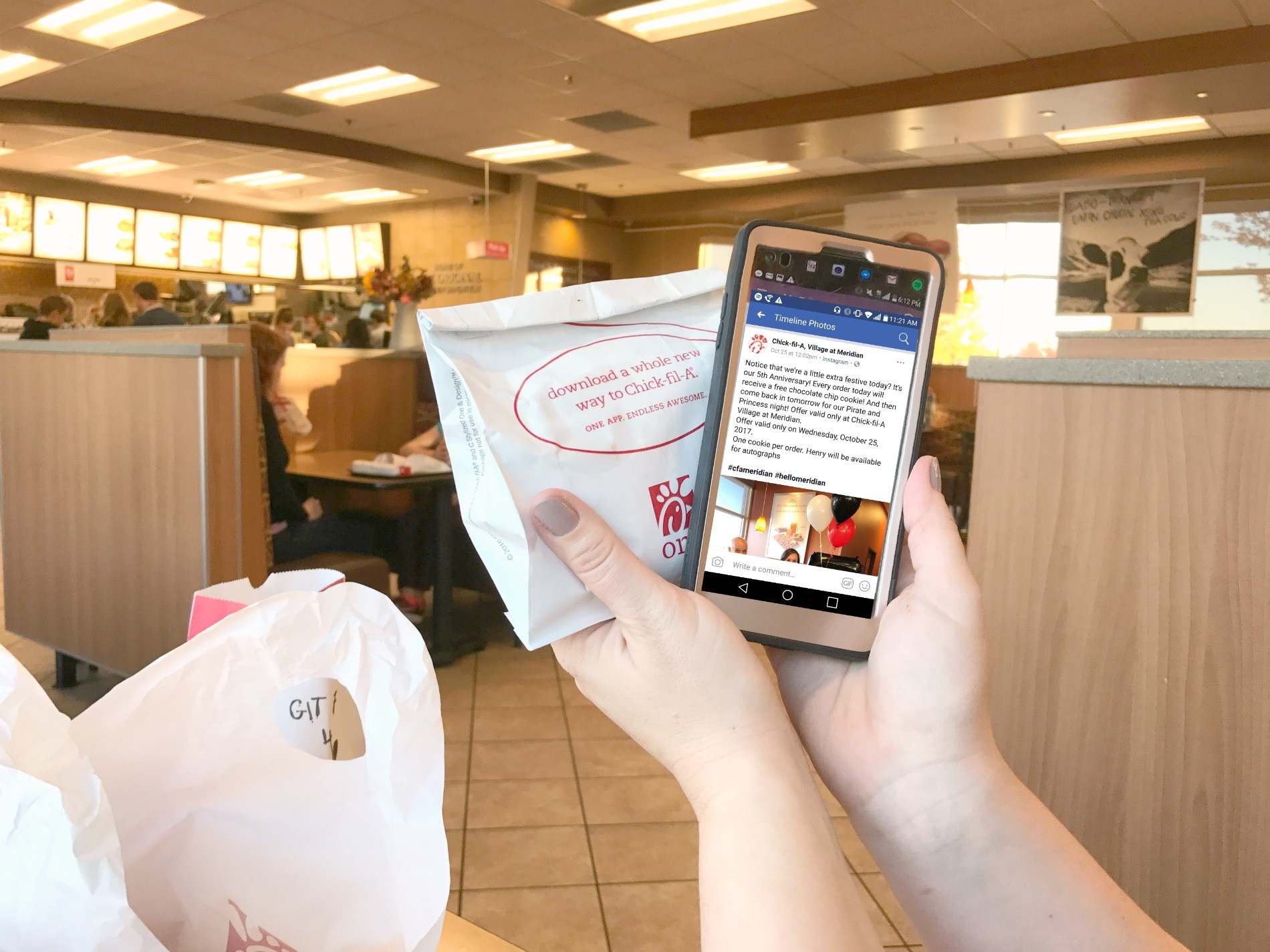 You're more likely to find Chick-fil-A deals when you follow your local restaurant since every location is individually operated and managed.
For example, the Willoughby, Ohio Chick-fil-A gave out free breakfast every Friday morning in May.
And the Meridian, Idaho location gave away a free cookie with any order on their five-year anniversary.
6. Add bacon to your Classic Chicken Sandwich instead of ordering the Grilled Chicken Club to save $1.49.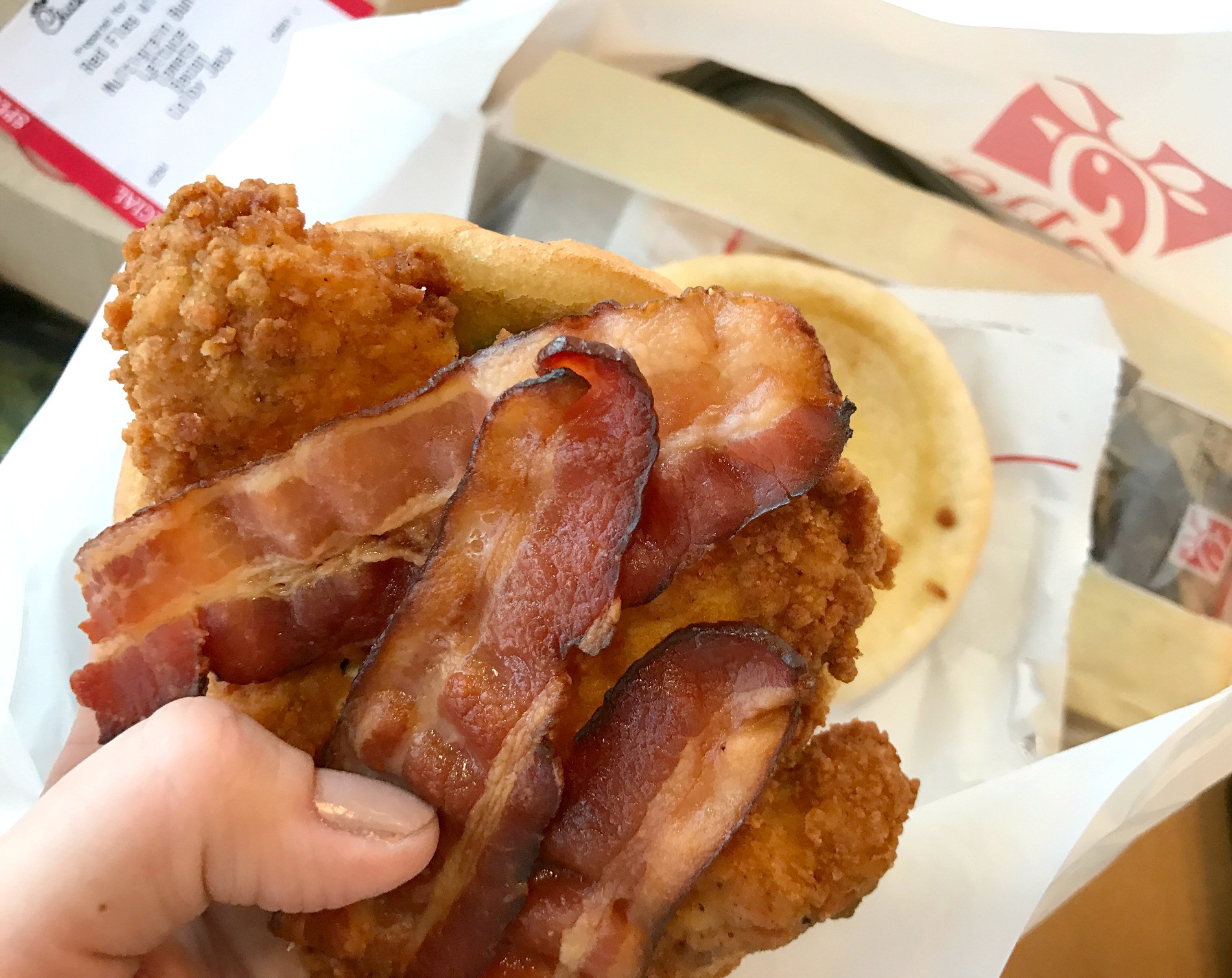 You're welcome.
One of the best Chick-fil-A hacks includes ordering extras and adding them to your sandwich instead of paying for the deluxe version.
Bacon on any sandwich is an extra $1.05, so if you add bacon to an Original (or grilled!) Chicken Sandwich, you'll only pay $4.10 instead of $5.59 for a Chicken Club.
7. Customize a kid's meal to get more fries or an ice cream cone for free.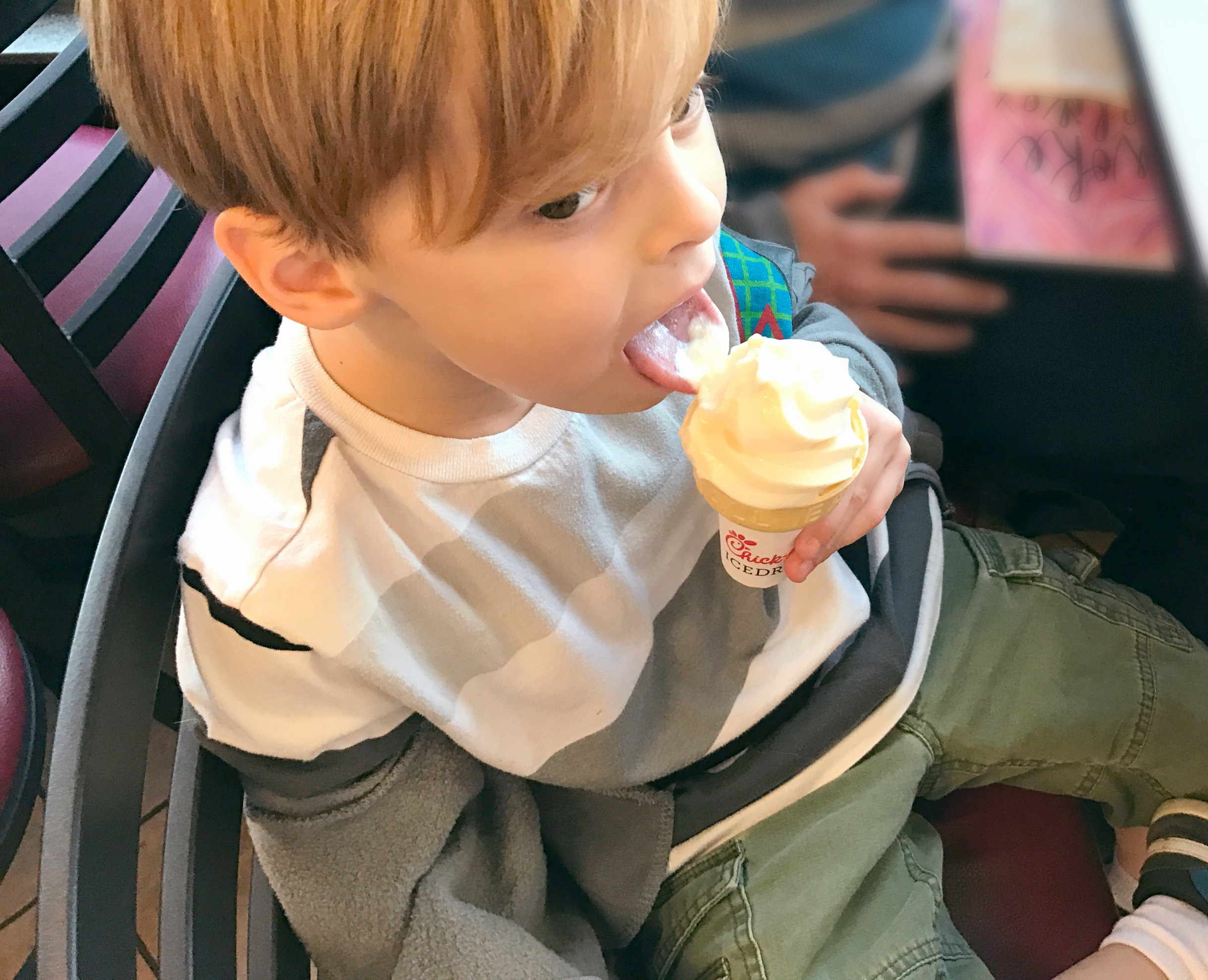 Don't want more tiny toys cluttering up your kid's room? I've got a Chick-fil-A hack just for you.
Ask for ice cream or more fries instead of a toy with their kid's meal for no extra charge.
Learn the best restaurant hacks of all time.
8. Show up at Chick-fil-A dressed like a cow on July 9th, and you'll get a free sandwich.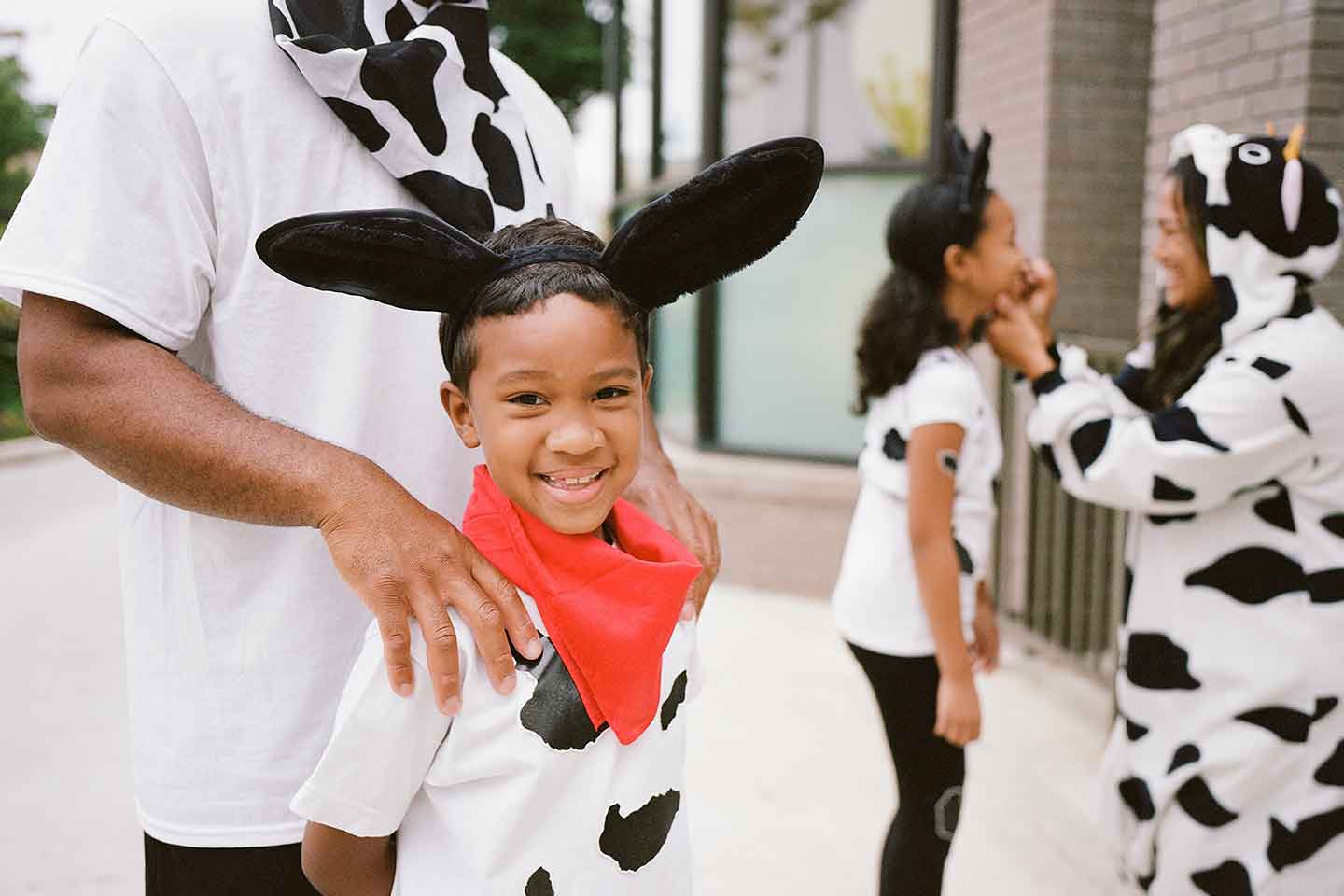 Why? It's Cow Appreciation Day, which is the one day a year when you can get free food at Chick-fil-A just for dressing up like a cow.
Everyone in a cow costume gets a free chicken sandwich — usually one day during the second week in July. This year Chick-fil-A Cow Appreciation Day is Tuesday, July 9, 2019.
Learn more details about Chick-fil-A Cow Appreciation Day.
9. Ask for a bun with American cheese for a "grilled cheese sandwich" for only $1.49.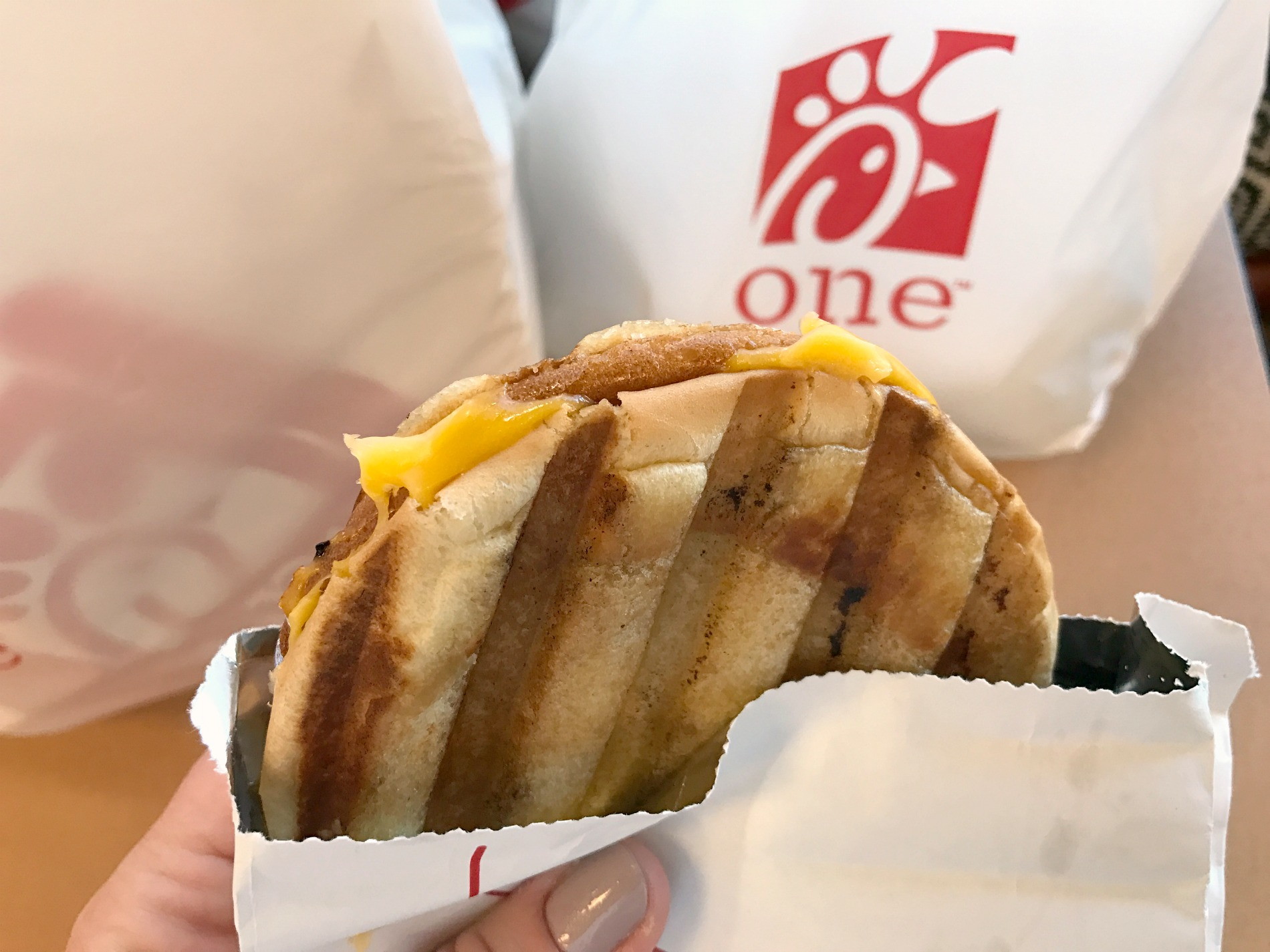 If you're looking for a vegetarian option (or you have a picky toddler), this is the way to go.
10. Order any sandwich "lettuce-wrapped" to save $0.10 on your sandwich.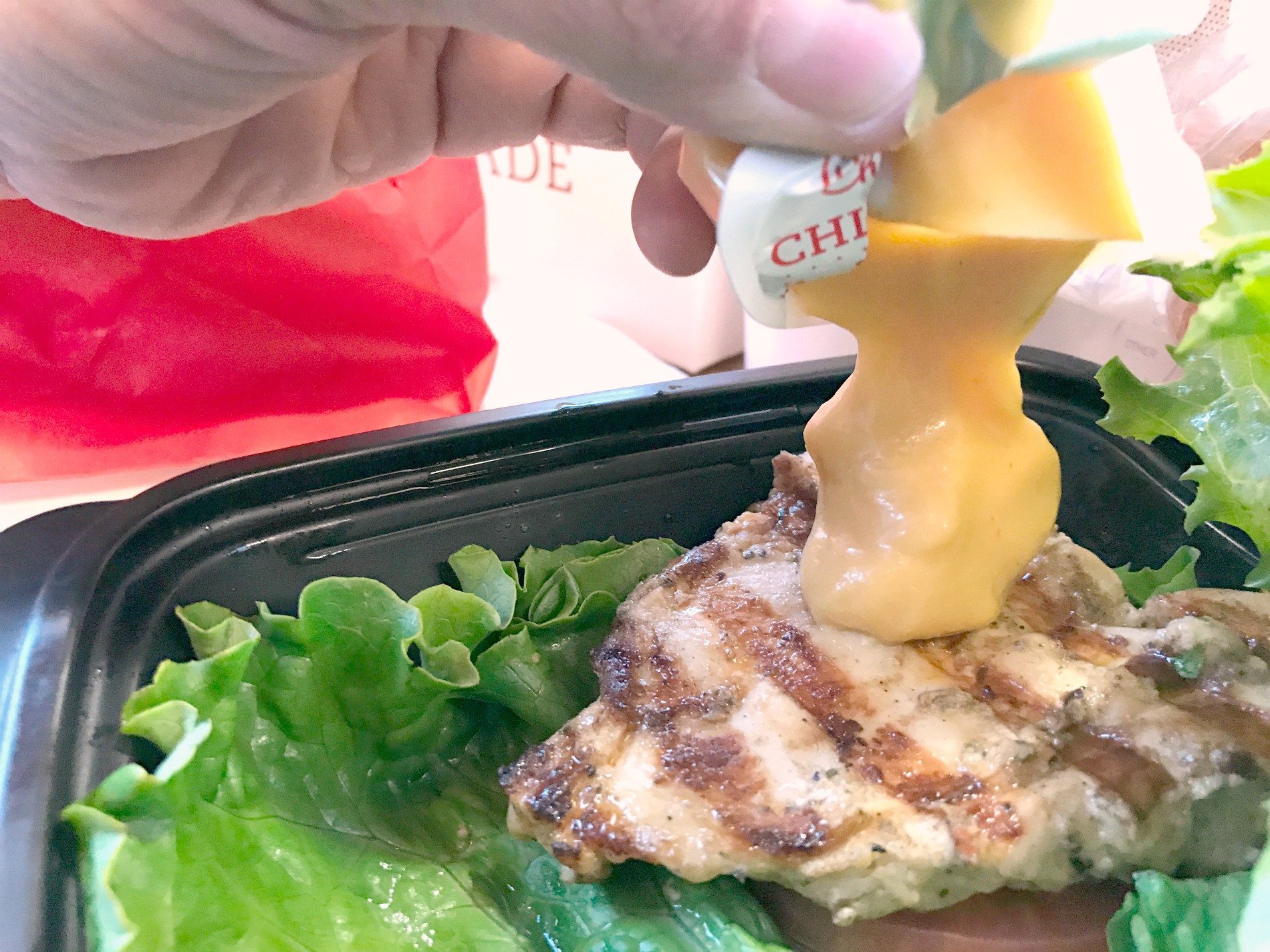 Chick-fil-A buns are $0.10 each, so ditching the bun is a great way to get rid of empty carbs and save yourself a dime.
Don't worry — lettuce still holds up well with Chick-fil-A sauce.
11. Order a "secret menu" root beer float for only $3.10.
Ask the cashier to put a small cone's worth of vanilla ice cream into a cup of root beer, and you've got a cheap dessert that's not on the menu.
12. Get a "secret menu" BLT on a multigrain bun for only $1.56.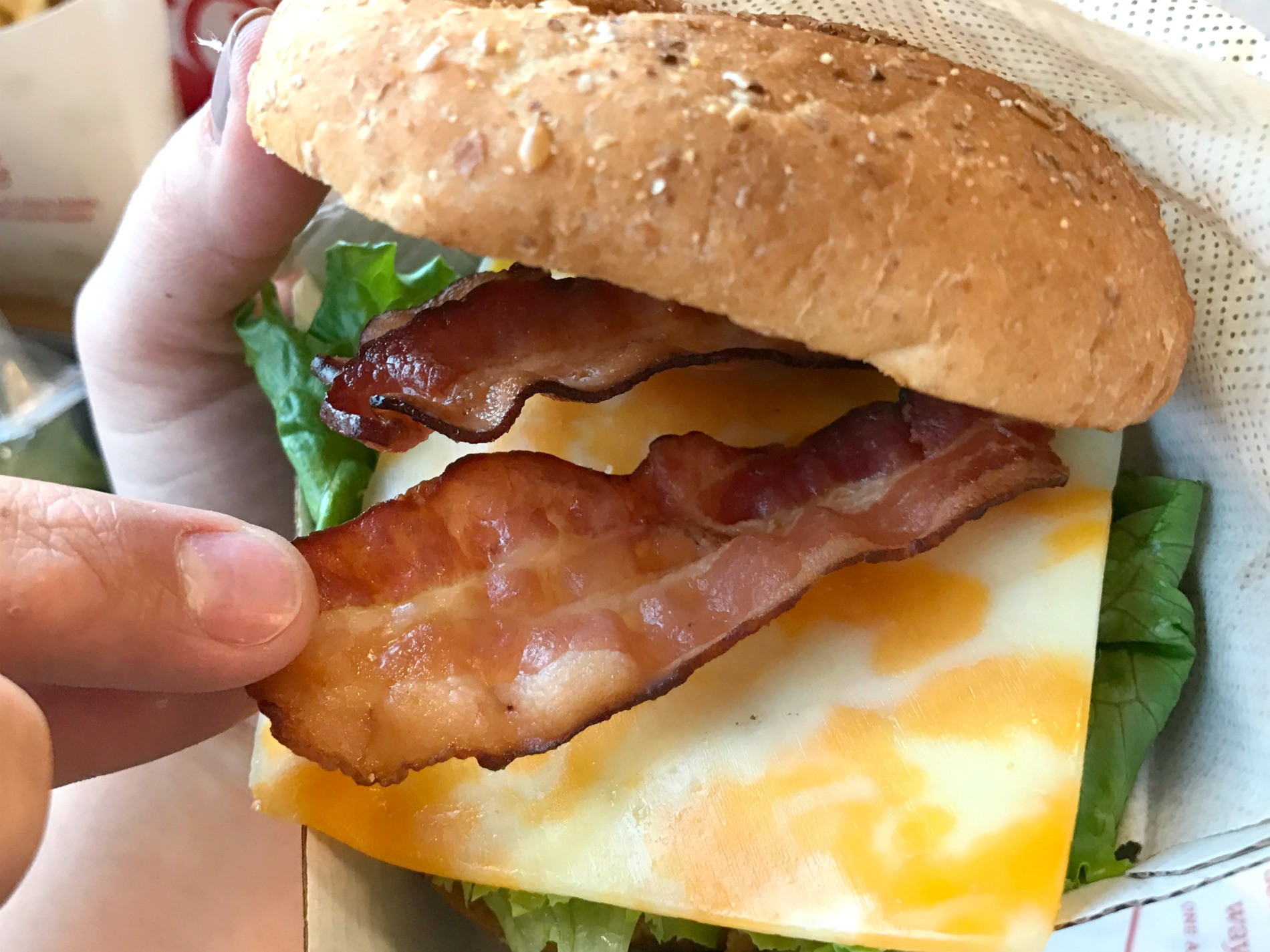 Choose your favorite sauce, slather it on, and you're looking at a chicken-free sandwich for under two bucks at the place that "only does chicken."
13. Ask for a frosted Arnold Palmer if you love the Frosted Lemonade.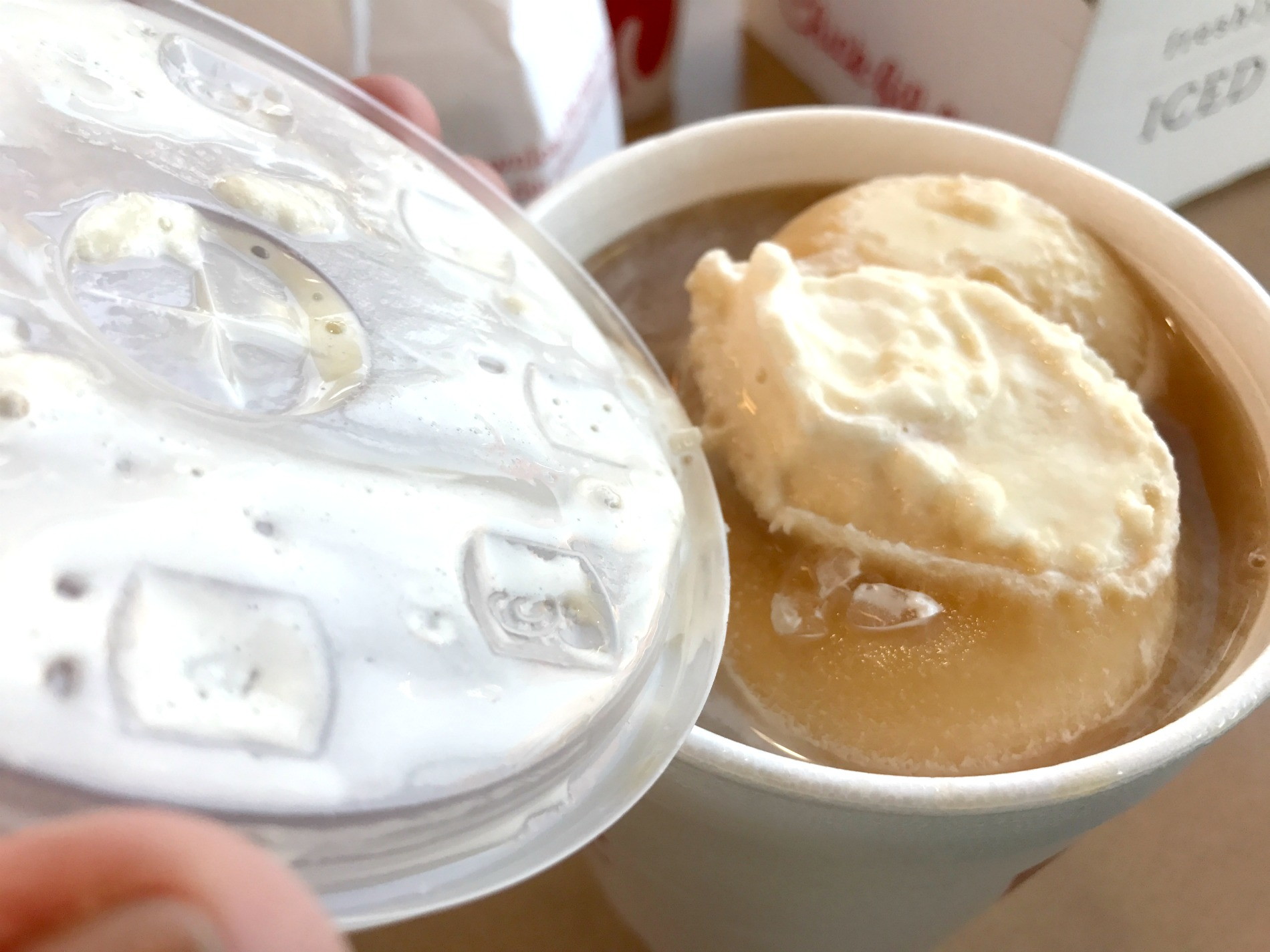 A frosted Arnold Palmer is 1/2 lemonade, 1/2 half iced tea mixed with ice cream.
So this ends up being 1/4 lemonade, 1/4 tea, 1/2 ice cream. You can get one for the same price as a Frosted Lemonade ($2.75).
Basically, lemonade + tea + ice cream = OMG.
TIP: You can also try a frosted sweet tea if you're feeling daring.
14. Check the bottom of your receipt for a survey and a chance to get a free sandwich.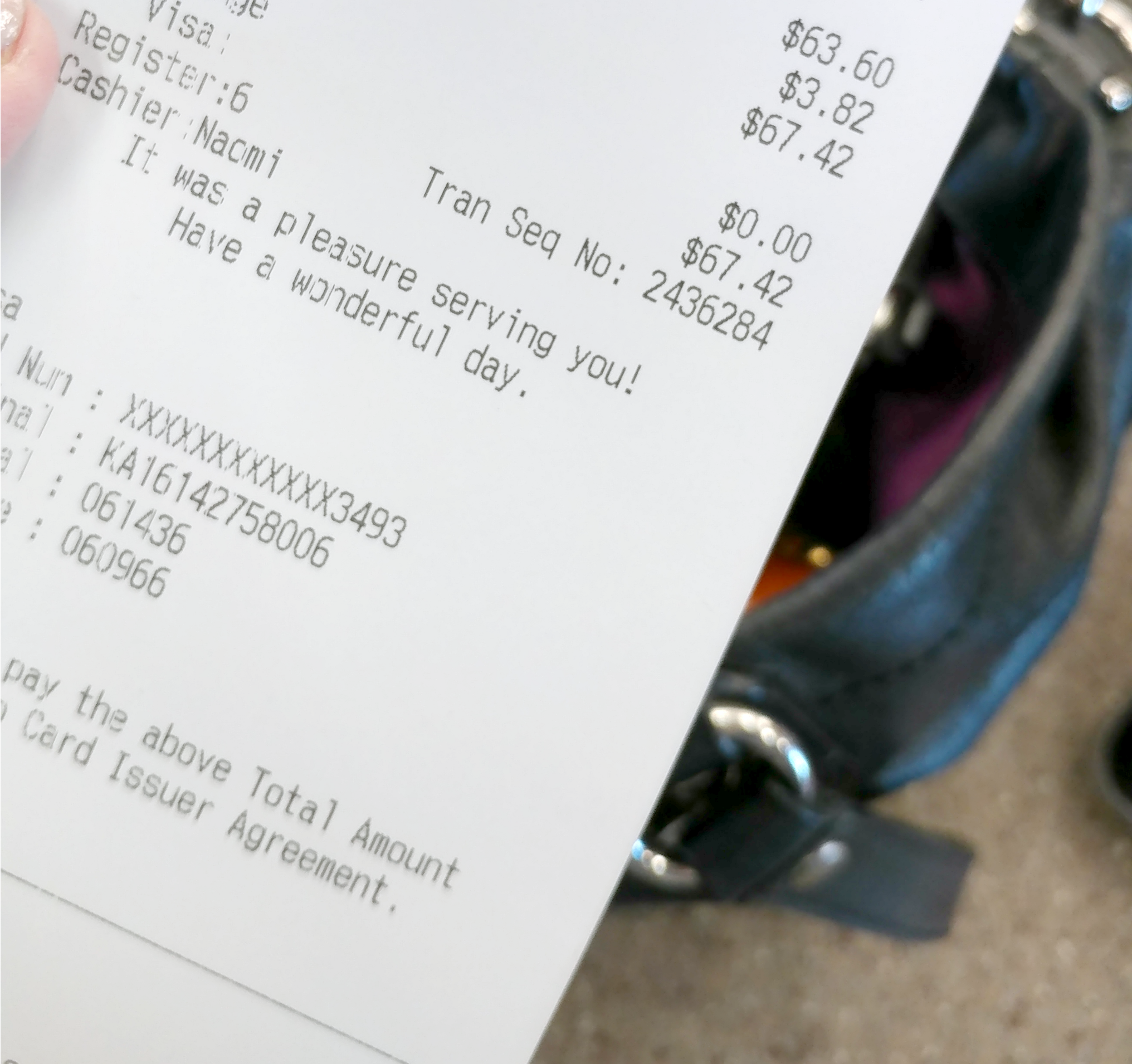 Chick-fil-A gives away a free Original Chicken Sandwich when you fill out a survey on the bottom of some receipts.
But if you're using Chick-fil-A coupons or a discount, forget about it. Surveys only print on one out of every five receipts for customers paying full price.
Go online and visit MyChickfilAVisit.com (within 48 hours of your original visit), and fill out a short customer survey. After you complete the survey, you'll get a unique code valid for a free original Chick-fil-A chicken sandwich!
15. Gluten free? Order grilled chicken on a gluten-free bun.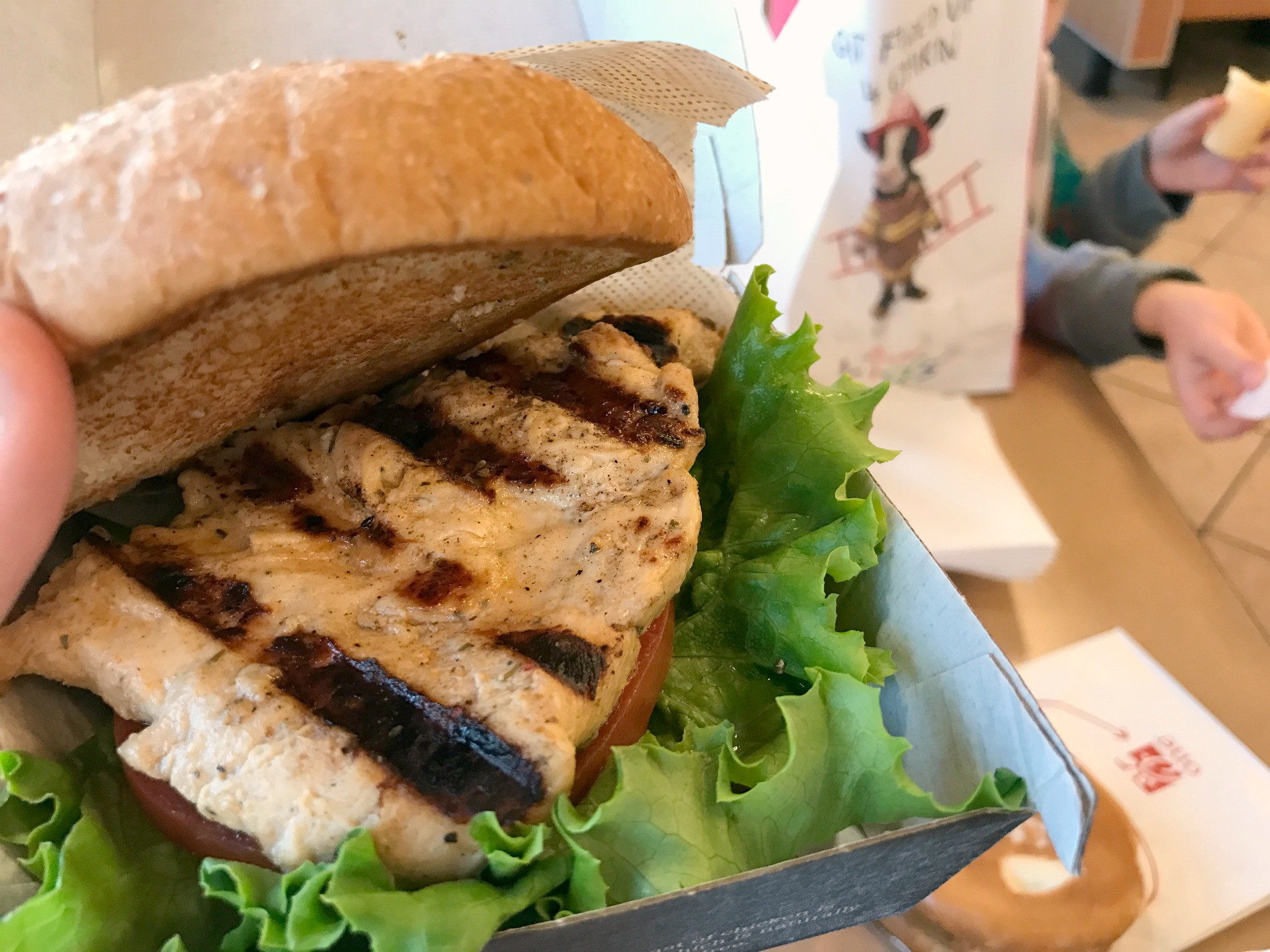 Did you know you can substitute a gluten-free bun for any sandwich on the menu for only $1.15? I hear gluten-free cries of joy.
Check the gluten-free section of their website to see more options.
16. Get a free coffee with a purchase if you're 50 or older.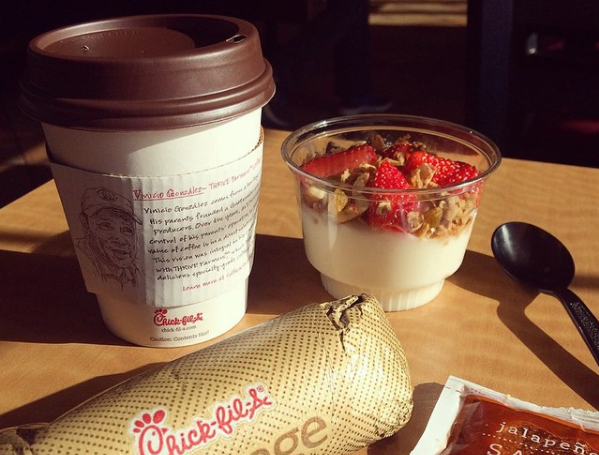 Since every single Chick-fil-A is independently owned and operated, your mileage may vary. But most locations offer a free coffee with a purchase or a 10% overall discount to seniors, 50 years and older.
Ask your location what type of senior discount they offer.
17. Get a year's worth of free Chick-fil-A meals if you're one of the first 100 customers at a grand opening.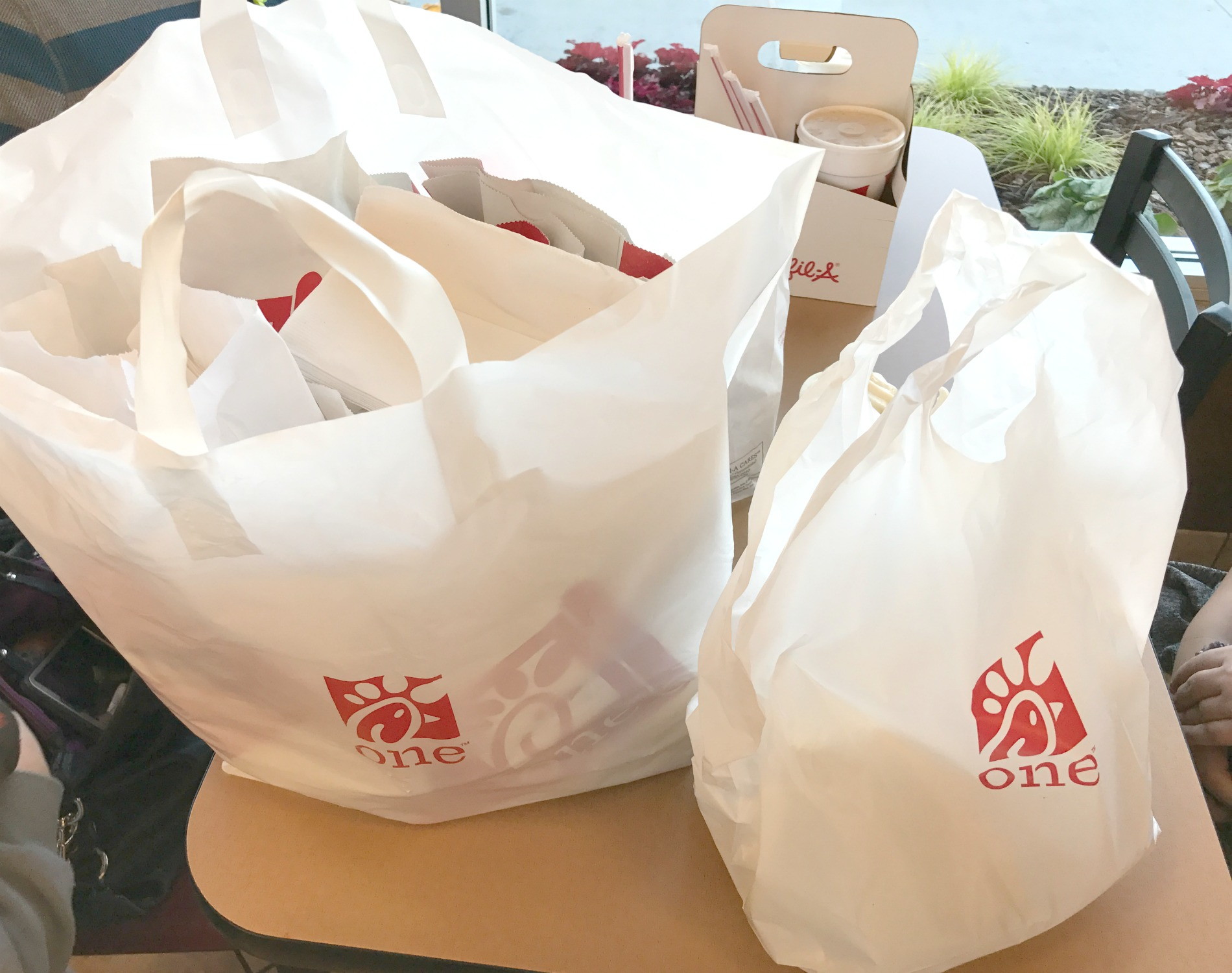 Be one of the first 100 customers at a Chick-fil-A grand opening, and get a year's worth of free Chick-fil-A Chicken Sandwich meals, or 52 meals, worth $372.88.
18. On a diet? Order grilled chicken nuggets for only 160 calories.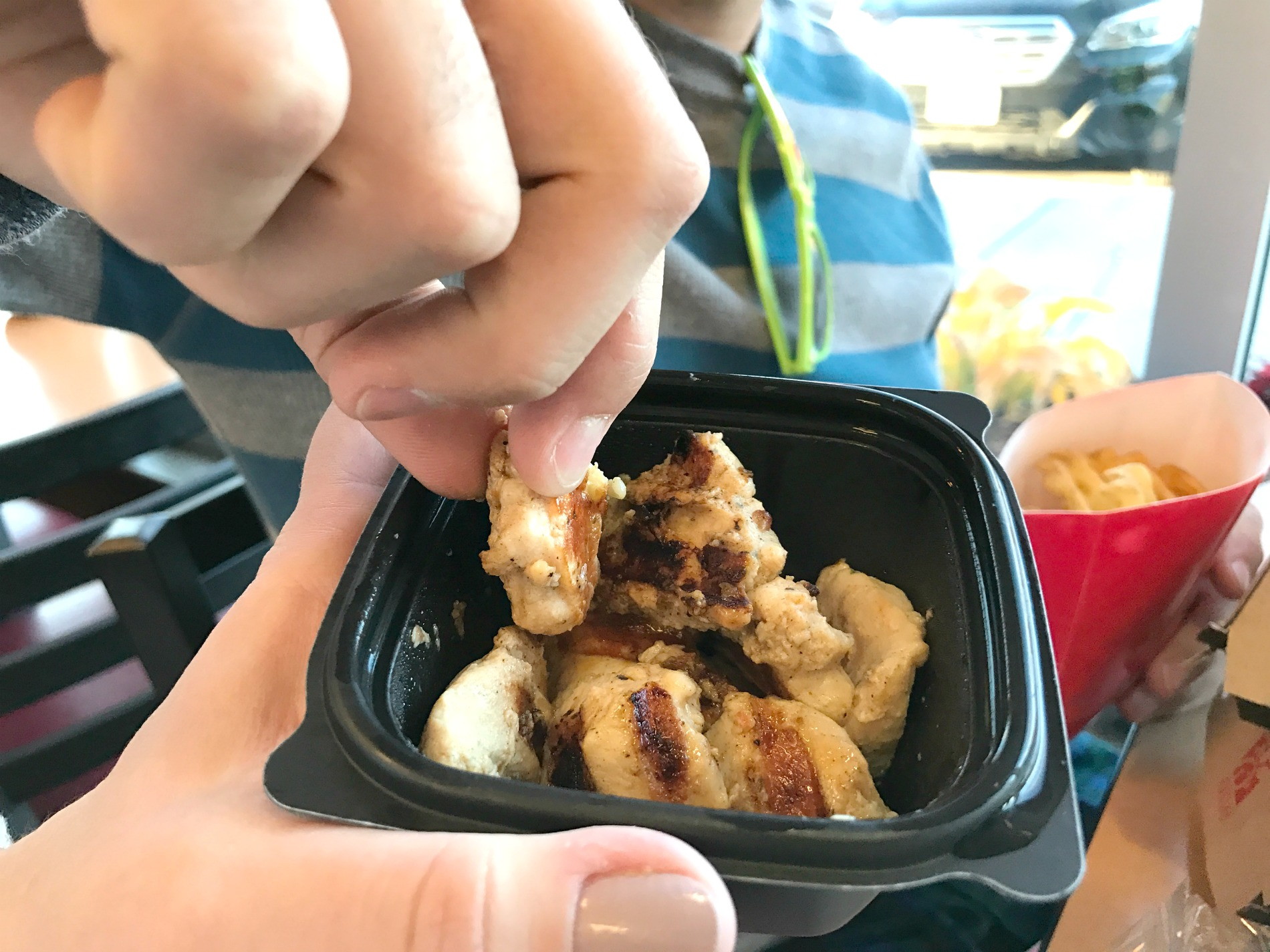 Two words: grilled nuggets. So much better for you than fried nuggets.
Get an 8-count order of grilled chicken nuggets for $3.85, and save yourself 110 calories over the breaded and fried version.
19. Visit your local Chick-fil-A for family events, and get free food deals.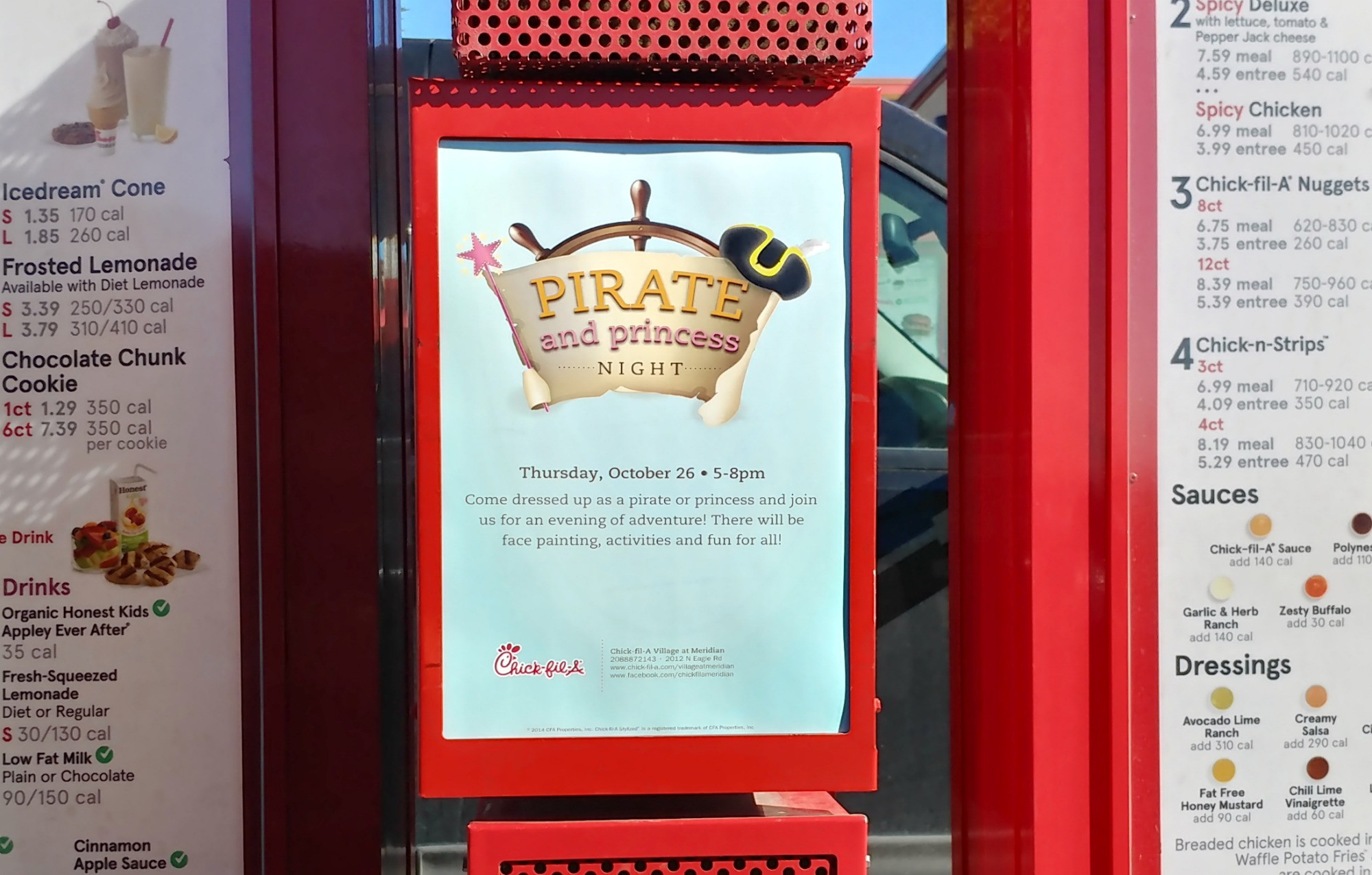 Most Chick-fil-A restaurants host family-friendly events in-store about four times a year. These events have games, crafts and Chick-fil-A deals (or freebies). Chick-fil-A has also hosted BINGO night, Trivia Night and Pirate and Princess night.
Usually at these events, kids get a free chicken nugget meal with the purchase of an adult value menu meal, which saves you $3.35.
20. Look for Chick-fil-A military discounts on Veterans Day.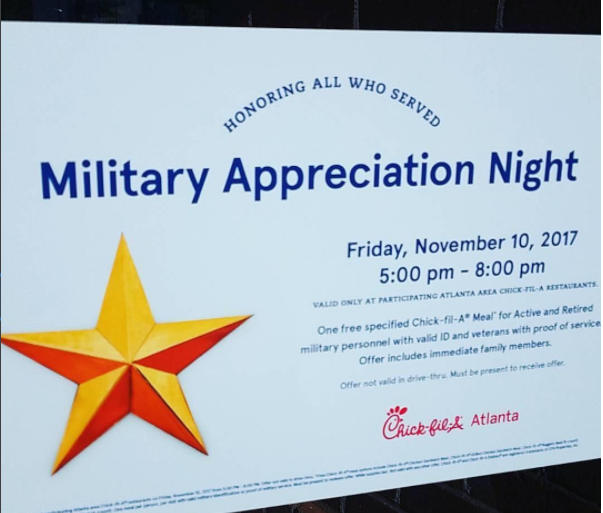 Many Chick-fil-A locations gave away free food to active duty and retired military on Veterans Day. Make sure you call and ask, and show your military ID to your cashier.
21. Ask them to make your fries "well done" if you want 'em extra crispy.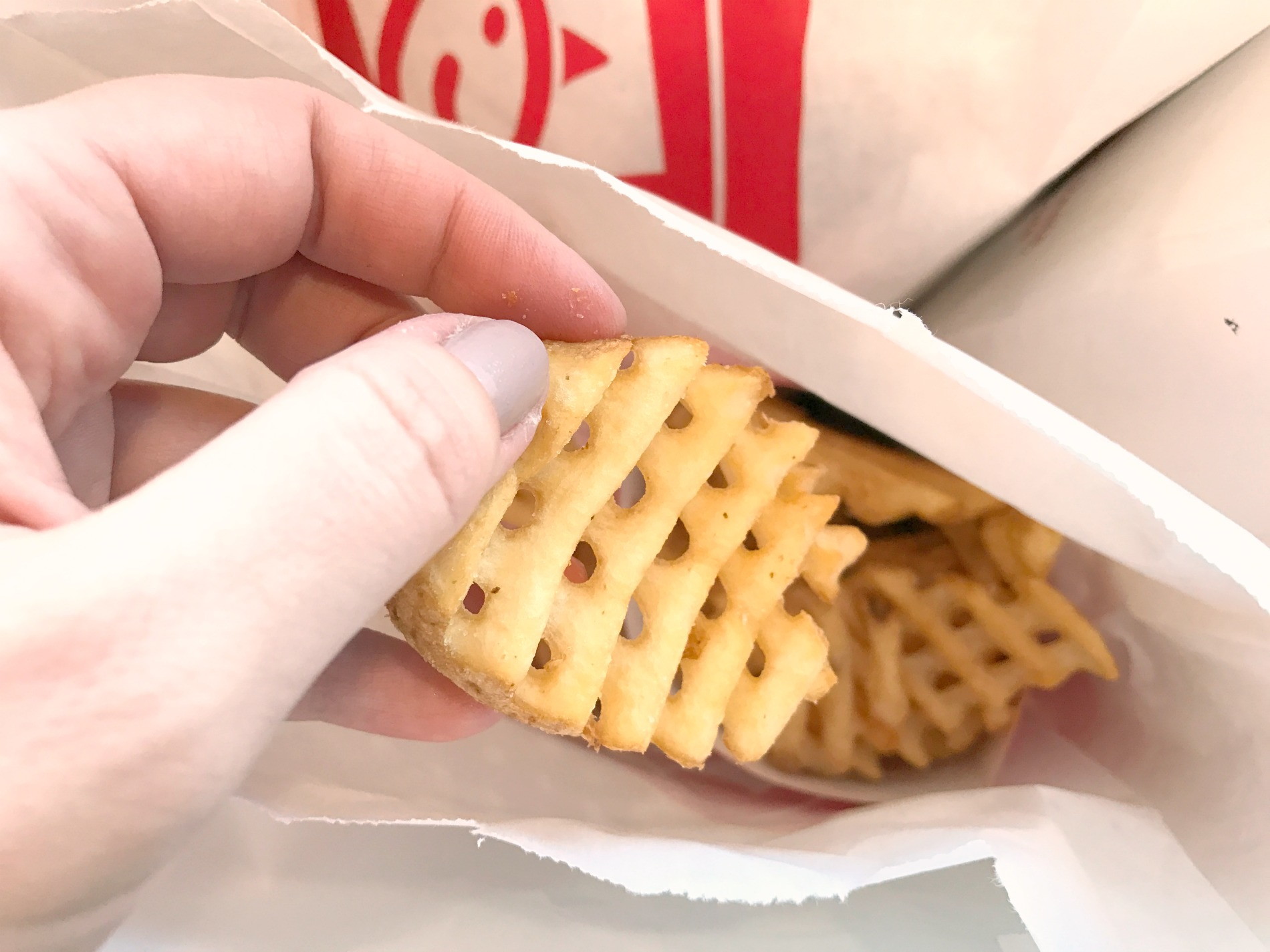 Don't like your waffle fries soft? Ask for them to be "well done," and they'll come out golden brown and crisp instead of soft at no extra charge.
22. Some Chick-fil-A employees get free food, drinks and discounts.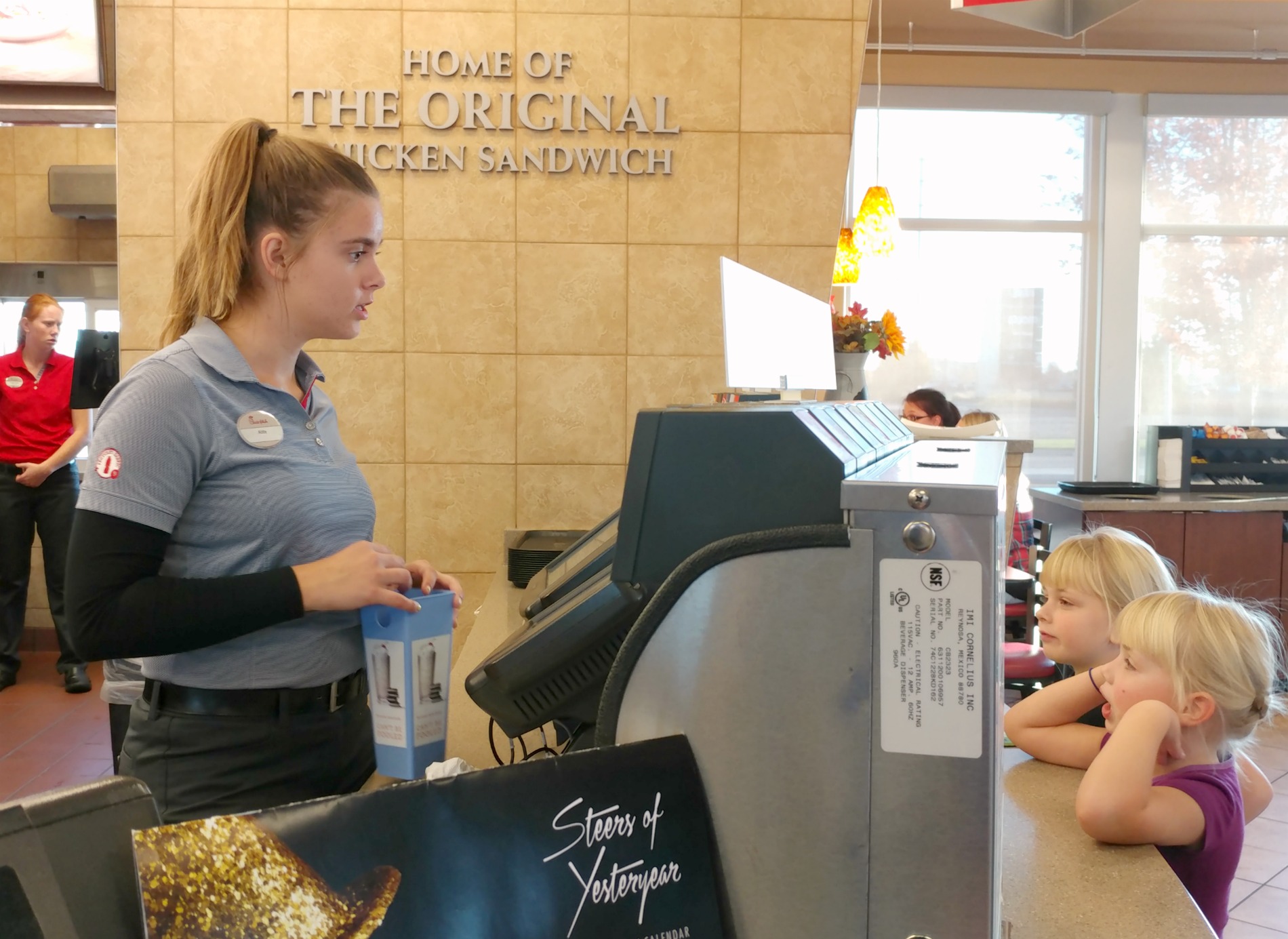 If you're lucky enough to work at a location that offers a free meal per shift, count your lucky stars. This perk is a mixed bag across the country with some employees receiving it and others receiving no free food.
It's completely up to your individual location's discretion.
23. Order Chick-fil-A in your pajamas. (Thanks DoorDash!)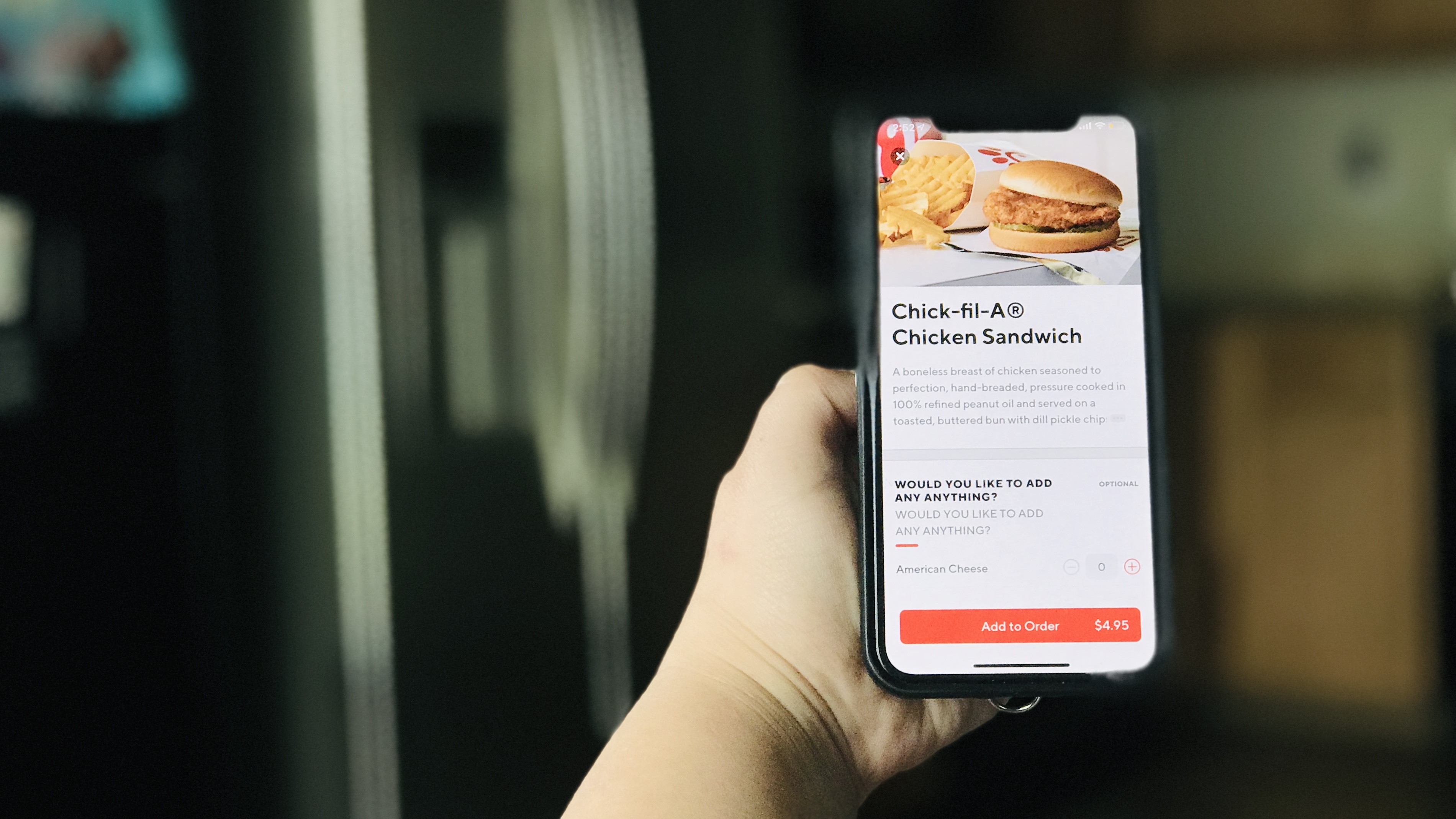 Even though you still can't get Chick-fil-A on Sundays, you can order it in your pajamas and DoorDash will bring it right over.
Chick-fil-A is often a "featured partner" of DoorDash. This means delivery is cheaper and sometimes free. Keep your eyes peeled!
Love restaurant hacks and savings? You're gonna love these: