Ready to learn how to coupon at Target? We've got two simple rules and four apps that'll set you up to save money on your very first Target run. Here at Krazy Coupon Lady, we know coupons and deals. Our team gathers up all available coupons in one easy place and we pair those coupons and rebates with the hottest advertised and unadvertised sale prices each week. All you do is follow our couponing deals like a recipe to save all the money.
1. Using coupons on top of gift card promotions is the number one way to save money at Target.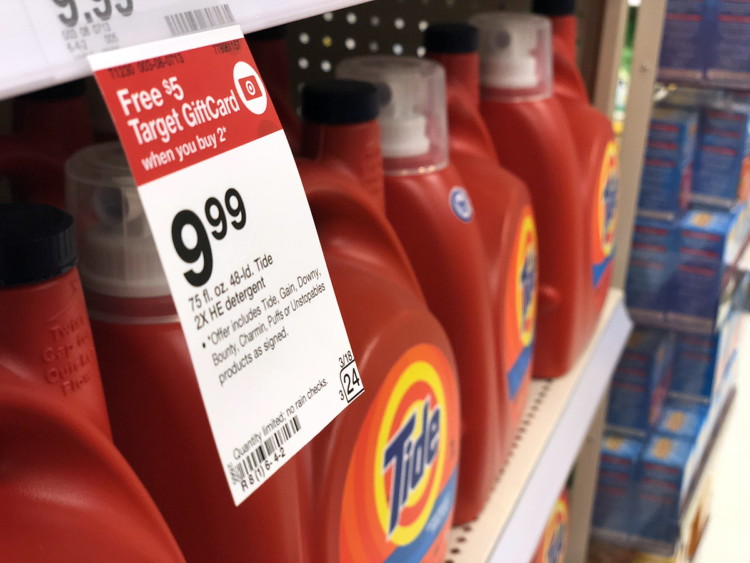 You've seen the gift card promotions advertised on Target shelves. Buy a couple participating items and get a free $5 Target gift card immediately after purchase. Well. . . the main thing we do here at KCL is find coupons to stack with sales and promotions every week, so you pay less out of pocket before you get that gift card handed your way.
☑ Say you're buying two bottles of laundry detergent for $10 each. If we find you two coupons worth $2.00 each, instead of paying $20 to get the $5 gift card, now you're only paying $16.

☑ And if we point you toward a $1.00 rebate you can redeem twice, well now you get $7.00 back instead of just the $5 gift card.

☑ If you pay $16 and get $7 back, it's kinda like you only paid $9 for two detergents.

☑ That's 55% savings. And that's how KCL works. Easy, right?
And because gift card promotions never have limits, you can buy as much as you want–you don't even have to separate transactions to get multiple gift cards. Your wallet is gonna need to make room—I always have Target gift cards that I earn one week and redeem the next.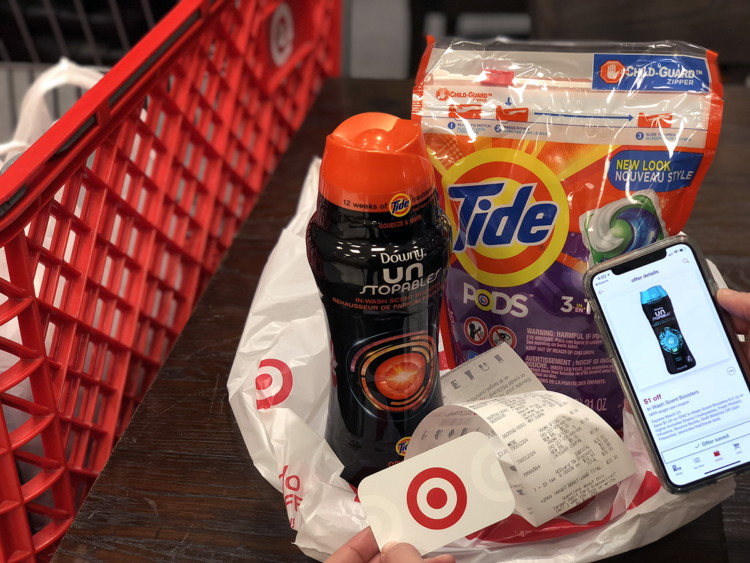 2. Stacking Target coupons with manufacturer coupons is also pretty frickin great.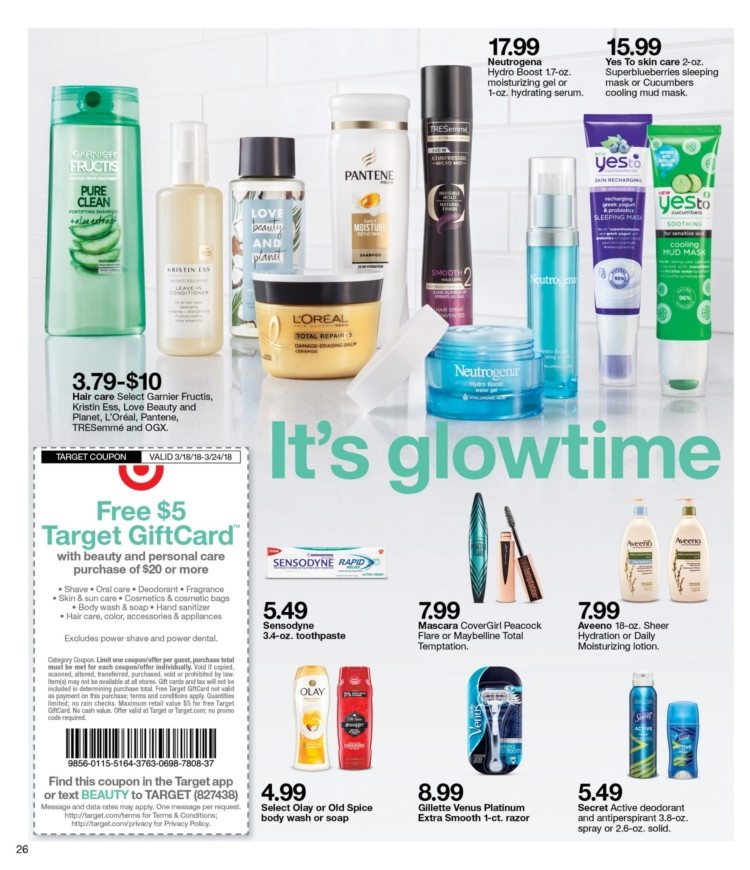 Manufacturer coupons exist everywhere–the Sunday paper, coupon websites, rebate apps. A manufacturer coupon is distributed and reimbursed by the brand and can be used at any store.
Target store coupons can be found in the Target weekly ad, the Target app and via text.
☑ Say you've got two $5.00 off manufacturer coupons for shampoo. Way to go.

☑ You can "stack" those coupons with a Target app coupon worth $5 back on $20.

☑ Since the shampoos cost $12 each, just buy two–that's $24.

☑ You'll pay $14 out of pocket after the manufacturer coupons.

☑ And the Target coupon will get you $5 back, making your total cost essentially $9.00.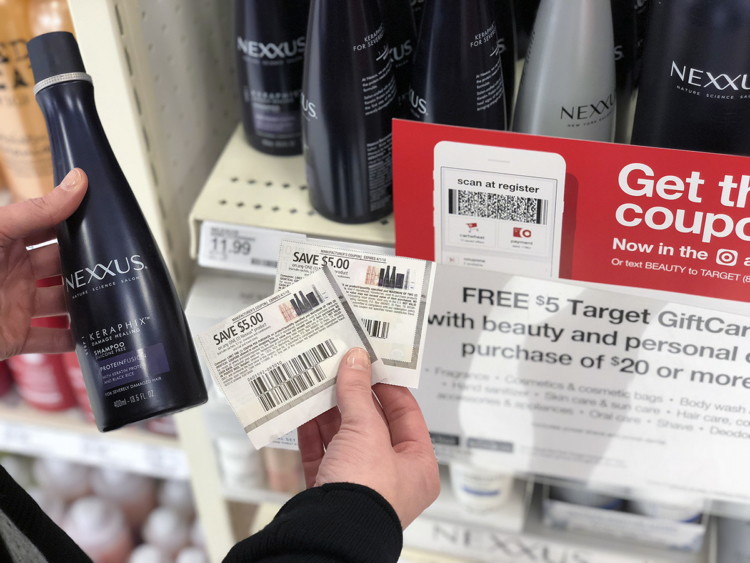 3. There are Target coupons and manufacturer coupons in the Target app.
4. Plus, there are extra Target coupons in the wallet section of the Target app.
5. Ibotta is the first app you should download to get money back after your Target purchase.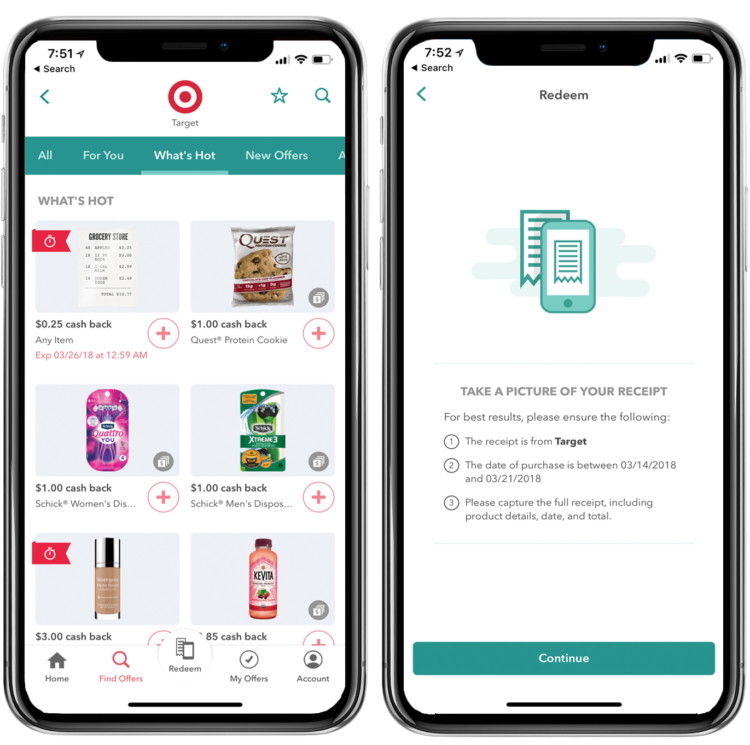 Ibotta app has manufacturer-sponsored rebates that act just like coupons, but instead of saving money at the register, you upload a photo of your receipt to show proof of purchase and get money credited to your account after your purchase.
In most cases Ibotta rebates can be used in conjunction with both a Target coupon and a manufacturer coupon. Ibotta rebates often allow you to buy up to 3-5 products with every rebate.
6. Coupons.com app is the next best way to get rebates at Target.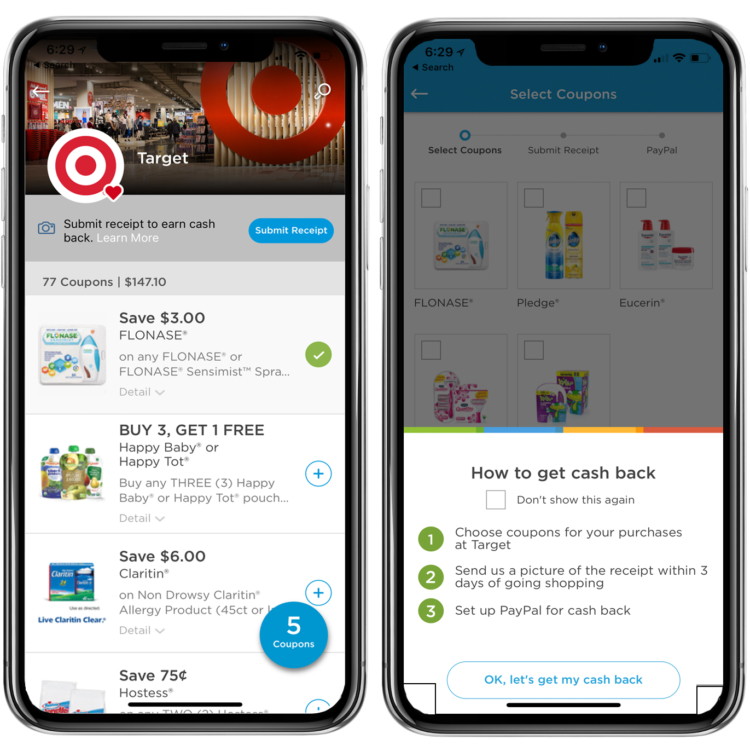 Coupons.com runs both a website and an app. We like the app for convenience, but do what works for you. Coupons.com operates in much the same way as Ibotta with two key differences:
You must add the coupon to your app account BEFORE you make your purchase. (With Ibotta, you don't.)
You cannot use another manufacturer coupon on the same product. (With Ibotta, you can.)
You can also print coupons from the coupons.com app home screen. Access the printable coupons through the hamburger menu (those three little lines) in the top left corner.
7. And Krazy Coupon Lady app is the only way you'll know what coupons are stacking each week.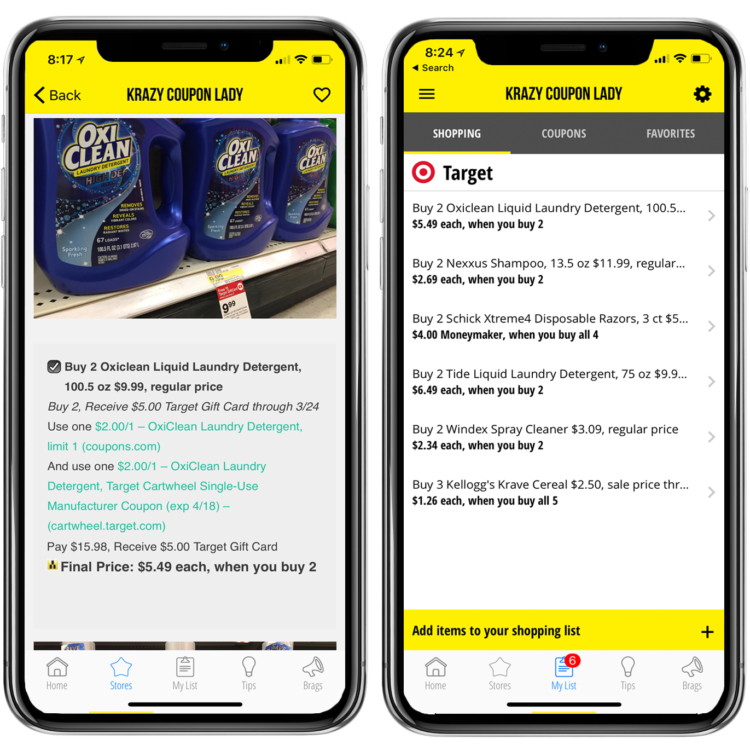 Here's where we come in.
Download the Krazy Coupon Lady app and browse the Target deals. We let you know what the final price will be after coupons and rebates–and we give you links to everything you need to put the deal together.
Some deals require coupons you have to print at home or get from the Sunday newspaper, so preparation is beneficial. But, other smartphone-only deals can be executed with digital-only offers right from the store!
8. When you're ready to shop, keep your first couponing trip simple.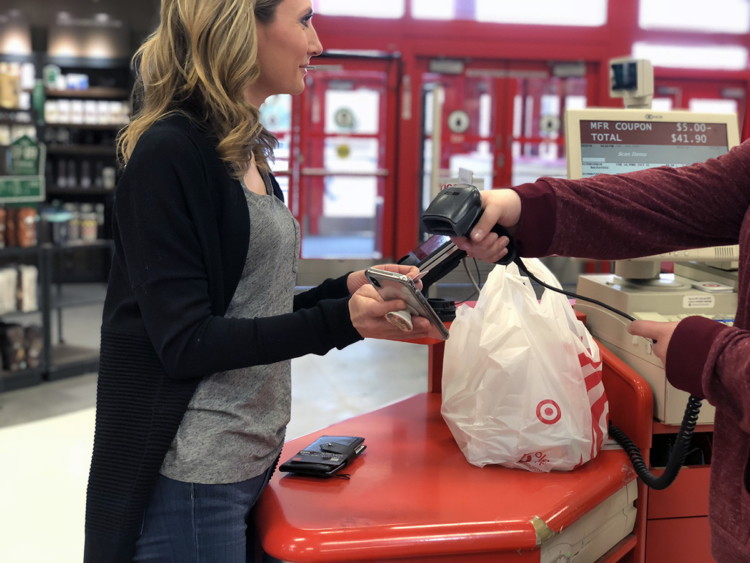 Here are a few more nuggets of advice for your first Target couponing trip:
Pick just one deal. Stick to one promotion–no more than 2-4 items total is ideal.

If you run into trouble at checkout, reference the Target coupon policy.
Connect to Target's free wifi so apps will load while you're browsing the aisles.
Search coupons by product with Krazy Coupon Lady before, during and after you shop. Type in any brand (Huggies) or category (diapers).